It's Christmas Day Today in Many Parts of the World—Here's Why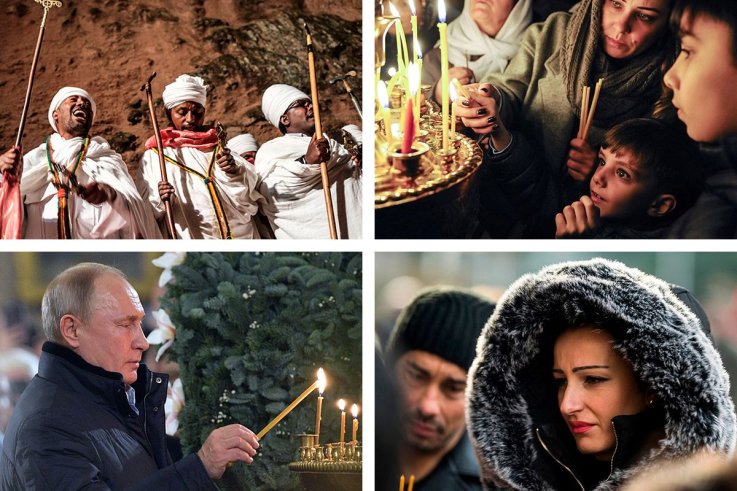 For most Americans, it's hard to imagine Christmas Day falling on anything other day than the 25th of December, neatly ending the year before the next one begins. But in many countries, such as some of those that once belonged to the former Soviet Union, Christmas is actually celebrated today, on January 7—to Western eyes, 13 days late.
The reason for this inconsistency was the co-existence of different calendars. Whereas most countries use the Gregorian calendar, first introduced by Pope Gregory in 1582 and spread throughout the centuries, others use the Julian calendar, which dates to 45 B.C. and the reign of Julius Caesar.
Even some countries that do use the Gregorian calendar officially still refer to the Julian calendar for their holidays, or let their citizens choose which one they would like to celebrate out of the two. There is a 13-day difference between them at present, though it changes periodically.
In some ways, the difference is misleading. Although it might look as if Christmas is being celebrated on January 7, it's actually that, according to the Julian calendar, December 25 is simply on a different day.
As Archimandrite Christopher Calin, dean of the Russian Orthodox Cathedral of the Holy Virgin Protection, explained to The Daily Telegraph: "Strictly speaking, Christmas is still kept on December 25—which just happens to fall 13 days later on the Julian calendar."
Many Orthodox Christians, in countries like Israel, Serbia, Egypt, Ethiopia and especially Russia—which is home to roughly half of the world's Orthodox Christian population—celebrate Christmas in January. The sites of celebration vary—from Russia's 18th century Transfiguration Cathedral to the rock-hewn churches of Ethiopia, built in the 13th century to be the "New Jerusalem." The traditional meals and activities differ too.
This year's Christmas comes at an uncertain time for the Orthodox Christian community. On Sunday, during a ceremony in Istanbul—the Orthodox still call it Constantinople—the global spiritual leader of Eastern Orthodox Christians formally declared a historic split between the Orthodox Church of Ukraine and of Russia. The number of sister churches increased from 14 to 15, affirming Ukraine's independence for the first time in over 300 years—despite fierce Russian opposition.
These internal divisions take place within a broader context of outside hostility. Christian groups claim 3,000 Christians were killed in 2018, double the number in 2017, according to The Guardian. In response to this worrying trend, the U.K. has ordered an unprecedented investigation into the plight of persecuted Christians worldwide—with as many as 200 million at risk.
Here's a gallery of the different ways Orthodox Christians around the world are celebrating this belated Christmas.