Orthodox Jewish Anti-Masker Running for Brooklyn Council Calls NYC Mayor's Wife a 'Retard' During COVID Lockdown Protest
A candidate for Brooklyn's City Council called the wife of New York City Mayor Bill de Blasio a "retard" during a Tuesday night protest of new coronavirus lockdown measures, which many have argued unfairly target the Orthodox Jewish community.
Harold "Heshy" Tischler, an Orthodox Jewish activist in Brooklyn's Borough Park neighborhood and radio talk show host, shouted at reporters as a group of fellow protesters surrounded him.
"And if you think, Mrs. de Blasio...retard, woman, crook, whatever you are, you think you're gonna get elected to borough president? You will not be elected," Tischler said, directing his comments at Chirlane McCray.
McCray, who married de Blasio in 1994, is considering a run for Brooklyn borough president. Tischler has been a vocal critic of her husband throughout the coronavirus pandemic, with many of his public protests going viral and even gaining the attention of major politicians.
Tischler and hundreds of other members of New York's Orthodox Jewish community took to the streets of Brooklyn's Borough Park neighborhood Tuesday night to protest new coronavirus restrictions announced this week by Governor Andrew Cuomo and de Blasio.
At the mayor's suggestion, Cuomo ordered on Monday that public and private schools be temporarily closed in several areas of the city with large Orthodox populations, as city health officials confront a new surge of coronavirus cases.
"People are very turned off and very burned out," Yosef Hershkop, a Hasidic Jew from Brooklyn who works for a chain of urgent-care centers, told the Associated Press. "It's not like we're the only people in New York getting COVID."
De Blasio had proposed the schools shutdown on Sunday, the second day of the Jewish holiday Sukkot, when Orthodox Jews would not be using phones or computers and therefore wouldn't have heard the news until sundown, according to the AP.
"Announcing this in the middle of a Jewish holiday shows City Hall's incompetence and lack of sensitivity towards the Jewish Community," tweeted Daniel Rosenthal, a New York State Assembly member from Queens.
De Blasio, for his part, said he was aware of the holiday but felt it was imperative to make the announcement as soon as possible, the AP reported.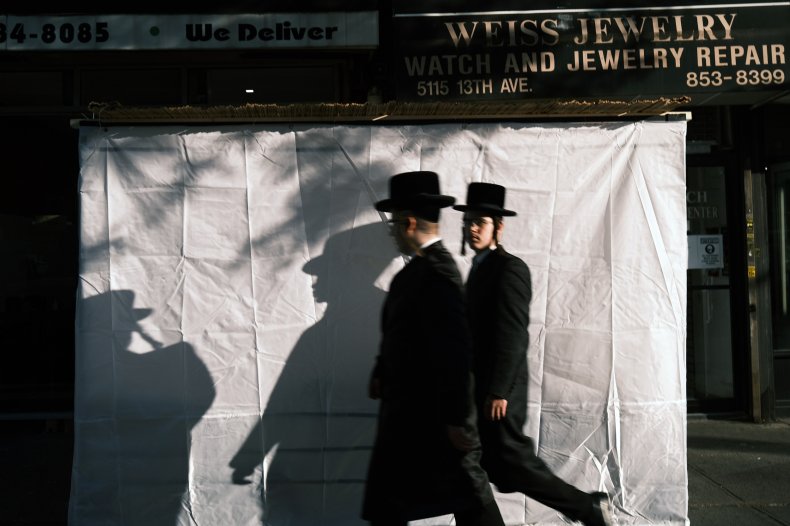 But Tischler and the other protesters decided it was necessary to speak out against the coronavirus restrictions. They started fires in the street on Tuesday to burn their face coverings, which are required in public spaces, according to videos on social media.
They also chanted, "Jewish lives matter." At one point, Tischler was heard telling fellow protesters in the presence of a police officer: "You are my soldiers. We are at war."
Newsweek contacted Tischler for comment but did not hear back in time for publication.