New Jersey GOP Club Members under Fire over Anti-Semitic Facebook Posts
Pressure is building on a prominent Republican Party figure in New Jersey to take action on accusations two of his political allies voiced anti-Semitic slurs on social media.
Chairman of Ocean County GOP, Frank Holman III, has been criticized for not condemning the comments allegedly made on Facebook by Jackson Township GOP president Todd Porter and its chairwoman, Clara Glory, Shore News Network reported.
The statements attributed to Porter and Glory refer to the growing Orthodox Jewish community in neighboring Lakewood Township.
Shore News reported that Glory appeared to support a Facebook post by another user that the Jewish community is comprised of "crooks" who "serve no good interest to America."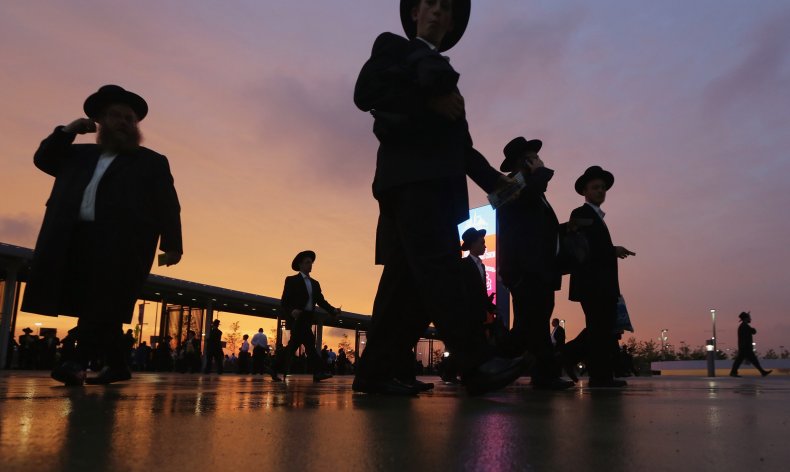 In a screen shot of the post published by Shore News, she apparently reacted to one comment trying to dissuade her from stereotyping members of the Orthodox Jewish community, with a post that said: "NO STEREOTYPING HERE.. FACTS ARE FACTS."
A screen shot of a Facebook comment apparently made by Porter in 2015, and also published by Shore News, said that he would, "for a fee head to random parks and blast thrash metal during daylight hours.
"I'm sure Slayer will keep the out-of-towners away," he added, apparently referring to Jewish families.
An op-ed in local publication The Lakewood Scoop, signed by Aaron Neumann, called for Glory and Porter to resign.
"Republicans in Ocean County have been taken our vote for granted for years. They can kiss my vote goodbye until they install leaders who aren't racist and bigoted," the op-ed read, adding that Frank Holman, the chair for the Ocean County GOP should "step up and take action."
The claims of anti-Semitism were serious enough for the RNC Chairwoman Ronna McDaniel, New Jersey State GOP Chairman Doug Steinhardt and New Jersey State Senator Robert Singer to respond in a joint statement.
"We condemn hateful rhetoric in the strongest possible terms. There is no place for anti-Semitism in our party," the statement said, according to the Yeshiva World, which said that so far Holman had declined calls to comment.
Hirsh Singh, a Republican candidate running for Senator Cory Booker's Senate seat, said in a statement: "We cannot ignore hate or anti-Semitism and allow it to breed here in New Jersey, one of the most diverse racially and culturally states in America," according to Yeshiva.
Newsweek has contacted Holman through the Ocean County Board of Elections for comment. Newsweek has also contacted the Ocean County GOP Executive Director Tom Bonfonti for comment.
Meanwhile, Jersey is reeling from the aftermath of a deadly attack on a Jewish grocery store in Jersey City, around 60 miles away from Ocean County.
Authorities in the Garden State are investigating the shootout in which six people died during an attack on a kosher supermarket on December 10, which attorney general, Gurbir Grewal described as being "fueled by antisemitism."
New Jersey man Ahmed A-Hady, 35, was arrested on weapons charges in connection with the attack, NBC News reported.