Orthodox Rabbis Defend Tucker Carlson From Charges of Anti-Semitism by Anti-Defamation League
A conservative group representing over 1,500 Orthodox Jewish rabbis has condemned Anti-Defamation League (ADL) Director Jonathan Greenblatt's letter calling on Fox News to fire Tucker Carlson for allegedly promoting "a classic white supremacist trope."
The Coalition for Jewish Values (CJV) objected to the call to fire Carlson in a letter sent to Greenblatt on Tuesday, insisting that his views were informed by "grossly misplaced charges of antisemitism" that the ADL has promoted under his leadership. Four days earlier, Greenblatt penned a letter to Fox News CEO Suzanne Scott accusing Carlson of espousing the racist "great replacement" conspiracy theory during a segment positing that Democrats hoped to "replace" right-leaning American voters with left-leaning immigrants.
"The Coalition for Jewish Values, which represents over 1,500 traditional, observant rabbis in American public policy, is distressed by grossly misplaced charges of antisemitism made by your organization," the group wrote to Greenblatt. "Your recent attack on Tucker Carlson of Fox News, calling it 'white supremacist' to question whether particular policy choices enable illegal immigrants to nullify the votes of American citizens, is merely one example."
The CJV, which formed shortly after former President Donald Trump took office in 2017, went on to say that "the ADL has become markedly partisan" since Greenblatt became director and CEO in 2014. The ADL was admonished for focusing on "obscure neo-Nazis of the 'alt-right'" while ignoring "leftist adherents of radical Islam" that the CJV believes are "far more dangerous."
The group also blasted the ADL for tying the Trump administration to "antisemitic incidents." The CJV claimed that most of the incidents instead occurred in "Democrat-controlled cities and on college campuses dominated by progressive currents."
"ADL calls out antisemitism on all sides of the political spectrum, regardless of whether it comes from the left or the right," an ADL spokesperson told Newsweek in a statement responding to the CJV letter. "There's no denying that what Tucker Carlson said on his show – now multiple times – is a white supremacist and racist conspiracy theory rooted in antisemitism. The 'Great Replacement Theory' is a toxic concept that is discussed almost daily in online forums seething with antisemitism and racism."
"This so-called theory fueled the hateful chants of 'Jews will not replace us!' in Charlottesville in 2017, and it has lit the fuse in explosive hate crimes, most notably the hate-motivated mass shooting attacks in Pittsburgh, Poway and El Paso, as well as in Christchurch, New Zealand," the spokesperson added. "Mr. Carlson did not accidentally echo these talking points; he knowingly escalated this well-worn racist rhetoric."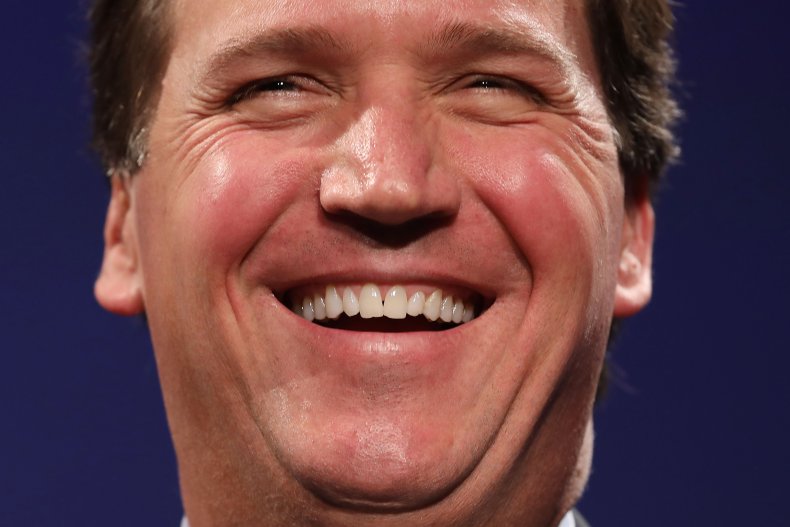 Greenblatt's initial letter to Fox News was written in response to Carlson claiming during a segment last week that "the Democratic Party is trying to replace the current electorate" with "more obedient voters from the third world." Carlson maintained that he was speaking about a "voting rights issue," while decrying that "everyone wants to make a racial issue out of it, 'ooh, the white replacement theory.'"
"Make no mistake: this is dangerous stuff," Greenblatt wrote one day after the segment aired. "The 'great replacement theory' is a classic white supremacist trope that undergirds the modern white supremacist movement in America... In short, this is not legitimate political discourse. It is dangerous race-baiting, extreme rhetoric. Given his long record of race-baiting, we believe it is time for Carlson to go."
Carlson doubled down on his rhetoric during a monologue aired on Tucker Carlson Tonight Monday, arguing that the notion "demographic change is the key to the Democratic party's political ambitions" was not a "horrifying right-wing conspiracy theory."
Fox Corporation CEO Lachlan Murdoch replied to Greenblatt's letter one day earlier, "respectfully" disagreeing with his interpretation of Carlson's remarks and noting that a "full review" had found "that Mr. Carlson decried and rejected replacement theory." Murdoch recalled the ADL honoring his father Rupert Murdoch and told Greenblatt that the company "shares your values and abhors anti-semitism, white supremacy and racism of any kind."
"Although I appreciate the sentiment that you and your father continue to support ADL's mission, supporting Mr. Carlson's embrace of the 'great replacement theory' stands in direct contrast to that mission," Greenblatt responded in a letter to Murdoch on Tuesday. "ADL honored your father over a decade ago, but let me be clear that we would not do so today, and it does not absolve you, him, the network, or its board from the moral failure of not taking action against Mr. Carlson."
Former ADL President Abraham Foxman told the Jewish Telegraphic Agency on Tuesday that he was "proud" of awarding Rupert Murdoch the group's International Leadership Award in 2010 and "would give it to him again today."