Orville Wright Copper Bust Stolen From National Memorial in North Carolina
National Park Service Rangers and local law enforcement officials are looking for a bust of Orville Wright stolen from a Wright Brothers Memorial in Kill Devil Hills, North Carolina. The heavy granite base that the bust was mounted to has also been damaged.
The National Memorial commemorates Orville and Wilbur Wright's first successful flight at what is now the Wright Brothers National Memorial, the Park Service says.
"Wind, sand, and a dream of flight brought Wilbur and Orville Wright to Kitty Hawk, North Carolina where, after four years of scientific experimentation, they achieved the first successful airplane flights on December 17, 1903," reads the National Park Service page for the Wright Brothers' memorial.
Samantha Rigney of Kill Devil Hills told WOBX that she walked to the top of the 90-foot-tall hill to watch the sunrise on Sunday morning when she discovered the vandalism.
The original statues have been stolen and replaced twice over the past two decades.
The memorial includes a walled plaza and flagstone walkways surrounding a 17-foot-tall shaft made of North Carolina granite.
Park Rangers and police are investigating the theft and ask anyone with information to contact the Dare County Community CrimeLine or the National Park Service's Investigative Services Branch at 888-653-0009 or online, according to the release.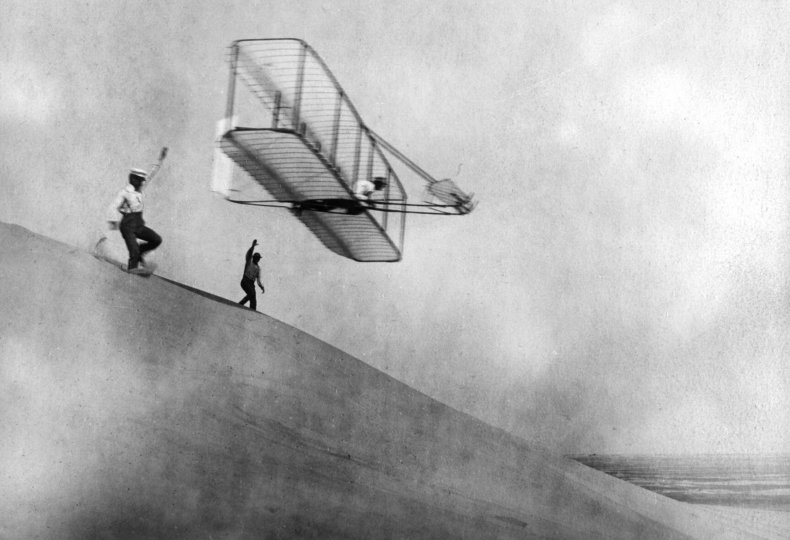 Though the brothers were from Ohio, much of their time between 1900 and 1903 was spent in Kill Devil Hills, North Carolina, where they would camp for weeks at a time, working and testing out potential flight projects together.
Their first powered test flight happened on the 121st anniversary of the first hot air balloon test flight that the Montgolfier brothers had completed on December 14, 1782.
After making repairs at the Kill Devil Hill camp, the Wrights finally took to the air three days later on December 17, 1903, making two flights each from level ground in the Wright Flyer, also known as Flyer 1.
Because of this, North Carolina residents boast "First in Flight" on their license plates. The memorial allows people to stand where the Wright Brothers took their first historic flight.
The Flyer 1 is currently exhibited in the National Air and Space Museum in Washington D.C.
Ownership over the title, "Birthplace of Aviation," has been a point of contention between the states of Ohio and North Carolina. In 2003, Congress officially declared Ohio as the birthplace over North Carolina, because Dayton was the home of Wilbur and Orville Wright.
But John Kasich, who served as Ohio's governor from 2011 to 2019, said "Thanks for the wind, North Carolina."