Women Accounted For 19 Percent of Non-Acting Oscar Nominations in Past Decade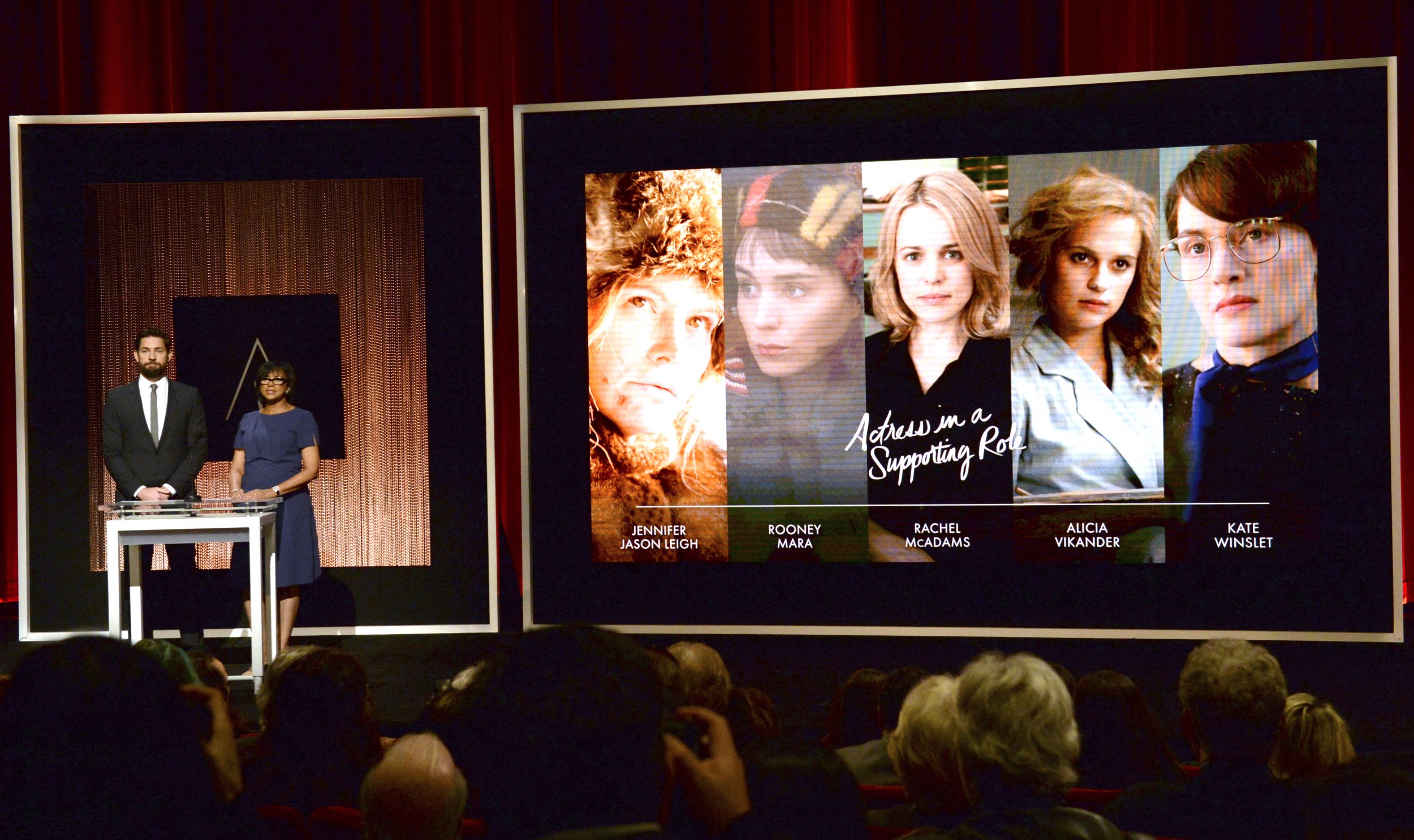 Women accounted for less than a fifth of non-acting Oscar nominations over the past decade, according to a new report from the Women's Media Center (WMC).
Between 2006 and 2015, women received 327 nominations, compared to the 1,387 men who were nominated in 19 non-acting categories, including writing, production design, directing and original song. While Oscar nominations for the 2015 awards have seen greater inclusion than ever before—women nominees make up 22 percent of this year's non-acting award nominees—their representation remains "staggeringly low," the report says.
Women were most strongly represented in visual design categories, including costume design and production design, and in documentary features over the past decade. But in the past 10 years, no women were nominated for the original musical score award. Zero women have been nominated for a cinematography award in the 88-year history of the Academy of Motion Picture Arts and Sciences, the report says.
"Women in film—and especially women of color—continue to face discriminatory hurdles," Jane Fonda, co-founder and co-chair of the Women's Media Center, said on Thursday. "Hollywood is still an all-boys' club."
This year's Oscar ceremony, which will be held on February 28, has been mired in controversy over the lack of diversity among the nominees: Every person nominated for an acting Oscar is white. Shortly after the nominees were announced last month, the hashtag #OscarsSoWhite sprung up on Twitter as civil rights leaders called on African-Americans to boycott the ceremony.
In the past decade, only one woman, Kathryn Bigelow, was nominated for the directing award, which she later went on to win. Men dominate the film editing category, where women have made up just 17 percent of nominees in the past 10 years. Similarly, women have accounted for 13 percent of nominees in the writing category (original screenplay and adapted screenplay). In 2015, four women were nominated in the writing categories, tied with 2007 as an "all-time high," according to WMC.
Despite doubling in 10 years, just under a quarter of best picture producing nominees have been women over the past decade.
"There is a clear connection between the low numbers of women hired for behind-the-scenes jobs in film and women's low representation among Oscar nominees," Julie Burton, president of the Women's Media Center, said on Thursday. "If they're not hired in these non-acting categories, they'll never have a chance to be recognized for their excellence."
The Women's Media Center looked at the following categories in its analysis: best picture; directing; writing (original screenplay); writing (adapted screenplay); film editing; cinematography; production design; costume design; makeup and hairstyling; original score; original song; documentary feature; documentary short subject; sound mixing; sound editing; visual effects; animated feature and short film (live action). The Women's Media Center used data from Oscars.com.