Oscar De La Hoya Says He's Returning to Boxing, Ending 12-Year Retirement
The Golden Boy promises a return to boxing. Oscar De La Hoya, 47, said Wednesday his return to the ring isn't just hearsay.
"The rumors are true, and I'm going to start sparring in the next few weeks," De La Hoya told ESPN.
De La Hoya earned his "Golden Boy" nickname while boxing for Team USA at the 1992 Summer Olympics in Barcelona, Spain. He won 10 world titles in six different weight classes, and he fought professionally from 1992-2008, compiling a 39-6 record with 30 knockouts in that span.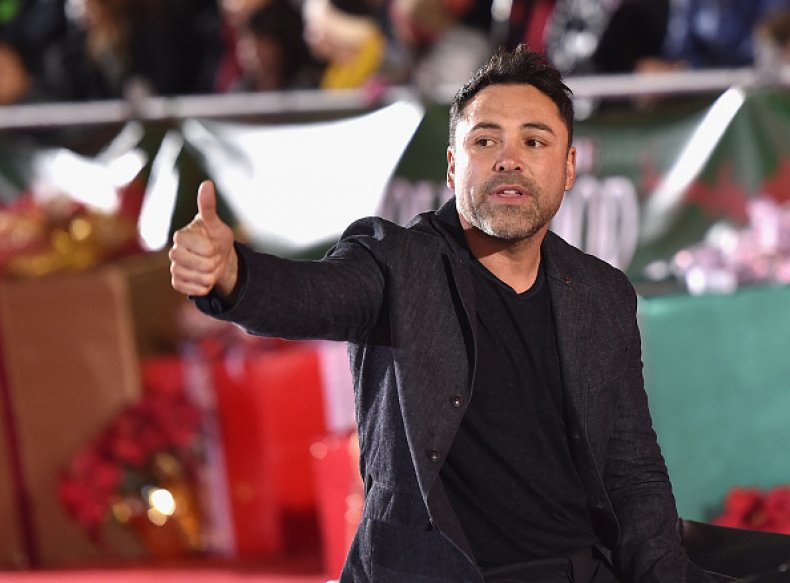 De La Hoya became one of the most recognizable, and adored, boxers on the planet. He was on the cover of Newsweek, and was also on the cover of Ring magazine—a rarity double cover.
During a fight with Manny Pacquaio in 2008, De La Hoya quit the bout after the eighth round while sitting on a stool in his corner. A couple of months later, De La Hoya announced he would retire from the sport at age 36.
"Look, my last fight with Pacquiao, I weighed in at 145 and obviously that was a shell of myself," De La Hoya said.
Now, he feels it's time for a return.
"Look, it's been a long time, yes," De La Hoya said. "But actually my jab feels faster than ever. I have to make sure that my conditioning is perfect, my health is good. And that's going to take place in the next few weeks. So we'll see."
De La Hoya made his post gold medal-winning debut as a super featherweight. In his 12th pro fight, he defeated Jimmy Bredahl for the title. That was the first in his long march.
He knocked out veteran Jorge Páez in the second round of a 1994 fight to claim the lightweight title. De La Hoya kept racking up the weight, and the wins, and was 21-0 with 19 knockouts when he faced Julio César Chávez, and the fight was stopped when Chávez had a bad cut over his eye from the 1996 bout.
De La Hoya moved up the ranks to welterweight, where he had famous feuds with Pernell "Sweet Pea" Whitaker and Héctor Camacho. De La Hoya kept winning his bouts, becoming a boxer that Ring called, pound-by-pound, the best boxer on the planet.
Before his retirement, De La Hoya fight other well-known boxers like Félix Trinidad, Shane Mosley, Fernando Vargas, Felix Sturm, Bernard Hopkins, Floyd Mayweather and Pacquaio.
Oscar De La Hoya Says He's Returning to Boxing, Ending 12-Year Retirement | Sports