The Revamped Oscar de la Renta Is All the Rage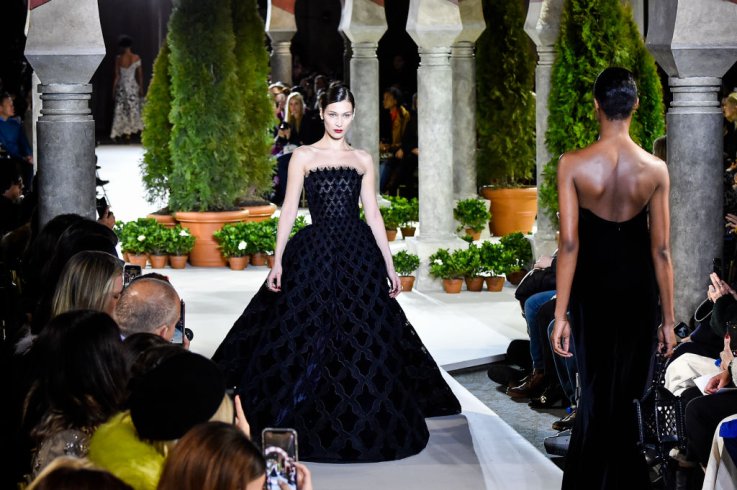 Meghan Markle's son Archie was clearly the star of his own christening last weekend - but it was Markle's mother, Doria Ragland who won a special place in global fashionista's hearts. Ragland delighted fashion lovers around the globe by showing up in an elegant peach creation by Oscar de la Renta - joining an elite group of style-savvy celebrities including Zoe Kravitz, Lupita Nyongo, Celine Dion and the Hadid sisters who are flocking to the brand.
When the eponymous designer died in 2014 there was concern on Madison Avenue about what would happen to the fashion house. A collective sigh of relief was heard when the dynamic duo of Laura Kim and Fernando Garcia took the helm in 2016 as co-creative directors.
"Oscar was the most talented man - but (the designs) were starting to get a little same - same, a little predictable," a fashion insider told Newsweek. "Laura and Francesco have completely refreshed the brand."
Both Kim and Garcia worked under de la Renta for many years, both starting as interns and working their way up to studio designer and senior designer, respectively. After their mentor's death, they left the brand to create the label Monse - but were called back to the mothership two years later.
"For many years, Laura and Fernando worked here directing our design teams. Oscar respected their talent, and their work with him brought tremendous critical acclaim and success to the company," CEO Alex Bolen in a statement at the time.
And the bet paid off. Since then, Oscar de la Renta the man and the fashion line has been kept alive in spirit as well as in form and function with celebrities clamoring to wear it and women running to buy the newly reimagined classics.