Oscar Isaac's 'Weird English Accent' in 'Moon Knight' Widely Mocked
Oscar Isaac's foray into the Marvel Cinematic Universe was released to the world today with the arrival of the Moon Knight trailer.
The heartthrob is set to play the eponymous hero in a Disney+ series and the trailer promises an engaging and mind-bending series with a dreamy lead—but many people can't get over his British accent in the preview.
The series follows Steven Grant, a "mild-mannered gift-shop employee [who] becomes plagued with blackouts and memories of another life."
The synopsis continues: "Steven discovers he has dissociative identity disorder and shares a body with mercenary Marc Spector. As Steven/Marc's enemies converge upon them, they must navigate their complex identities while thrust into a deadly mystery among the powerful gods of Egypt."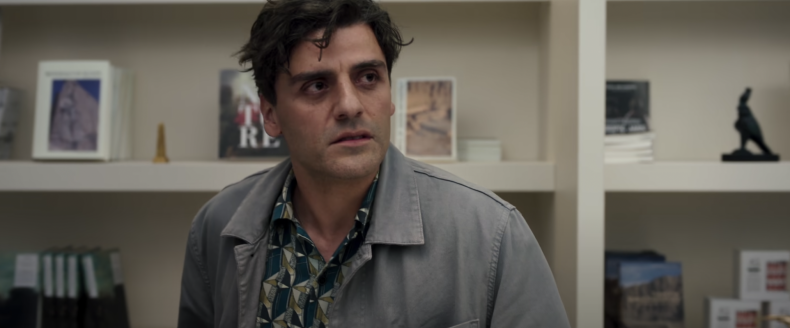 The trailer shows fans a distressed and bumbling figure whose reality is blurred with his dreams.
According to Disney, Moon Knight is a character whose powers are tied to the cycle of the moon, resulting in him having a number of split personalities.
The character of Steven appears to be English and Isaac's accent has proven to be a little distracting for viewers so far.
"WHY IS OSCAR ISAAC DOING A WEIRD ENGLISH ACCENT" asked Erick Webber of Awards Ace.
"oscar isaac's British accent is simply terrible, that s*** hurt my ears," reads one tweet.
While another added: "my mind is split between appreciating how amazing moon knight looks and trying to digest oscar isaac with a british accent."
Another person joked: "Oscar Isaac's accent in the #MoonKnight trailer is literally like 'ello guvna wot are ya dewin?!'"
Another fan asked: "Has Oscar Isaac never heard any English accent before, the hell was that supposed to be."
Despite the commotion over the accent on social media, the character is known to have a split personality so this may be just one accent out of many that Isaac will display in this highly anticipated series.
"So about Oscar Isaac's hammy accent... Steven Grant is one of Marc Spector's alternate identities that he creates as part of his dissociative identity disorder - so that's probably the reason behind it. #MoonKnight," tweeted writer Eammon Jacobs.
While another added: "Oscar Isaac's British accent is probably only for his alter as Steven Grant and will likely switch between accents as he switches alters and Moon Knight."
Isaac himself previously described the series as an "unusual story," telling Games Radar: "I thought there was an incredibly unusual story to tell within the world of, you know, the superhero language. But we're making something that's quite different, and that doesn't follow the same... not necessarily even logic of what a lot of superhero films do."
Moon Knight launches on Disney+ on March 30.