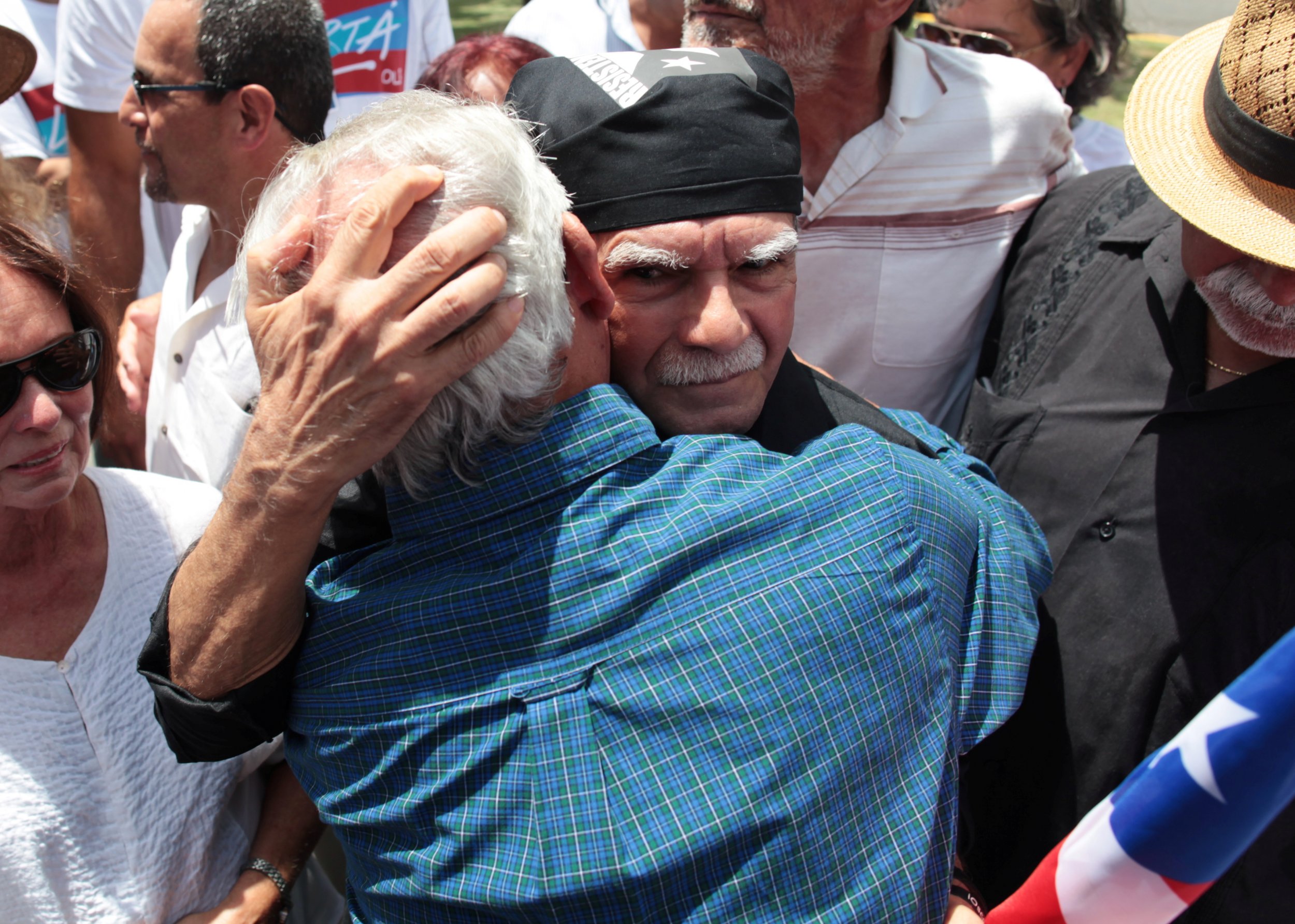 The lasagna was intended for a double birthday party. Instead, it was served at a wake. The birthdays were those of the Connor brothers: Joe, just turned nine, and Tom, just turned 11. Their mother Mary had made the lasagna for a joint celebration that evening at the Connor home in the northern suburbs of New Jersey.
On that day — January 24, 1975 — the boys' father Frank "went off to work like he did every morning," Joe Connor recalls, speaking 42 years later but sounding as if he were recounting an episode from only a week before. He remembers how, as usual, his father called upstairs: "Love you, guys." They didn't answer, an omission that meant nothing on this most ordinary of winter mornings.
Frank Connor, 33, was an assistant vice president at the Morgan Guaranty Trust in lower Manhattan, where his mother Margaret had once been a cleaning lady. That afternoon, he went to a business lunch at Fraunces Tavern, the handsome, cavernous Broad Street restaurant where, during the Revolutionary War, George Washington celebrated the expulsion of British troops from New York. Reconstructed and refurbished, Fraunces Tavern was now a popular gathering place for the Wall Street crowd.
At 1:22 p.m., as Connor and his colleagues were finishing lunch, a bomb consisting of five sticks of dynamite stuffed into a duffel bag tore through the restaurant, The New York Times reported that victims "were hurled from their tables in a confusion of screams and flying debris." It was the most deadly bombing in New York in 55 years (in 1920, an anarchist killed 38 on Wall Street). Of the four people killed, one was decapitated by the force of the blast.
That afternoon, Mary Connor received a phone call confirming that her husband was one of the victims.
As emergency workers were sifting through the rubble in lower Manhattan, a caller to the Associated Press claimed responsibility for the attack. "This is FALN," the caller said, using an acronym for the armed Puerto Rican independence group Fuerzas Armadas de Liberación Nacional, or the Armed Forces of National Liberation. The caller said there was a message from the bombers hidden in a phone booth near Fraunces Tavern. In that note, FALN took responsibility for the attack on the "reactionary corporate executives" at Fraunces Tavern.
Joe Connor has never stopped thinking about that day. "You can imagine what kind of scar that leaves on a person."
Lately, he has been reliving 01/24/75, the memory triggered by events in the White House. As one of his last acts in office, President Obama granted clemency to Oscar López Rivera, an FALN leader some believe was responsible for the Fraunces Tavern bombing, despite the lack of direct evidence tying him to the attack. He'd been caught in 1981, after five years on the lam, convicted on "seditious conspiracy" charges and sentenced to a 55-year term. Two attempts to escape from the federal penitentiary in Terre Haute, Indiana, lengthened his sentence.
That a Democratic president would show sympathy for a symbol of the struggle against colonialism didn't surprise Connor. The painful part came in May, shortly after López Rivera returned to his native Puerto Rico. The organizers of New York City's Puerto Rican Day Parade announced that, during their June 11 celebration, they would honor López Rivera as the first recipient of its National Freedom Hero award. With perhaps two million people watching, he would walk down Fifth Avenue, effectively acting as the parade's grand marshal.
Connor thinks this monstrous. "Freedom hero? I don't know what that means. It certainly ain't him. He's the ultimate life-waster. He achieved nothing except for killing people."
Even if López Rivera wasn't involved in the Fraunces Tavern attack, he was an avowed member of a group that set off an approximate 130 bombs in the United States, killing six. The FALN were "the most determined bombers in U.S. history" according to Bryan Burrough, author of Days of Rage, a meticulously evenhanded history of violent 1970s radicalism. Unlike, for example, the Black Panthers, they did not only resort to violence in extreme situations. Violence was the entire program of the FALN until Puerto Rico cast off the colonial yoke placed on it by the United States in 1898.
New York city and state politicians love parades to a shameless degree, relishing the chance to wave flags and engage in the kind of retail politics that has powered the city since Irish soldiers first marched in 1762, in an early version of the St. Patrick's Day Parade. This year's Puerto Rican Day Parade has proved the rare exception. Andrew M. Cuomo, the Democratic governor of New York, said he will not attend because the decision to honor López Rivera had rendered what should have been a celebration into a "counterproductive political mess." James P. O'Neill, the commissioner of the New York Police Department, came to a similar conclusion. "I cannot support a man who's the co-founder of an organization that engaged in over 120 bombings," he said in late May.
But if a parade needs politicians, it also demands corporate sponsors. Those have fled en masse. Goya Foods, the New York Yankees, JetBlue, the New York Daily News and Coca-Cola have all forsaken the parade because of López Rivera.
Despite that, López Rivera remains a hero to some, including City Council speaker Melissa Mark-Viverito and other members of New York's 700,000-strong Puerto Rican community; Hamilton creator Lin-Manuel Miranda, a supporter of Puerto Rican independence, called López Rivera "a symbol of resolve and conviction" — one who spent 12 years in solitary confinement and turned down two offers of clemency.
But is that resolve the same as heroism?
"In This We Trust"
In person, Oscar López Rivera is slight but solid, heading toward 80 but handling it well, with his prim gray mustache and equally gray hair, which tapers at the nape into a small curl. His eyes suggest mischief; his sharp chin and high cheekbones, ferocity. He does not look like someone who laughs much.
He declined to be interviewed by Newsweek, but I was able to observe him for several hours at a reception in Berkeley, California, at the very end of May, as the parade neared and opposition to his presence there intensified.
The event was hosted by the National Lawyers Guild, a group known to support radical causes. It took place at a Presbyterian church blocks away from the college campus where campus radicalism was born a half-century ago. There were many women in flowing robes and just as many men with flowing beards. Gray hair abounded. Everyone was happy, because López Rivera was finally free. True, the cause that sent him to prison remains unpopular, even with his own people: four previous nonbinding votes indicate most Puerto Ricans want statehood much more than they want independence. Now, at least, he can live among them, with his daughter and her child.
Before the main event — a speech by López Rivera — there was a reception off the main chapel. There were chicken skewers (delicious) and brownies (pretty good), and children running happily around, and a young man wearing an all-black Puerto Rican flag as a cape, and people who looked like they remembered when the Black Panthers patrolled the nearby streets of Oakland with shotguns and Berkeley students waged furious battle against Ronald Reagan, Dow Chemical and LBJ. The room was lined with liberation posters: Stop repression of Puerto Rican & Chicano Mexicano revolutionary movements; The real terrorists, the FBI; The U.S. govt has a stranglehold on the land & resources of Puerto Rico. You could also buy a print signed by López Rivera for $100.
López Rivera was dressed in a black guayabera shirt, black trousers and brown hiking boots. Whenever someone came up to shake his hand or take his picture, he happily complied, but he never appeared too happy. The intensity never fled his eyes. It seemed the intensity not of a revolutionary, but a prisoner ever aware of looming threats.
At the reception, López Rivera was introduced by Judith Mirkinson, a National Lawyers Guild leader in the Bay Area. A short, ebullient woman of admirably furious conviction, "Mirk," as she is known by her peers, called López Rivera "our hero, our patriot." People clapped; López Rivera looked uneasy. When he spoke, it was without joy about his freedom or hope for Puerto Rico's. His dark vision was of people manipulated and enslaved by a government and corporate state outdoing each other in avarice and corruption. "The colonialist government that exists in Puerto Rico is always, always, inviting the outsiders to invest in Puerto Rico," he said in a voice loud but hoarse. It was an embittered vision, its grim palate borrowed not from Che Guevara, but Donald J. Trump.
At one point, López Rivera held up his hands to show that they were free of blood, declaring he did not have anything to do with the Fraunces Tavern bombing, without quite saying so. Luis Miranda, father to Lin-Manuel and a power broker in New York's Latino community who has ties to Mayor Bill de Blasio, pointed out to me that López Rivera was "never sent to jail for killing anybody," and said the campaign against him has been orchestrated by right-wing Latino groups in Washington, D.C.
Miranda has sympathy for Joe Connor, whose father was killed at Fraunces Tavern, but only up to a point. "That was horrible. He has the right to mourn his dad, and he has the right to believe that someone associated with that group is as guilty as whoever did it," Manuel said. But the grief of one man, as far as he was concerned, could not eclipse the troubles of an entire nation. "For 119 years, we have not been able to resolve our situation," he continued, referring to the U.S. occupation of Puerto Rico. "I don't expect that he will understand 119 years of history."
The attempts to distance López Rivera from Fraunces Tavern have not been entirely successful. Connor argues that absolving López Rivera of blame for the bombing would be similar to saying Osama bin Laden shouldn't have been blamed for 9/11, since he wasn't one of the 19 hijackers. In both instances, the act is impossible without someone to inspire it, and López Rivera certainly provided that, making the case for struggle against American colonial power.
And while the evidence against López Rivera is inconclusive, it is not exculpatory. A review by reporters from the Daily News found "strong links" between López Rivera and the FALN's "violent activities." For example, residences apparently rented by López Rivera in Milwaukee and Chicago reportedly functioned as bombmaking classrooms. In Chicago, according to the Daily News, authorities found dynamite, as well as "blasting caps, ammunition, a bomb-timing device and various FALN documents — including seven pages of bomb-making instructions from a group manual titled 'In This We Trust.'"
After López Rivera was done talking, people went into the chapel, where he would talk some more. Graying lefties hugged. There was a standing ovation for freed political prisoners, of which there appeared to be a handful in the chapel. It was like a college reunion, except nobody had any illusions about having graduated from the struggles they'd committed themselves to perhaps a half-century before. On the altar, below the cross, was a sign that read "Oscar Is Free."
"We were honored to participate in the celebration of Oscar Lopez Rivera's release," Mirkinson later told me. "He represents the history of Puerto Rican resistance and decolonization that the NLG has always supported. We learn a lot from his example," she added, "lessons all of us can use as we fight against the right wing everywhere."
After several introductory speeches that went longer than promised, López Rivera got up to speak for the second time that evening, now in front of a much bigger audience. Without resorting to a recording of his speech (which I did make), I cannot recall what he said, so thoroughly did his speech skate along on a surface of generalities. There was much talk of needing to free "political prisoners." There were also invocations of a "better, more just world," but no sense of how to get there. And then the bitterness returned, with vague allusion to "deny those who tried to deny us — to destroy us."
Some of his supporters have compared López Rivera to Nelson Mandela, who helped end apartheid in South Africa. But that comparison minimizes Mandela's achievement while inflating López Rivera's. Mandela had the support of South Africa's black population; with only 5% of Puerto Rican voters favouring for independence in the 2012 plebiscite, up from 0.6% in 1967, it's hard to argue that López Rivera does.
López Rivera also lacks the generosity of spirit demonstrated by Mandela or Martin Luther King, Jr. López Rivera has never shown contrition about the Fraunces Tavern bombing, and while that may be because he believes he had nothing to do with it, a smarter revolutionary would have struck the appropriate tone of regret over lives lost while recommitting himself to the struggle for freedom, only now without the taint of murder hounding him. For some reason, López Rivera couldn't do it.
"A Humble Puerto Rican and Grandfather"
In 1983, the organizers of the St. Patrick's Day Parade selected Michael Flannery as the grand marshal. Flannery was a supporter of the Irish Republican Army, which made him as much a terrorist, in the eyes of some, as López Rivera is being depicted today. New York's cardinal, Terence Cooke, refused to publicly greet Flannery on the steps of St. Patrick's Cathedral. As is the case with this year's Puerto Rican Day Parade, many politicians abstained, including New York senator Daniel Patrick Moynihan and former Gov. Hugh L. Carey, both of whom were Irish.
Gov. Mario M. Cuomo marched. "The political statement of this parade is its great to be Irish and that the price of being American does not involve giving up being Irish, Italian, Jewish, black, Greek or whatever. This is a celebration of the American mosaic," he said. The support he'd need from Irish-Americans and other ethnic whites when re-election came three years later went unmentioned.
New York remains a battleground of ethnic politics unlike any other in the nation, which is why the López Rivera issue proved so vexing, especially to Gov. Cuomo (the son, that is) and New York mayor de Blasio. Neither can alienate police officers and other right-leaning ethnic whites; nor, however, could they discount the power of the Latino vote, or the fact that many Puerto Ricans in the city — though by no means all — were behind the decision to honor López Rivera.
Many pointed to de Blasio's refusal to march in the St. Patrick's Day Parade until 2016 because of its discrimination against openly gay groups. He seemed to show no such compunction about standing shoulder-to-shoulder with a man many believed to be a terrorist. In response, City Hall offered tortured explanations: "The mayor believes Mr. López Rivera served his time and appropriately renounced terror and violence. His involvement isn't a good enough reason to boycott "an important day," spokesman Eric Phillips told me in late May.=
Behind the scenes, though, de Blasio's staff was leaning heavily on the parade's organizers to downplay López Rivera's role, according to a report in The New York Times. Those efforts culminated in an op-ed López Rivera published in the Daily News the day after his appearance in Berkeley. In the article, he declared that he'd turned down the National Freedom Hero award that was to be bestowed upon him. "I will be on Fifth Ave. not as your honoree," he wrote, "but as a humble Puerto Rican and grandfather who at 74 continues to be committed to helping raise awareness about the fiscal, health care and human rights crisis Puerto Rico is facing at this historic juncture."
Some noted that everything about this op-ed was strategically vague, allowing for the celebration of López Rivera to take place, only without a formal commendation. At the same time, de Blasio could absolve himself of the situation's complexity: The terrorist would just be another guy walking down Fifth Avenue, and the mayor would have nothing to do with him.
It's hard to see who, other than de Blasio, benefits from this compromise, in which everyone will have to pretend López Rivera is not the parade's grand marshal. None of the corporate sponsors are returning. Nor are politicians who'd previously said they would abstain.
Joe Connor isn't satisfied, either. When I spoke to him after López Rivera published his op-ed, Connor pointed out that the award was not rescinded by New York's leading Puerto Rican politicians, like speaker Mark-Viverito.
In a television appearance late last week, Joe Connor was asked by Stuart Varney of Fox Business if he would watch the parade. He said he would not, adding that his daughter had a dance recital that day. "That's where I belong," he said, "and that's where my dad would want me."