Oscar-Nominated Films Starring Women Are More Profitable, Says BBC Analysis
Producing movies with female lead characters isn't just good for cinema and gender representation. It's also good for box-office returns, according to a new report from BBC.
The BBC crunched the numbers and found that Oscar-nominated female-led films tend to make more money, despite frequently being made on lower budgets than their male-dominated counterparts.
Related: Get Out's best picture nomination is a very rare nod of horror approval from the Oscars
The study analyzed data from IMDb and examined 155 non-documentary Oscar-nominated films released between 2013 and 2017. The conclusion: "Oscar-nominated films with a clearly definable female lead were 33 percent more profitable than male-led films, when comparing US box office and production budget."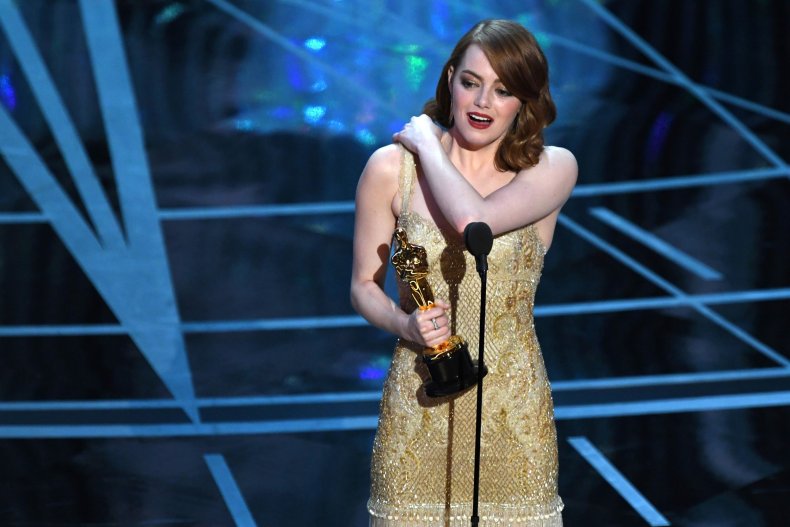 The study also highlighted which female-led films earned the most at the box office relative to their budgets. Hidden Figures led the list—the 2016 drama earned 6.8 times its production budget—followed by Lady Bird, Fifty Shades of Grey and Star Wars: The Force Awakens.
The BBC noted that the trend isn't just limited to Oscar nominees. An examination of 2017's top-grossing American films found that those with a female lead tended to make more money relative to their budgets.
Despite this data, white men still dominate the movie industry, particularly behind the camera. In January, Greta Gerwig became only the fifth woman to be nominated for a best director Oscar.
The Academy Awards have faced pressure to diversify in recent years, and this year's crop of nominees reflects the effort to spotlight cinematic achievements by women and people of color. Lady Bird and The Shape of Water both center on complex female characters, and Get Out—which garnered four nominations, including best picture—has been hailed as a great film confronting (and satirizing) racism from a distinctly black perspective.
In Hollywood, where money talks the loudest, the biggest push toward diversity might be the recent blockbuster successes of two major superhero films. Wonder Woman, released in 2017, was directed by a woman, Patty Jenkins, and made more than $412 million at the domestic box office. And in a little more than two weeks since its release, Black Panther, directed by a black man, Ryan Coogler, and starring a mostly black cast, has earned more than $421 million in America.
"We want these movies to set a precedent and not be one-offs that people forget about," John Fithian of the National Assocation of Theatre Owners told Variety. "We'd like to see this more and more and more. There should be a Latino superhero movie or an Asian superhero movie. The more you have different types of people in these movies, the more you appeal to different types of audiences."