The 2017 Oscar Nominated Films, as Reviewed by Newsweek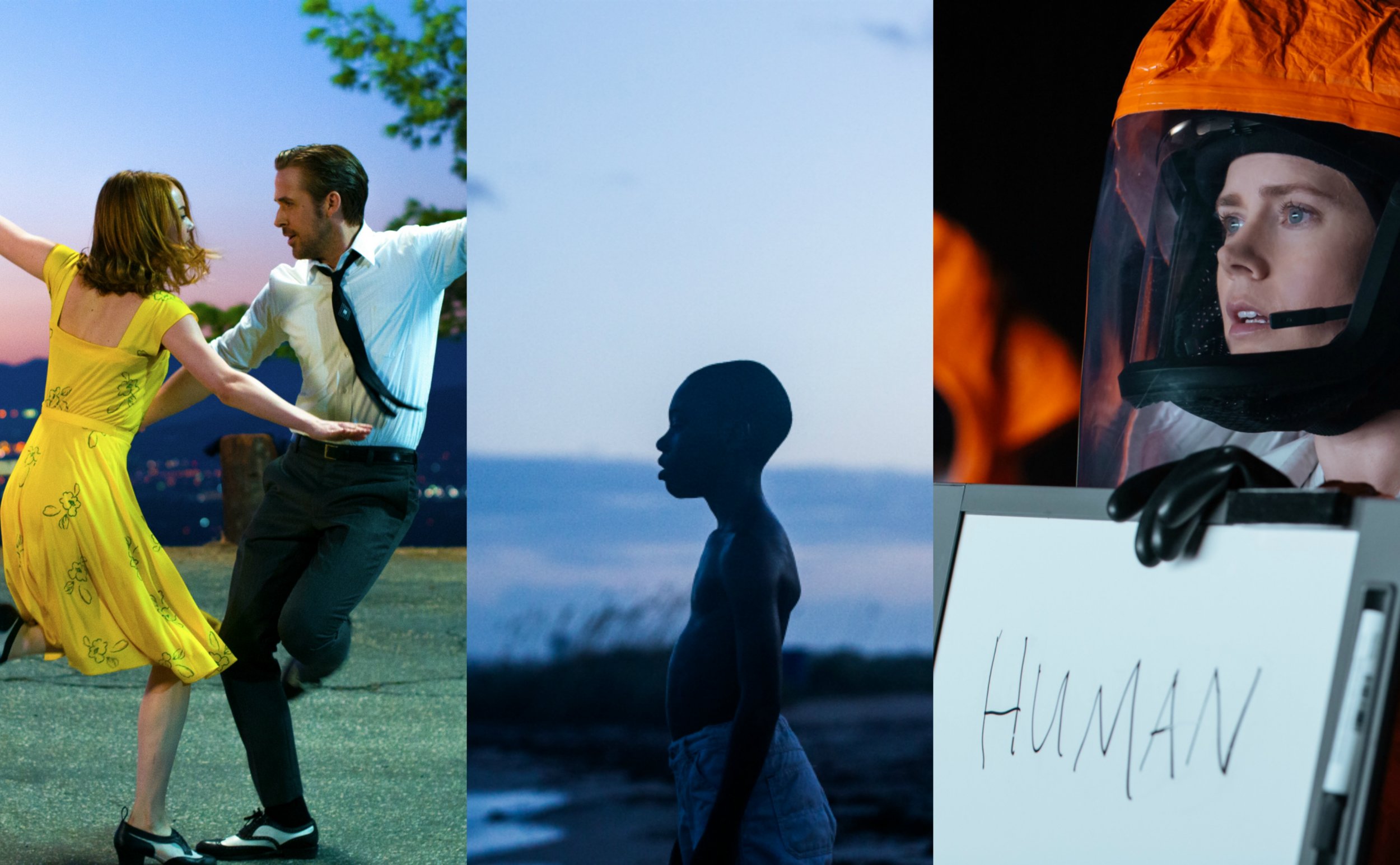 The race to the Oscars begins as the nominations for the 89th Academy Awards were announced Tuesday morning. Following its historic eight wins at the Golden Globes last month, and 14 nominations at the Oscars (tying the record with Titanic and All About Eve for most nominations ever), musical La La Land is expected to quickstep its way to even more awards in February. Barry Jenkins' haunting Moonlight, Kenneth Lonergan's Manchester by the Sea, and Denis Villenueve's smart sci-fi thriller Arrival and Denzel Washington's adaptation of Fences were also among the year's best films. Here, look back at what Newsweek's film critic Tom Shone and culture reporter Tufayel Ahmed said about this year's top contenders at the time of release.
(Nominations: Best Picture; Best Original Screenplay; Best Original Score; Best Film Editing; Best Cinematography; Best Production Design; Best Costume Design; Best Sound Editing; Best Sound Mixing; Emma Stone for Best Actress; Ryan Gosling for Best Actor; Damien Chazelle for Best Director; "Audition (The Fools Who Dream)" and "City of Stars" for Best Original Song)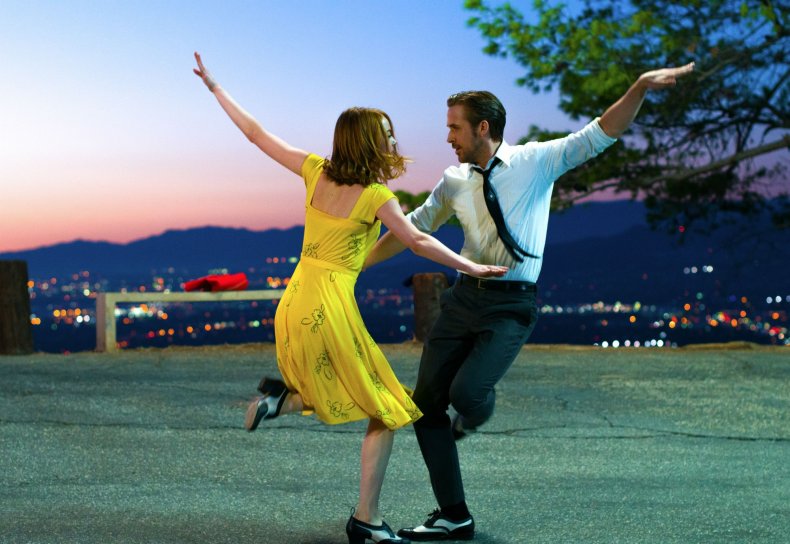 Success can go to a filmmaker's head, as it did Francis Ford Coppola's. It can make them anxious or suspicious, as it did Woody Allen and Martin Scorsese. But sometimes it warms a director up like the sun, and the result is as gorgeous a toasty splash of sound and color as Damien Chazelle's La La Land. An enchanting valentine to the Hollywood musical that will have you purring with pleasure, the film is a follow-up to Whiplash , Chazelle's 2014 film about the tough love between a jazz drummer and his teacher. [...] In the end, La La Land succeeds because it realizes that being a musical is not enough. It wasn't enough for the original audiences of the 1930s and '40s, who unlike us, weren't indulging in anything as gauzy as genre resuscitation or nostalgia. The delay between writing the script and filming allowed Chazelle to land [Ryan] Gosling and [Emma] Stone, whose chemistry—first on display in 2011, in Glenn Ficarra and John Requa's Crazy, Stupid Love— still rests on the slight suspicion that he thinks himself more of a catch than she does. Read more...
(Nominated for Best Picture; Best Adapted Screenplay; Best Original Score; Best Cinematography; Best Film Editing; Naomie Harris for Best Supporting Actress; Mahershala Ali for Best Supporting Actor; Barry Jenkins for Best Director)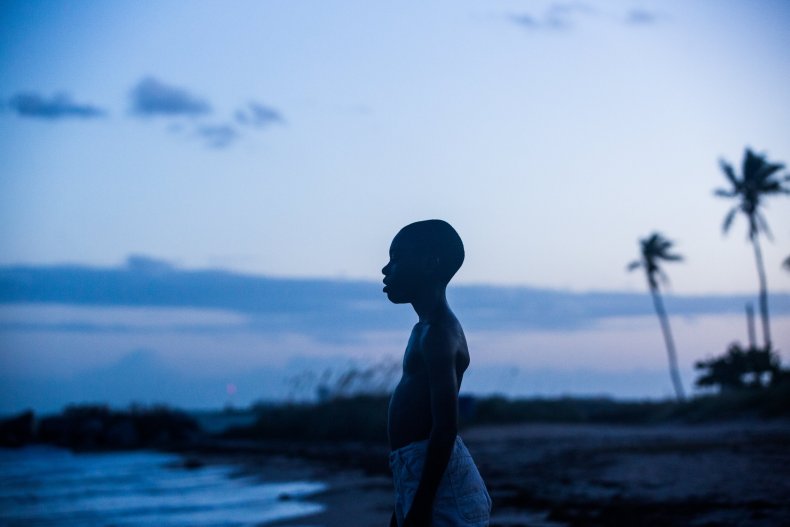 An adaptation of Tarell Alvin McCraney's play In Moonlight Black Boys Look Blue, director Barry Jenkins's Moonlight follows the first three decades of a poor, black, gay boy growing up in downtown Miami at the height of the 1980s crack epidemic. Put like that, you might expect something gritty, hard-hitting and faux-documentary in approach—a sun-soaked version of The Wire. In our current cinematic culture of Spandex-clad superheroes, the subject matter feels as fascinatingly far-flung as a news report from Mars. Yet without relinquishing his unfakeable feel for the streets, Jenkins has produced an intensely personal, poetic and gentle film about desire, identity and the fluid, fitful process by which we slip and stumble into ourselves. We don't just grow up, the film suggests, but go up and down and backward, all at the same time. Read more...
(Nominated for Best Picture; Best Adapted Screenplay; Best Cinematography; Best Production Design; Best Film Editing; Best Sound Editing; Best Sound Mixing; Denis Villeneuve for Best Director)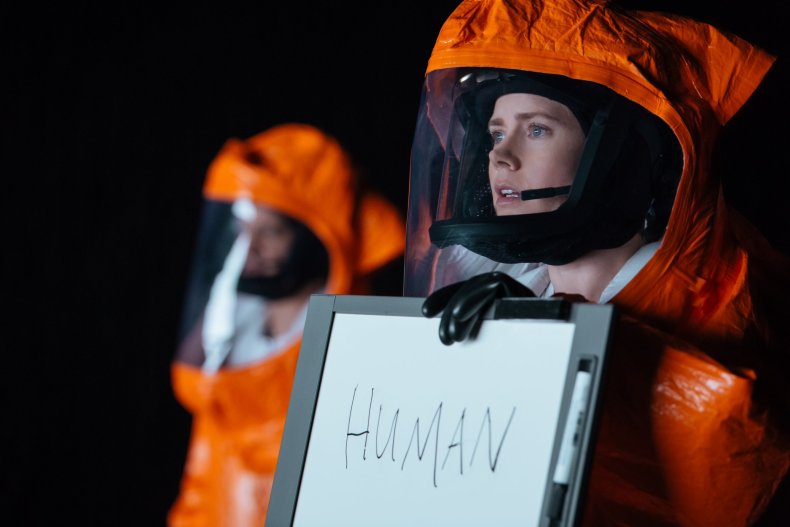 Denis Villeneuve 's Arrival is this year's big, somber, confusing space epic. Audiences who have managed to regain their senses after Christopher Nolan's Interstellar can happily re-enter the movie theater and have their brains whisked like scrambled eggs once again. This one kicks off with aliens parking their spaceships in 12 different locations around the globe, including the U.S., Russia, China and Pakistan. The craft—elliptical in design, like long pebbles or bisected eggs—just hover, erect as Easter Island statues, wreathed in cloud and fog; up close, they have the texture of pumice. One of the more immediately pleasing aspects of the film is such marriages of high- and low-tech, the special-effects whizzes concocting a series of tones and textures that are more Stone Age than space-age. If the bottom ever dropped out of the intergalactic travel business, these ships could easily repurpose as giant loofahs. Read more...
(Nominations: Best Picture; Best Original Screenplay; Casey Affleck for Best Actor; Michelle Williams for Best Supporting Actress; Lucas Hedges for Best Supporting Actor; Kenneth Lonergan for Best Director)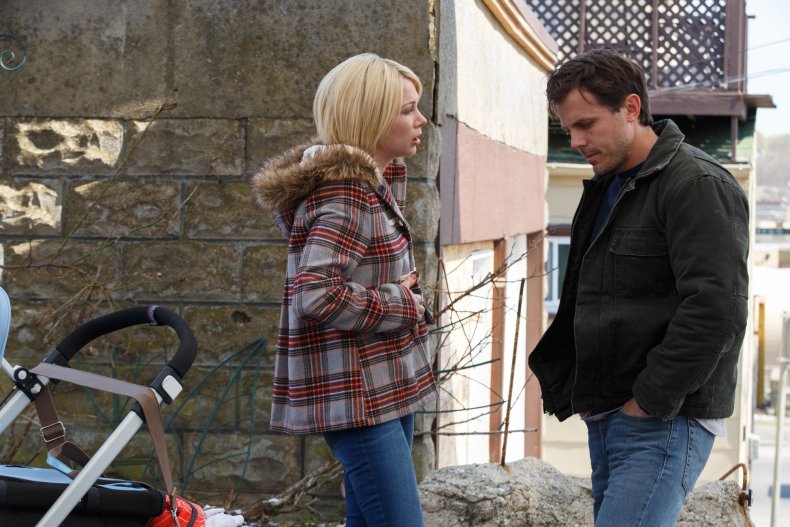 The writer-director Kenneth Lonergan listens to his characters with the gentle forbearance of a Catholic priest receiving confession from his more error-prone parishioners—unshocked by what he hears, even quietly amused, generous with the absolutions. In Lonergan's third film, Manchester by the Sea , Casey Affleck plays Lee Chandler, a taciturn janitor who lives alone in a basement in Boston and spends his days scrubbing toilets, shoveling snow, doing odd handyman jobs. Hands jammed into his pockets, Lee seems a million miles away, eyes hazing over in conversations, small talk or flirtation striking him like a fly on a windscreen. You can practically feel the dead air around him. When he drinks, alone in a bar, he drinks to oblivion, and when someone looks at him the wrong way, he picks a fight almost like a kid rolling his eyes at his teacher, accepting the battering as his daily due—the tax on his existence. Read more...
(Nominations: Best Visual Effects; Best Sound Mixing)
Rogue One 's role within the Star Wars galaxy might be a bit confusing to casual fans. It comes a year after The Force Awakens , a sequel to the original trilogy released between 1977 and 1983, but it is in fact a prequel set before Star Wars Episode IV: A New Hope , the film that first introduced us to Darth Vader, Luke and company. Oscar nominee Felicity Jones plays Jyn Erso, a tough fugitive who leads a band of rebels to steal the plans for a new weapon dubbed a "planet killer"—aka the Death Star. Read more...
(Nominations: Michael Shannon for Best Supporting Actor)
In Nocturnal Animals , Ford has had the good sense to flush his own fusspot aestheticism out into the open. The film, which plays like a stylish piece of self-torment, stars Amy Adams as Susan, a sleek, successful owner of a Los Angeles gallery whose huge glass-and-steel apartment looks untouched by human hands and whose marriage to a handsome broker (Armie Hammer) is scarcely any warmer. [...] But the flourishes feel like mere ornamentation, an obsessive-compulsive advert for artistry rather than the thing itself. Arranging a pair of corpses on a blood-red sofa adds nothing to the horror of the image; rather, the finickiness of the art direction tames it. It's an ugly sight. Why not let it be ugly? Because Ford cannot help himself is why. Like many compulsive stylists, he doesn't trust the meaning of his movie to spring up of its own accord or in defiance of his own meticulous plan for it. Read more...
(Nominations: Best Cinematography)
Martin Scorsese's Silence is a story of dogged endurance and unfathomable suffering, spanning many decades, that would test even the most tenacious of faiths. But enough about the making of the film. The story of Scorsese's long-gestated passion project, an adaptation of Shusaku Endo's 1966 novel about Christian missionaries in Japan, which the director first read in 1989 and struggled for decades to get funding for, is in many ways equal to what unfolds on the screen. Its mere existence is something of a miracle. Read more...
(Nominations: Best Costume Design)
Shot largely in the studio, like old RKO pictures, Allied whisks us briskly from one pleasure to the next. We get [Marion] Cotillard in a series of shimmering vintage gowns, sharing cigarettes with [Brad] Pitt on the roof like Bette Davis and Paul Henreid in Now, Voyager , exchanging single entendres over breakfast ("I know you're armed with a weapon. I'm just checking the safety catch is engaged") before having sex in a car in the middle of a sandstorm. That old number, you might think—a leftover from The English Patient . But [director Robert] Zemeckis does something remarkable with the sound, amping up the sand's soft assault until you feel the scene on your skin, like one big caress. Read more...