Who Is Oscar Perez? 'Venezuelan James Bond' Who Tried to Stage Coup Is Surrounded by Authorities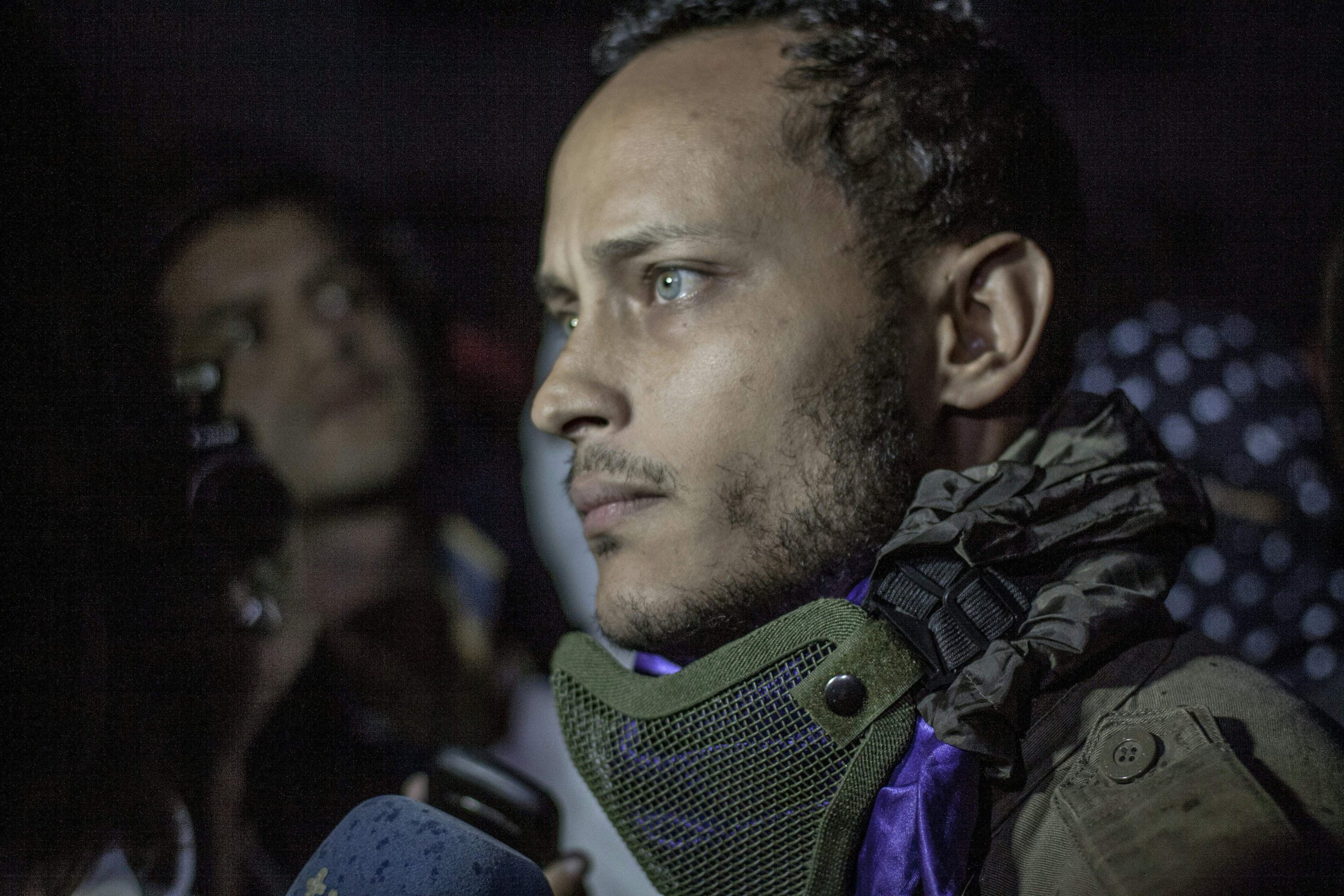 The man known as the "Venezuelan James Bond" after he tried to stage a coup against the government last summer was surrounded by Venezuelan authorities on Monday and trying to negotiate his surrender after a months-long manhunt, he announced in a video.
Venezuelan officials tracked down former police pilot Oscar Perez in El Junquito, an impoverished neighborhood near Caracas. In a series of Instagram videos, Perez showed more than 66,000 followers his bloodied face and his team crouching in a kitchen, as he explained the capture, which appeared to still be in progress as of his last posting. Gunshots can be heard in the background and Perez said he was wounded.
In his latest video, Perez yelled out that he and an unknown number of accomplices hiding with him were injured, and that they wanted to surrender to authorities. "We're going to turn ourselves in!" he yelled, as shooting continued.
In another video on Monday, he told followers in Spanish that he and his team were trying to negotiate with officials. "They've shot at us, they have us crouched down, but now we're negotiating with authorities," Perez said, while shooting continued in the background.
A video featuring a woman who appeared to be Perez's mother, according to local journalists, showed her saying that Perez wanted to surrender, but that authorities wouldn't let him. She pleaded with viewers and authorities to save Perez's life, and added, "He is fighting for his country, for Venezuela. Support him."
The former cop achieved international infamy after staging an attack on the Venezuelan Supreme Court in June 2017, for which he stole a police helicopter and dropped grenades on the court. Venezuelan President Nicholas Maduro labeled him a terrorist for the attack and made it a priority to capture him. But Perez has gone into hiding, evading the police until now.
He had apparently gone rogue after serving as a police pilot for 15 years (and before that, working an actor). From their helicopter in June, Perez and his accomplices hung a banner reading "350 Libertad"—meaning "350 Freedom" in Spanish—a reference to the Venezuelan constitution's 350th article of the Venezuelan Constitution, which allows for disobedience to a regime that violates democratic values.
"We speak to you on behalf of the state. We are a coalition between military, police and civilian officials, in search of balance and against this transitory and criminal government," Perez said in a video in June 2017, taking responsibility for the attack.
Perez posts frequently on Instagram, often showing himself using weapons, addressing followers, posing with children and speaking about his views against the government.
Tensions have been rising in Venezuela over the past five years as Maduro has tightened his grip on the country, giving himself more power as his people endure rises in poverty, violent crime and starvation. The United States has labeled Maduro a dictator and intense protests against him in his country have become a constant.