Oscars 2015: Low on Surprises, High on Suicide References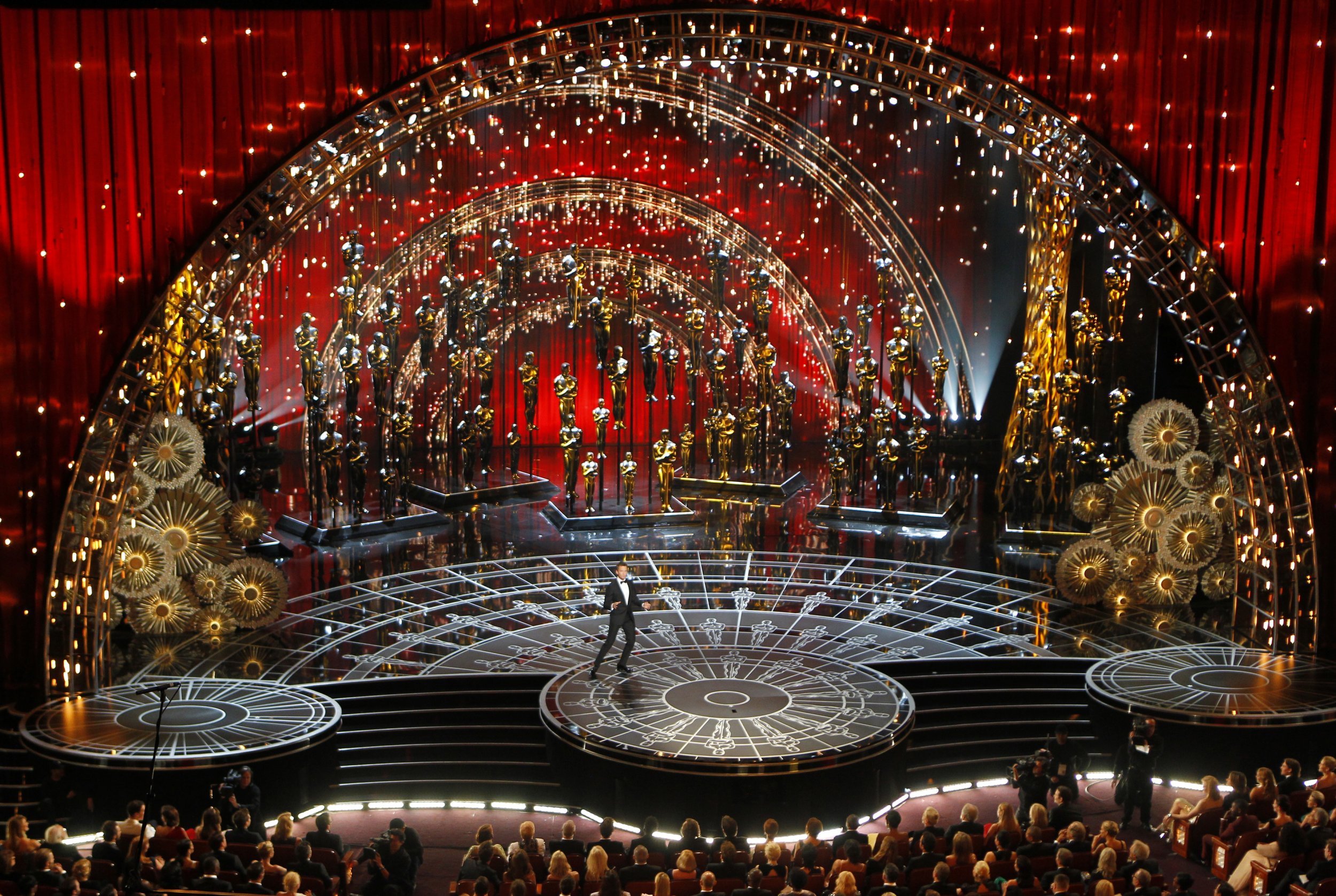 Perhaps, like me, you vowed last year not to watch the Oscars again—but I did again last night, as I have every year since I was 12 years old. (I know, bad parenting.) It wasn't just the awful group self-love of last year's show that drove me around the bend (that selfie moment with Ellen et al lives in infamy) but the shambolic quality of the presentation; it was like a Cassavetes movie, without the booze and the fisticuffs.
The Academy played it smart this year, calling on Neil Patrick Harris, who makes clever look easy, to host. He was like the neuralyzer in Men in Black, wiping out all the bad memories of last year's show. In the first of several references to the Selma snubs, he said the Oscars is "where we celebrate the best and whitest." (Though he should have used the neuralyzer to cancel our memories of Billy Crystal doing the same Zelig thing in previous Oscar montages). Anna Kendrick got the first laugh when she sang a spoiler line ("Except for Gone Girl when that lady slit your throat") before Jack Black sprung from the crowd to give voice to the discontent brewing there…and probably in homes around the world.
"That whole thing," Harris said, when the elaborate musical number was over, "was completely improvised." He then acknowledged the crews and tech people behind the movies, and those who bought tickets and got lost in the stories (to say nothing of those who got lost in the multiplex).
The first non-surprise award of the evening went to J.K. Simmons for his turn as the world's worst music teacher in Whiplash. There were heartfelt cheers and even a standing ovation for this hard-working actor, who thanked his wife first thing, then his "above average children" before telling the audience to "call your mom and dad, don't text or email, tell them you love them and listen to them." (Did your children call you? Mine neither.) Then Harris made a joke about Simmons's long-running role in Farmers' Insurance ads, but how do you think he pays the bills? Playing drummers in movies no one's seen?
Things went downhill after that as Adam Levine of Maroon 5 appeared, dressed like a car valet on Sunset Strip.
Grand Budapest Hotel got most of the big visual awards (makeup, costume, production design) and at least one for sound (best score); meaning we got to see lots of Wes Anderson congratulating his collaborators, edging out Richard Linklater as the most televised auteur of the evening.
The Best Foreign Language Film award went to Ida from Poland (a country first nominated for Roman Polanski's Knife in the Water in 1963, the kind of fun fact the Oscars like to share as people in the cheap seats make their way to the stage), with director Pawel Pawlikowski delivering one of the best acceptance speeches of the night. "How did I get here? I made a film in black and white about the need for silence and withdrawal from the world and contemplation…and here we are, at this epicenter of noise and world attention.... Life is full of surprises!" He talked over the play-him-off music, and even got in a nod to his late wife and parents, "who are not among the living but are totally inside this film."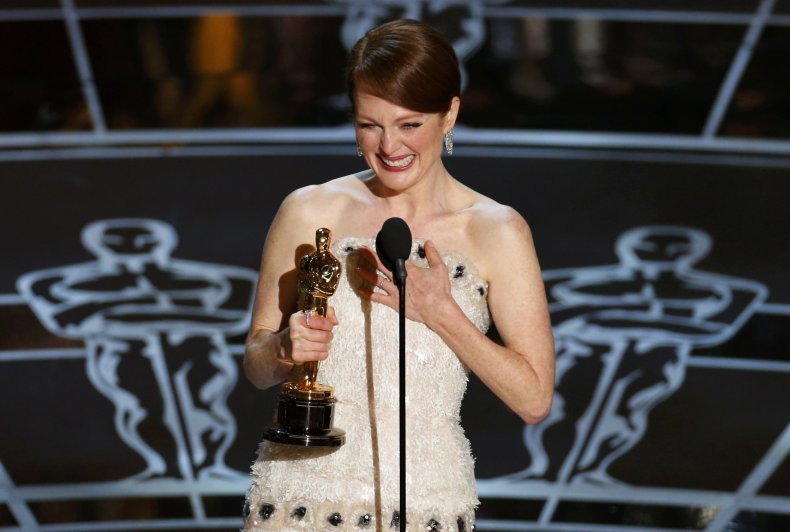 The musical numbers were…well, after Maroon 5 anything looked good, though the pop duo Tegan and Sara (Hell) were kind of lost in a big production of Everything Is Awesome from The Lego Movie (the Selma of animated films). Somewhere in there were Qwestlove, Andy Samberg and Mark Mothersbaugh from Devo (who wrote music for the film and who I only recognized because he was wearing a flower pot hat).
Things got a little more serious when Mat Kirkby and James Lucas picked up their Best Short Film award for The Phone Call, Lucas falling down on the way up the stairs and then bouncing back with a quip--"22 seconds to go." They thanked the Academy twice, gave props to Sally Hawkins (who appeared in the film for nothing) and then thanked all the volunteers at crisis centers who give their time for nothing, "including our mums."
That will stop the play-'em-off music.
Catch up on highlights from the 87th Academy Awards ceremony.
This was followed by an Oscar for the short documentary Crisis Hotline: Veterans Press 1, and filmmaker Ellen Goosenberg Kent saying: "This goes to the veterans and their families who are brave enough to ask for help"--before Dana Perry, whose son Evan killed himself added: "We should talk about suicide out loud."
Harris, seemingly inured to weighty topics, took a moment to make fun of Perry's frock, saying: "It takes a lot of balls to wear a dress like that."
The first Alzheimer's nod of the night came when Tim McGraw sang a song Glen Campbell wrote for his wife and daughter, I'm Not Gonna Miss You, from the documentary Glen Campbell: I'll Be Me.
Followed by Harris in a mashup parody of Birdman/Whiplash (Miles Teller on drums) that featured him running in his underwear before declaring: "Acting is a noble profession." (The Oscars are all about contrast.)
Sound Editing was American Sniper's only win (that's OK, Clint has an Oscar and the movie's grossed nearly $350 million, or about 10 times as much as Birdman).
The Best Supporting Actress award provided an opportunity for the evening's first Meryl Streep joke (she was nominated "in accordance with California state law") and the second non-surprise as the Oscar went to Patricia Arquette. They bleeped her saying "Christ" (though not "Jesus") before she read off a list so as not to forget everyone, and concluded with a call for wage equality and fair pay for women. And the night's first standing ovation.
There was a surprising quote from William Goldman's Adventures in the Screen Trade in a setup for Visual Effects Award, which went to Interstellar; the four guys onstage name-checked time travel theorist Kip Thorne (a fictionalized Thorne appears in The Theory of Everything by the way, blink and you'll miss him) and quipped of their four statuettes: "One of these is supposed to be good for a free drink."
"If you're at a party with the guys who made The Lego Movie, now might be a good time to distract them," Harris said before the Oscar for Best Animated Feature Film,Big Hero 6, followed by the cast and the crew yelling from their seats near the rafters.
"In A Million Ways to Die in the West, I pooped in a hat," Harris reminded us at one point, putting himself squarely in the Bob Hope tradition of hosts whose work up until now might not be Oscar-worthy. (Though the musical number from A Very Harold and Kumar 3D Christmas may stand the test of time.)
Two hours in there was no lag in the show's pace, though I recommend recording it, and then starting about 30 minutes late. You'll have to avoid Twitter and Facebook if you want to be surprised and miss the speech from the president of the Academy of Motion Picture Arts and Sciences, but you'll catch up quickly.
Meryl set up this year's death reel with actual emotion and the variety of talent named was striking--James Garner! Anita Ekberg! Gordon Willis! Charles Champlin (when did they start including film critics in the obituaries?)...though I kind of missed the little clips and stills. Instead we got Jennifer Hudson singing I Can't Let Go, which had lines like "memories are keeping you alive." (Tell that to Glen Campbell.)
Tom Cross's Best Editing Oscar for Whiplash made that the movie's third, beating some odds somewhere. And then Terrence Howard, setting up clips for Whiplash, The Imitation Game, and Selma, got very emotional about…something, forgetting for a minute there that the moment was not about him (which might also sum up his acting style).
The Best Documentary Feature award went to Citizenfour, and director Laura Poitras (who wasn't always allowed into the States so easily) looked awfully freaked out for someone who everyone knew was going to win. There were teary-eyed reaction shots of Reese Witherspoon and Julianne Moore followed by the first really politically incorrect line of the night from Harris: "The subject of Citizenfour, Edward Snowden, could not be here for some treason."
The show's only Ferguson reference came from Common in the rousing Glory number (from Selma), prompting the night's longest standing O. He and John Legend later won an Oscar for the song, with Legend telling the crowd: "The struggle for justice is now…there are more black men incarcerated in this country now than there were under slavery in 1850."
Scarlett Johansson, still recovering from being kissed by John Travolta before the show, then came out to set up…The Sound of Music? Because that happened 50 years ago just like, er, Bloody Sunday at Selma. And then Lady Gaga sang a medley of songs from the musical…straight. She looked glued in place amidst some white birch trees. (Where was the meat dress?) Then she introduced Julie Andrews (another standing O and I lost count after that), and that woman should get an award for her facelift. She gave out the Best Original Score Oscar to Grand Budapest Hotel's Alexandre Desplat.
Eddie Murphy, after the cat got his tongue at the SNL 40th Anniversary, added no jokes to the proceedings. (Note to Eddie: that's why people invite you!) He presented the Best Original Screenplay Oscar (clearly he needs someone to write his lines) to Birdman's Alejandro Iñárritu and his three co-writers. He gave thanks to Michael Keaton "for making this film fly" and they all left Eddie in the lurch when they walked off the stage.
Best Adapted Screenplay award reminded me to scream "why wasn't Inherent Vice watched by everyone!?" The Oscar went to Graham Moore for The Imitation Game (the only award for that movie), who thanked "the Academy and Oprah" (she presented) and then brought things down a bit, saying: "When I was 16 years old I tried to kill myself because I felt weird and different…" It was a plea for tolerance, of course, and also put the Oscars on track for most suicide mentions of any show.
Best Director went to Alejandro Iñárritu, who got an authentic-looking hug from Richard Linklater. "Tonight I'm wearing the real Michael Keaton tighty whities," he said in his acceptance speech, "which smell like balls…" before adding some line about "that little prick, ego…" What can't they say on prime time these days? And should you say "little prick" when talking about Keaton's underwear?
"Okie dokie smokie," said presenter Cate Blanchett, as the show approached the four-hour mark, before presenting the Best Actor award to Eddie Redmayne for The Theory of Everything. "This belongs to all the people around the world battling ALS," he said graciously, "and I will be its custodian…"
There were big whoops for Julianne Moore's Best Actress award (Still Alice, a movie seen by hundreds of people), and then Sean Penn, looking as miserable as ever, came out to present the Best Picture award, futzing with the envelope before saying: "Who gave this son of a bitch his green card?" Birdman.
Michael Keaton, joining the entire cast and crew of the film on stage, said when brought to the mike by the director: "It's great to be here. Who am I kidding?"Just before Iñárritu gave a shout out to his native Mexico and called for dignity and respect for immigrants "in this incredible immigrant nation," before Neil Patrick Harris wished us all buenas noches.