Reese Witherspoon Tackles Red Carpet Sexism with #AskHerMore Campaign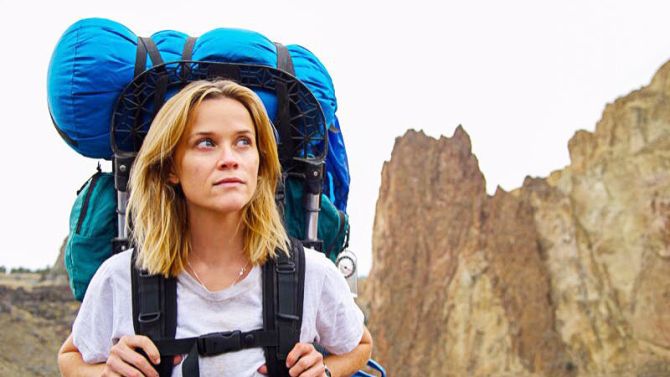 Reese Witherspoon is addressesing sexism on the red carpet with a hashtag: #AskHerMore.
The goal of the social media campaign is to encourage reporters to ask actresses about their work instead of their looks. "This is a movement to say we're more than just our dresses," the Wild actress explained in an interview with Robin Roberts at the Academy Awards ceremony in Los Angeles Sunday night.
"There are 44 nominees this year that are women and we are so happy to be here and talk about the work that we've done. It's exciting for me to get to talk to all the nominees about all the hard work they did." Witherspoon then gave a shout-out to acclaimed recent films with strong female leads, including Gone Girl, which she co-produced, and Wild in which she starred.
On Instagram, the actress went so far as to suggest more imaginative questions for journalists:
And on Twitter she was joined by supporters like Girls star Lena Dunham and Scandal/Grey's Anatomy creator Shonda Rhimes:
The #AskHerMore campaign was first started by gender quality organization The Representation Project in 2014. The debate over red carpet coverage grew heated this year when several A-list actresses protested E! Entertainment's red carpet "Mani-Cam" fixture, which highlighted the nail work of celebrities. Several stars including Julianne Moore and Jennifer Aniston skipped the interview in protest, while Elisabeth Moss recently gave it the middle finger.
Supporting actress nominee Patricia Arquette used her interview time on the red carpet at Sunday's Oscars to discuss her charity, GiveLove, dismissing the Mani-Cam idea as "silly," the Hollywood Reporter reported. The fashion feature was not part of the red carpet coverage this year.
Clarification: This story has been updated to include mention of #AskHerMore campaign founders, The Representation Project.
Reese Witherspoon Tackles Red Carpet Sexism with #AskHerMore Campaign | Culture