Oscars Ratings Hit All-Time Low Despite Inclusion and Diversity Among Nominees, Early Data Suggests
Updated | Less than 24 hours after Hollywood ran the credits on the 90th annual Academy Awards, the first ratings estimates are in and the news isn't good.
Early data from Nielsen shows a 16 percent drop in viewership for the Oscars telecast compared to last year's broadcast, Reuters reported Monday. In 56 major markets, 18.9 percent of viewers watched the show, down from 22.4 percent in 2017. In a press release issued Monday, ABC said the 2018 Oscars drew an average audience of 26.5 million total viewers.
That's an all-time low for viewership for the show. The previous record low was set in 2008, when 32 million people watched the show.
The Oscars drew 32.9 million viewers last year when talk show host Jimmy Kimmel first served as host. That was a nine-year low and down from 2016 when the Chris Rock-hosted ceremony attracted 34.4 million viewers, Deadline reported.
A recent story from The New York Times suggested that the rating decline over the past few years could be linked to the increased talk of political matters. "Whenever stars use the platform to support progressive causes and make political statements, large numbers of viewers turn the channel," the article read.
The 2018 Oscars was laced with more politics than any ceremony in recent memory. Host Jimmy Kimmel joked about Vice President Mike Pence and accused sexual assaulter Harvey Weinstein. His opening monologue addressed sexual misconduct as he said the Oscar statues "keeps his hands where you can see them, never says a rude word, and most importantly no penis at all. He is literally a statue of limitations." The host also urged viewers to support the Parkland, Florida, students organizing a gun control march in Washington. Actors wore orange American Flag pins on the red carpet to advocate for gun control, Best Original Screenplay nominee Kumail Nanjiani and Black Panther star Lupita Nyong'o stated that they stood with the Dreamers while presenting an award.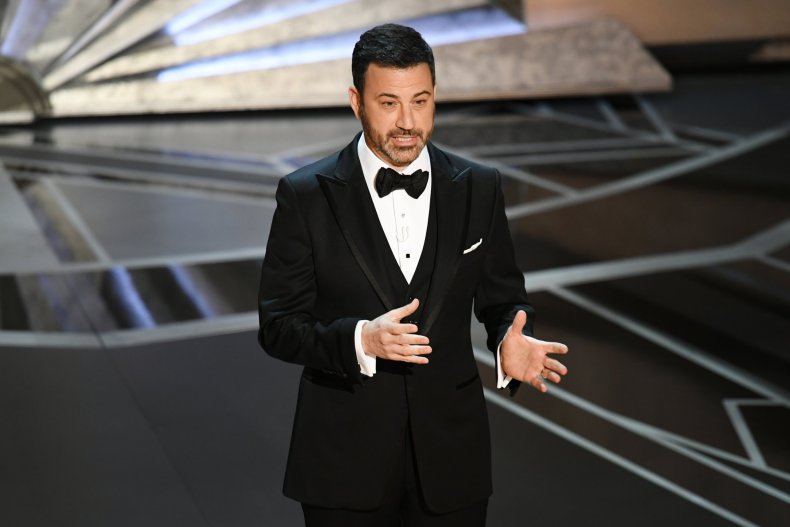 But the 2018 Oscars was also one of the most inclusive and diverse shows in years, with women and minorities competing in—and winning—major categories. The night's top winner was Mexican director Guillermo del Toro and his film The Shape of Water. Jordan Peele became the first black winner of the Best Original Screenplay Oscar. The Chilean movie A Fantastic Woman—which starred a transgender actress playing a transgender singer—won in the best foreign language film category, and Disney-Pixar's Mexico-set Coco secured two Oscar wins.
How the decline in ratings will affect the 2019 ceremony remains to be seen. But it is part of a larger trend. Audiences continue to tune into live events at increasingly lower rates each year. In January, CBS' Grammy Awards appealed to a record-low 19.8 million viewers. The Super Bowl, which is the most-watched live event of the year, only generated 103.4 million viewers in February—a seven-percent dip from the previous years's numbers.
Despite a consistent decline in ratings from ABC's annual Oscars ceremony, the network still charged $2.6 million to advertisers interested in purchasing a 30-second commercial spot ahead of Sunday's event. While expensive, ABC's fee is still below the Super Bowl's requirement of around $5 million.
Updated: Ratings information from ABC has been added to this story.