2018 Vanity Fair Oscar Party: The Celebrities and the Glamorous Outfits in Pictures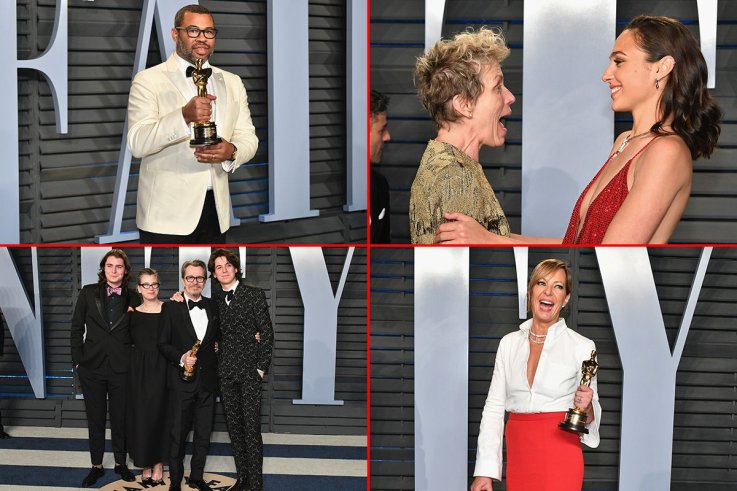 Actors and actresses celebrated the 2018 Oscars' night in great fashion at the Vanity Fair Oscar party, hosted by Radhika Jones at Wallis Annenberg Center for the Performing Arts on March 4.
Among the stars were Oscars winners and nominees like Greta Gerwig, Gal Gadot, Frances McDormand, Gary Oldman, Jordan Peele, Sam Rockwell, Allison Williams, Chadwick Boseman, Mark Hamill, Kobe Bryant, Lupita Nyong'o and Emma Stone.
The Shape of Water was one of the big winners at the 2018 Oscars, taking home the best picture award and best director award for Guillermo del Toro.
"I am an immigrant like [fellow Mexican directors] Alfonso [Cuarón] and Alejandro [G. Iñárritu], my compadres. Like Gael [García Bernal], like Salma [Hayek] and like many, many of you," he said in his acceptance speech.
"In the last 25 years I've been living in a country all of our own," del Toro said. "Part of it is here, part of it is in Europe, part of it is everywhere. Because I think that the greatest thing our art does and our industry does is to erase the lines in the sand. We should continue doing that when the world tells us to make them deeper."
Oldman, who won best actor for playing Winston Churchill in Darkest Hour, gave most of his thanks to his 99-year-old mother. "I would like to thank mother, who is older than the Oscar," he said. "She's watching the ceremony from the comfort of her sofa. I say to my mother: Thank you for your love and support. Put the kettle on. I'm bringing Oscar home."
It was also a big night for McDormand, who won best actress for Three Billboards Outside Ebbing, Missouri and gave her "inclusion rider" speech, telling men in the entertainment industry to treat female talent fairly. "We all have stories to tell and projects we need financed," she said. "Don't talk to us about it at the parties tonight. Invite us into your office in a couple days, or you can come to ours, whatever suits you best, and we'll tell you all about them."