Oscars 2019: Intimate Photos of Winners and Presenters Backstage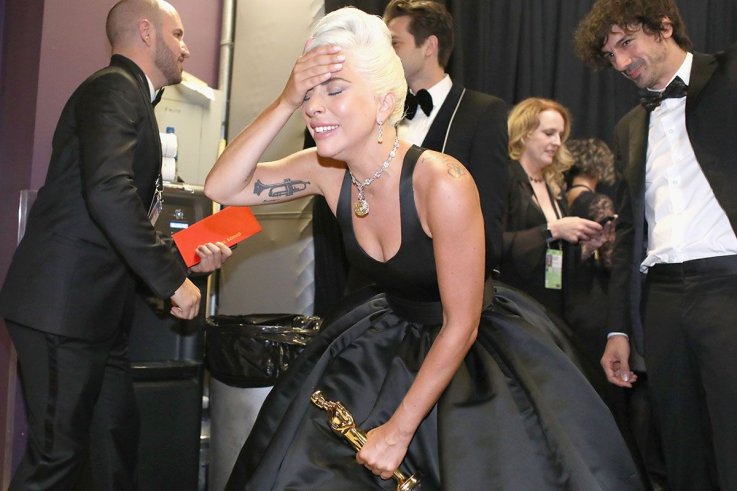 It was a strange Oscars: no host, failed favorites, first-time winners, unprecedented performances and, for some, a disappointing sense that history was repeating itself.
Glenn Close has been nominated seven times for an Oscar and yet ended the night without one—losing out this time to best actress winner Olivia Colman for The Favourite. "Glenn Close, you've been my idol for so long," Colman said in her acceptance speech. "This isn't how I wanted it to be."
Spike Lee—who gave a stirring speech on the state of America as he picked up an Oscar for best adapted screenplay for BlacKkKlansman—almost walked out when Green Book, directed by Peter Farrelly, was announced as Best Picture. For Lee, the surprise was a familiar story.
"I'm snakebit. Every time someone is driving somebody, I lose," Lee said, having lost out on Best Picture to a movie with a similar story—Driving Miss Daisy—back in 1989.
Other notable winners included Rami Malek as best actor, defeating the likes of Christian Bale and Bradley Cooper, for his performance in the Freddie Mercury biopic, Bohemian Rhapsody; Alfonso Cuaron as best director for Roma; Regina King as best supporting actress for her role in If Beale Street Could Talk, directed by Barry Jenkins, which was otherwise overlooked; and best song to "Shallow," from A Star is Born, performed onstage by Bradley Cooper and Lady Gaga.
Backstage, the drama continued to unfold on an emotional night. Lady Gaga looked overcome with emotion after her win, but was soon sipping champagne with her co-star and director. Best Actor winner Rami Malek was photographed being congratulated by last year's recipient, Gary Oldman, while Shameik Moore celebrated Spider-Man: Into the Spider-Verse winning the Best Animated Feature Film award. Newsweek takes a look backstage to present candid reactions during the 91st Academy Awards.