The Oscars have been without a host since 2018, so viewers were eagerly anticipating how Amy Schumer, Wanda Sykes and Regina Hall would do as presenters.
Their monologue began in surreal style, where DJ Khaled appeared to gatecrash the stage as a hype-man for the three hosts. After that bit, that left a number of attendees looking visibly uncomfortable, the trio began their opening remarks.
Schumer began the monologue by saying she was, "representing unbearable white women who call the cops when you get too loud." The trio also got laughs when Schumer appeared to ask the other two exactly what Black Twitter was.
Schumer, Hall and Sykes also made jokes at the expense of the audience. Among their targets was Samuel L. Jackson, who got a "meh" from Sykes due to his never having made a romantic comedy. She then said he should make rom-coms with Jenifer Lewis called When This MoFo Met That MoFo and B****, I Said I Love You!
The biggest gasps, however, came when Schumer delivered a solo monologue, and took aim at Leonardo DiCaprio's habit of dating younger women.
Read on for what she said, as well as the best of the rest of their opening jokes: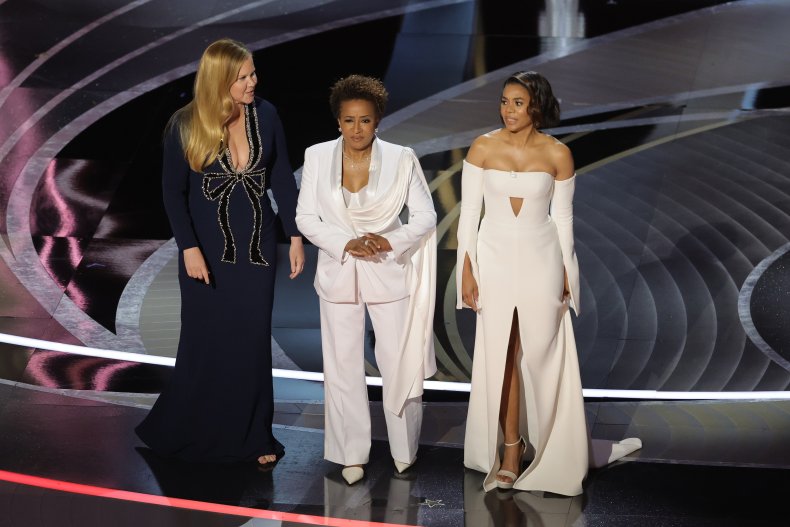 The best opening monologue jokes at the 2022 Oscars
Amy Schumer: "This year, the Academy hired three women to host, because it's cheaper than hiring one man."
Wanda Sykes on The Power of the Dog: "I watched that movie three times, and I'm halfway through it."
Amy Schumer: "You know what's in the In Memoriam package this year? The Golden Globes. They didn't have any black people!"
Wanda Sykes: "We're going to have a great night tonight, and for you people in Florida, we're going to have a gay night."
Regina Hall: "I was very disappointed that Space Jam 2 did not get nominated in the special effects category for that hairline they gave LeBron James."
Wanda Sykes: "Black Twitter is gonna love that joke."
Amy Schumer: "Leonardo DiCaprio is doing so much for the planet. He will leave it in a better shape for his girlfriends."
Regina Hall, meanwhile, spent much of her solo monologue on a routine about COVID-19 tests. Telling the audience they had to do some emergency COVID-19 tests, she then got stars like Timothee Chalamet, Bradley Cooper and Tyler Perry to take to the stage. However, she then revealed that she was using COVID-19 as an excuse to get closer to men she found attractive. She explained:
"It's gonna be a typical quick COVID test. You'll come backstage. Take your mask off...And your clothes. And then I'm going to swab...I'm going to swap the back of your mouth with my tongue. And we're just gonna do some other freaky stuff. Which I will record for Academy protocol."