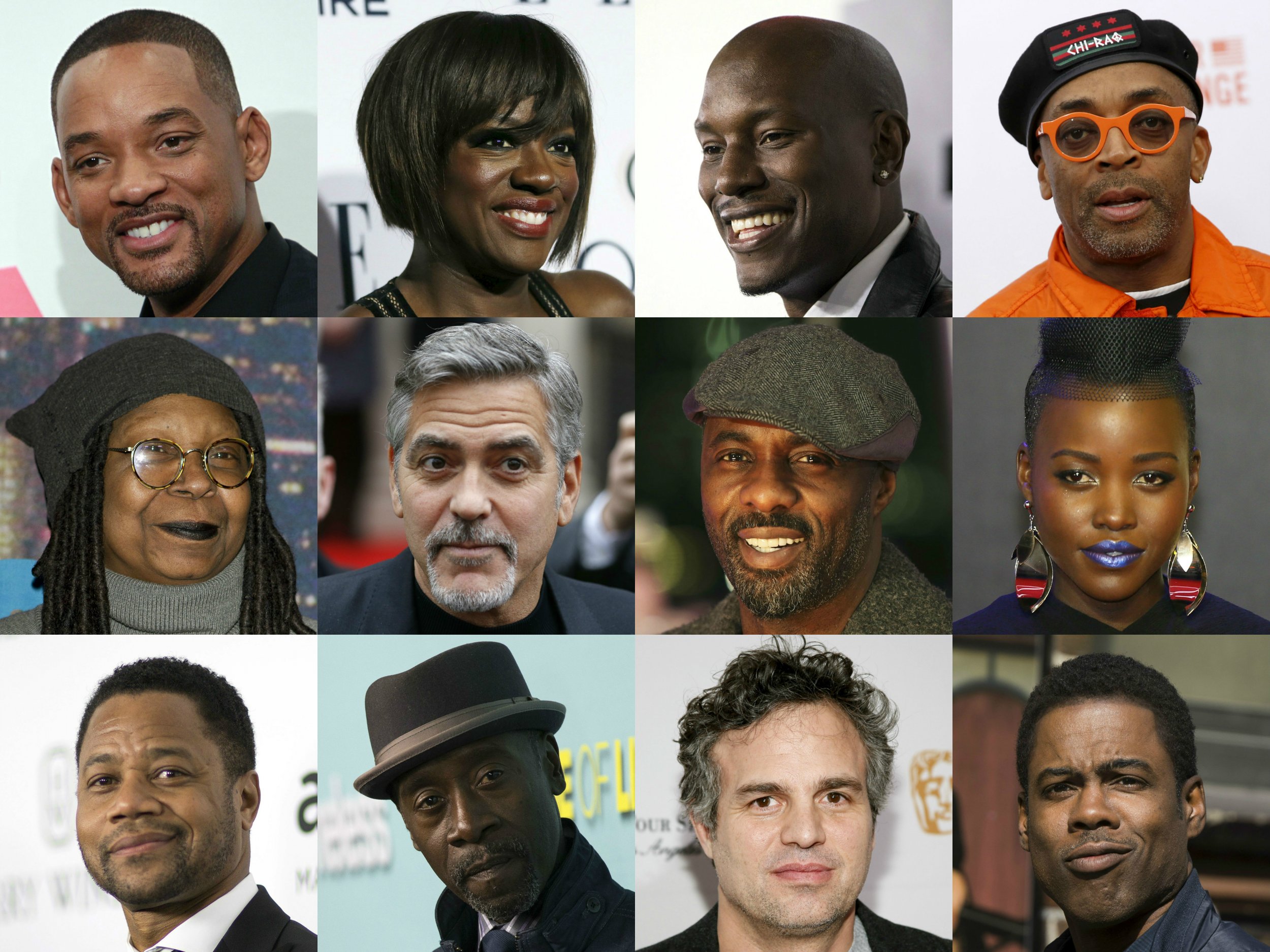 There are 20 actors nominated for the four major Academy Awards acting categories, and all are white. The same was true last year. Creed, which stars Michael B. Jordan and was directed by Ryan Coogler, was nominated, but only for Sylvester Stallone's performance. Straight Outta Compton was nominated, but only for its screenplay, which was written by white men. Beast of No Nation, the critically acclaimed Netflix film starring Idris Elba, received no nominations.
On Thursday, Will Smith announced that he will be boycotting the Academy Awards in protest of the ceremony's lack of diversity. Smith, the star of Concussion, is far from the only prominent voice to speak out against the Oscar nominations. What follows is how other actors, directors and notable film industry figures have addressed the issue.
Spike Lee
Spike Lee has emerged as a leader of the #OscarsSoWhite movement, in part for the message he posted to Instagram on MLK Day.
Jada Pinkett Smith
Jada Pinkett Smith, who is married to Will Smith, is also boycotting the ceremony, and feels that it might be time for the African-American community to stop seeking the approval of the Academy altogether. "Maybe it's time we pull back our resources and we put them back into our communities and our programs and we make programs for ourselves that acknowledge us in ways that we see fit that are just as good as the so-called mainstream ones," she said in a video posted to Facebook.
Pinkett Smith's video was criticized by Janet Hubert, Will Smith's co-star on The Fresh Prince of Bel-Air. "I find it ironic that somebody who has made their living and made millions and millions of dollars from the very people that you're talking about boycotting just because you didn't get a nomination, just because you didn't win?" Hubert said in a video response. "That is not the way life works, baby."
Pinkett Smith responded with a positive message. "This whole Oscar controversy isn't really about the Oscars," she said. "Really, in my plea to ask all communities and people of color to take back our power is so that we can use it in all sectors of our community, and right now, specifically with African-American people, we have some very serious issues that I think we as a people have to move together on. I'm hoping we can find ways to step together in this instead of finding ways to fight each other. I got love for everybody."
Will Smith
On Thursday, Will Smith appeared on Good Morning America to announce that he will join his wife in boycotting the Oscars. "I think that diversity is the American super-power," he said. "That's why we're great. So many different people from so many different places adding their ideas, their inspiration, and their influences to this beautiful American gumbo. For me, at its best, Hollywood represents and then creates the imagery for that beauty. But for my part, I think that I have to protect and fight for the ideals that make our country and make our Hollywood community great. And so when I look at the series of nominations of the Academy, it's not reflecting that beauty."
Many regarded Smith's performance in Concussion worthy of a Best Actor nomination.
"There is a position that we hold in this community, and if we're not part of the solution, we're part of the problem," he said, speaking of his wife's decision to boycott the ceremony. "It was her call to action, for herself, and for me and for our family to be a part of the solution."
Cheryl Boone Isaacs
As the African-American president of the Academy of Motion Picture Arts and Sciences, Boone Isaacs found herself in the uncomfortable position of responding to #OscarsSoWhite on behalf the institution in its cross-hairs. She did so in the form of a tweet noting how "heartbroken and frustrated" she was at the Academy's monotone selections before announcing that it will take steps to diversify its membership.
David Oyelowo
Though Boone Isaacs promised more action from the Academy, it already added 322 new members last June in an attempt to diversify the voting pool. One of those new members was David Oyelowo, the actor who many feel was snubbed in 2015 when he didn't receive a nomination for his portrayal of Martin Luther King Jr. in Selma. At a recent gala honoring Boone Isaacs, Oyelowo expressed his frustration that for the second year in a row, every nominated actor is white.
"A year ago, I did a film called Selma, and after the Academy Awards, Cheryl invited me to her office to talk about what went wrong then," he said. "We had a deep and meaningful [conversation]. For 20 opportunities to celebrate actors of color, actresses of color, to be missed last year is one thing; for that to happen again this year is unforgivable."
"The reason why the Oscars are so important is because it is the zenith, it is the epitome, it is the height of celebration of artistic endeavor within the filmmaking community," he continued. "We grow up aspiring, dreaming, longing to be accepted into that august establishment because it is the height of excellence. I would like to walk away and say it doesn't matter, but it does, because that acknowledgement changes the trajectory of your life, your career, and the culture of the world we live in."
Don Cheadle
Cheadle, who was nominated in 2004 for his role in Hotel Rwanda, has been active on Twitter since the nominations were announced. In addition to pointing out how the Oscars are "about $$$ and campaigns and networking, not meritocracy," he dropped this gem of a joke:
Many have called for host Chris Rock to boycott the event, but Cheadle looks at Rock's prominent role in the ceremony not as some sort of endorsement of the Academy, but as an opportunity for criticism.
Tyrese Gibson
Though Cheadle feels Rock should take advantage of his role as host, Tyrese Gibson has made clear that he thinks Rock should join Lee, Smith and others who are boycotting the ceremony. "There is no joke that he can crack," he told People. "There is no way for him to seize the moment and come into this thing and say, 'I'm going to say this and say that I'm going to address the issue but then I'm still going to keep my gig as the host.' The statement that you make is that you step down."
Whoopi Goldberg
Goldberg, who won Best Supporting Actress in 1991 for her role in Ghost, is not in favor of a boycott. "You know Chris Rock is the host of the Academy Awards," she said on The View. "So to boycott him seems just as bad as what everybody's saying."
"You wanna boycott something?" she continued. "Don't go see the movies that don't have your representation. That's the boycott you want."
Will Packer
Straight Outta Compton was one of the biggest surprise hits of 2015. A big reason for that was the film's script, which was written by four white people. It was the only nomination the film received. Last week, producer Will Packer posted a lengthy message to Facebook addressing #OscarsSoWhite. Packer acknowledged the contributions people of color made to Hollywood in 2015 before getting into how the problem goes deeper than Academy voters.
"One thing I will say, is that The Academy's voting record is only part of the issue," he wrote. "These films/performances and the scripts that drive them often go into development YEARS before they are released and thus in Oscar contention. We need more content produced by, written by, directed by and featuring filmmakers and actors of color being given the greenlight. We need them to start moving forward this year so in 2019 there are quality projects in contention! Although there were multiple performances and films that existed this year (and were overlooked), we still need more. We need those of us in the industry, and those outside trying to get in, to continue to push Hollywood to create opportunities for these films so that we have more than a handful each year."
Click here to read Packer's full response to the nominations.
Idris Elba
Though critically acclaimed, Netflix flim Beasts of No Nation received no Oscar nominations. Neither, of course, did its star, Idris Elba. Amid the #OscarsSoWhite uproar that followed the announcement of the nominations, Elba appeared before British Parliament to call for diversity in film and on television in the U.K.
"I'm not here to talk about black people," Elba said. "I'm here to talk about diversity. Diversity in the modern world is more than just skin color—it's gender, age, disability, sexual orientation, social background and—most important of all, as far as I'm concerned—diversity of thought."
You can read a full transcript of Elba's speech here, or just watch him deliver it yourself below.
John Singleton
Prominent black director John Singleton isn't as incensed by the nominations as some of his contemporaries. "There's only so many slots," Singleton recently told Variety. "There are a couple of movies that may have [warranted attention] but...it's all subjective. It's almost like the lottery."
"It's like every year people complain," he continued. "People even complain even when we have a lot of nominations. It is what it is. I've been in the game for 25 years. You never know—it's the luck of the draw for you. To me, I'm not surprised. I'm not disappointed either, as much as other people are disappointed."
Singleton went on to mention how in 1990 Driving Miss Daisy won Best Picture over Do The Right Thing, which wasn't even nominated. Over time, though, the Spike Lee joint is the one that has been "elevated." This, it seems, is what matters most to Singleton. Two years after Do The Right Thing was snubbed, Singleton was nominated for Best Director and Best Original Screenplay for his work on the now-iconic Boyz N The Hood, which did not recieve a Best Picture nomination.
Cuba Gooding Jr.
Gooding Jr., who won the Best Supporting Actor Oscar in 1998 for his role in Jerry Maguire, told reporters at a Television Critics Association press event that while he was disappionted Straight Outta Compton didn't receive more nominations, "it's this conversation that makes people think harder when the nominations come around for next year."
He mentioned films like The Butler, Red Tails and Selma as moving the cause forward, noting that the more projects like these that are produced, the harder it will be to deny the role of African-Americans in Hollywood. "You want it to be diverse," he said. "You want the work to show."
Mark Ruffalo
Though Mark Ruffalo recieved a Best Supporting Actor nomination for his role in Spotlight, he considered boycotting the event. Ultimately, he decided to attend.
Ruffalo also tweeted that he does support the movement to boycott the ceremony, citing Martin Luther King Jr.'s message that "good people who don't act are much worse than the wrongdoers who are purposefully not acting, and don't know the right way." He also tweeted that the nominations "do not reflect the diversity of our community."
Viola Davis
"The problem is not with the Oscars, the problem is with the Hollywood movie-making system," Davis, who was nominated for Best Supporting Actress in 2008 for her role in Doubt and Best Actress in 2011 for her role in The Help, recently told ET.
"How many black films are being produced every year? she added. "How are they being distributed? The films that are being made, are the big-time producers thinking outside of the box in terms of how to cast the role? Can you cast a black woman in that role? Can you cast a black man in that role?"
Davis will not be attending this year's ceremony because she'll be on vacation, and when asked if she thinks boycotting is the answer, she said that she didn't know. "I'm more zen about it," she said.
Davis also noted the opportunities that TV is providing for minorities. "I think there's more volume on TV," she said. "There used to be only three or four channels. Now we have Amazon, Hulu, HBO, Showtime. There's volume, so you have to fill up the volume. How you fill up the volume is by writing more narratives, and the narratives have to be varied. Everything can't be the same. Therefore it gives people the opportunity to come in and show what they can do. It gives women over the age of 40, journeymen actors, people who probably wouldn't have been given an opportunity in film, who would have been the 14th or 15th lead. Now they're the lead on a TV show."
George Clooney
When asked for comment, George Clooney pointed out that not only does the Academy have a diversity problem, it's gotten worse in recent years. "If you think back 10 years ago, the Academy was doing a better job," he told Variety. "Think about how many more African-Americans were nominated. I would also make the argument, I don't think it's a problem of who you're picking as much as it is: How many options are available to minorities in film, particularly in quality films?"
Clooney continued to echo what many others have said in regard to the problem running deeper than the Academy. In order for there to be diversity in the slate of nominations, there needs to be more opportunity for people of color. "There should be 20 or 30 or 40 films of the quality that people would consider for the Oscars," he concluded. "By the way, we're talking about African-Americans. For Hispanics, it's even worse. We need to get better at this. We used to be better at it.
Lupita Nyong'o
Nyong'o, who won Best Supporting Actress in 2014 for her role in 12 Years a Slave, resonded to the nominations with an Instagram post.
Chris Rock
We're sure he'll have more to say come February 28.