At Oscars, Harvey Weinstein Thanked More Than God, According to 2015 Analysis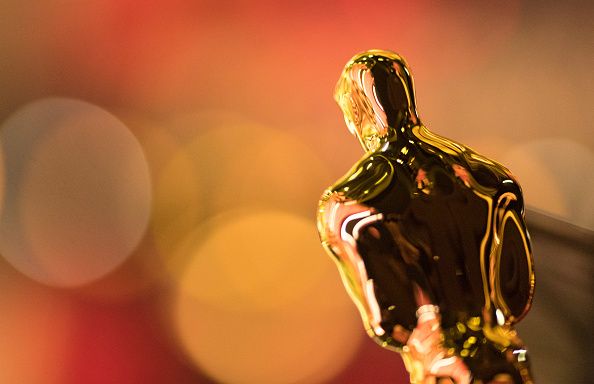 Harvey Weinstein was a powerful man in Hollywood for decades. That power can be measured in many ways, including the admiration from his colleagues, the number of successful films he made or the Oscar nominations and wins those films earned. His fall from grace—after decades of settlements over allegations of sexual harassment and unwanted physical contact came to light last week—is spectacular because of the great heights from which he is falling. God-like heights, some might say.
In fact, the producer elicited more gratitude on the stage of the Academy Awards than any deity. In 2015, just ahead of that year's awards ceremony, Vocativ analyzed 1,396 Oscar acceptance speeches archived on the Academy's website and found that Weinstein was thanked more often than god.
The study found that the most common recipients of a "thanks" in hundreds of speeches were, not surprisingly, the Academy itself (thanked in 43 percent of speeches) and mom and dad (thanked in 28 percent of speeches). But among specific figures, director Steven Spielberg received the most gratitude, with 42 "thanks" from the podium. Weinstein came in second place, with 25 percent fewer "thanks" than Spielberg. As Adam K. Raymond and Andrew Bouvé wrote for Vocativ at the time, "when you thank Harvey, everyone knows who you're talking about."
The next three spots on the list went to James Cameron (with 28 "thanks"), George Lucas (with 23 "thanks") and Peter Jackson (with 22 "thanks"). God came in sixth place, followed by Fran Walsh and Sheila Nevins, the only two women in the top 10. Francis Ford Coppola and Barrie Osborne tied for ninth, and Martin Scorsese and Saul Zaentz tied for tenth. Vocativ updated its list right after the 87th Academy Awards, where god and Sheila Nevins were both thanked. God stayed in sixth place, but Nevins rose to tie Walsh for seventh.
So let's review. The list of figures who got the most gratitude from winners of Hollywood's most prestigious awards, at least until 2015, went like this: Five white men (currently aged 55 and up); God; two white women; and four more white men (one of whom passed away in 2014 and the rest of whom are over 70). Next on the list? A whole lot more men: Jeffrey Katzenberg (12), John Lasseter (11), Bob Fosse (11) Ridley Scott (11), Bob Zemeckis (10), Robert Redford (10), Tim Burton (10) and George Clooney (10).
There's a handy representation of who holds power in the industry. Even now, when the Weinstein scandal makes it unlikely the producer will continue to be thanked by Oscar winners, how long will it take for that list, and the entrenched power structure it represents, to change in any real way?