Oscars Plan for 'Crisis Team' After Will Smith Slap Mocked: 'Oscar Cops'
The Academy of Motion Picture Arts and Sciences is not taking any chances for this year's Oscars ceremony and has hired a "crisis team" to prevent any major incidents.
The decision came after Will Smith walked onto the stage during the 2022 ceremony and slapped comedian Chris Rock in the face live on TV because of a joke he'd made about his wife, Jada Pinkett Smith.
Academy CEO Bill Kramer confirmed the decision after realizing the response to the infamous slap had been inadequate.
"We have a whole crisis team, something we've never had before, and many plans in place," Kramer told Time. "We've run many scenarios. So it is our hope that we will be prepared for anything that we may not anticipate right now but that we're planning for just in case it does happen."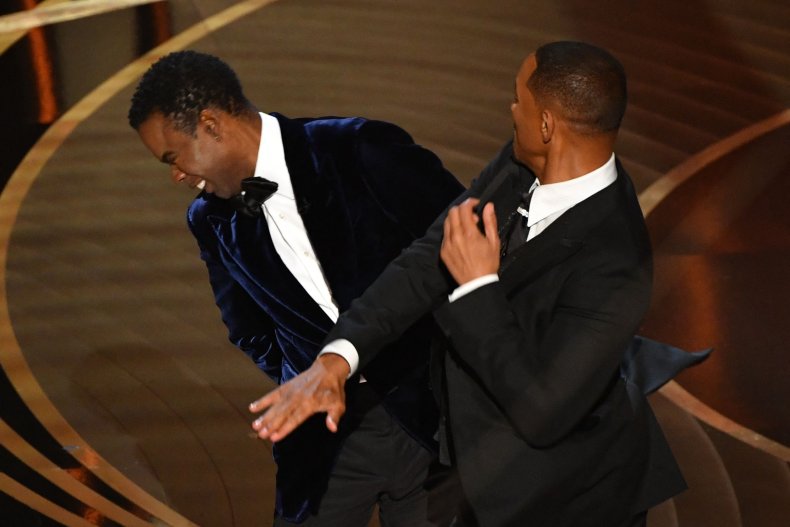 Kramer added: "Because of [the slap] last year, we've opened our minds to the many things that can happen at the Oscars. But these crisis plans—the crisis communication teams and structures we have in place—allow us to say this is the group that we have to gather very quickly.
"This is how we all come together. This is the spokesperson. This will be the statement. And obviously depending on the specifics of the crisis, and let's hope something doesn't happen and we never have to use these, but we already have frameworks in place that we can modify."
In the days after the slap, Smith apologized to Rock and was later banned from the Oscars for 10 years by the Academy. Rock has addressed the incident during some stand up performances, but he has yet to fully respond to Smith's apology.
Movie fans reacted with humor to the announcement of the "crisis team" on Twitter, with one even describing them as "Oscar cops."
"I want to write a movie about the Oscar Crisis Team, then have it win an Oscar, and while accepting the Oscar cause some kind of crisis the Crisis Team has to stop," tweeted filmmaker Jessica Ellis.
However, Lord of the Rings: The Rings of Power writer Gennifer Hutchison called out the Academy for not taking action sooner.
"Remember that time Adrien Brody grabbed Halle Berry and kissed her without permission at the Oscars. I know it's a different organization and all, but… they hire any crisis teams after that?" she wrote on Twitter.
Vulture writer Bilge Ebiri said: "Oscar Cops. They're gonna have Oscar Cops."
Smith won the best actor award for his portrayal of Richard Williams in the biographical sports drama King Richard at the 94th Academy Awards, but won't return this year to present the best actress award as is traditional thanks to his 10-year ban.
This year's awards will be held on March 12 at the Dolby Theatre in Los Angeles, with Jimmy Kimmel returning as host after taking on the job in 2017 and 2018.