Former YMCA Santa Arrested for Allegedly Sexually Assaulting 3-Year-Old Girl
A former employee at the YMCA, who dressed up as Santa Claus for years, was recently arrested for sexually assaulting a 3-year-old girl, some of which was caught on camera.
BT Adams, 75, appeared in court via video on Thursday, where he was charged with two counts of first-degree child sexual assault and one count of conspiracy to commit first-degree child sexual assault, according to WBAY. The charges stemmed from several different occasions, which allegedly captured Adams on film sexually assaulting a 3-year-old girl.
Oshkosh, Wisconsin, Police Chief Dean Smith explained that officers were called to the local YMCA on December 5 to follow up on reports of an employee acting inappropriately with a juvenile. The YMCA director told the officer that a parent observed Adams kissing a young girl on the lips while the parent was dropping their own child off at the drop-in center.
An investigation was launched, including interviewing staff members, Adams, the mother of the child and, as much as officers could, the victim. Along with the claim that someone saw the inappropriate behavior in person, the YMCA provided officers with several pieces of video footage.
"On two occasions, Mr. Adams is observed with his hand having sexual contact with the three-year-old," Smith said.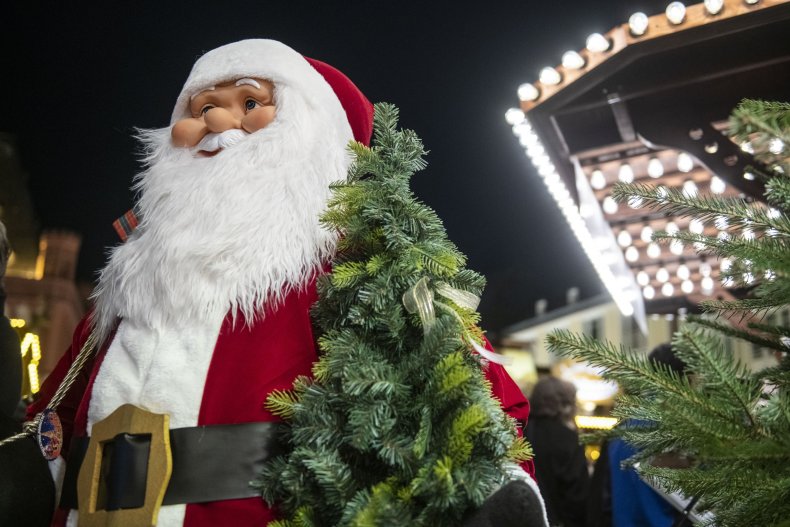 In one video, Oshkosh Northwestern reported, police saw Adams take the child out of the camera frame and into the bathroom. Another video from November 8 showed Adams allegedly take the child to a rocking chair and kiss her on the lips, according to WBAY.
When asked about the incident, Adams gave conflicting accounts and told police that the girl was "coming at him and kissing him." He allegedly said his attraction to children wasn't an "over attraction" and that he would be "totally shocked" if police found anything because he had been able to control it.
Prior to being moved to the child drop-in center at his request in 2013, Adams worked at the cafeteria at the YMCA. Along with his work in the cafeteria and drop-in center, Adams dressed up as Santa for "a number of years," WBAY reported.
Given the length of time Adams was employed at the facility, the Oshkosh Police Department established a phone number parents could utilize to voice their concerns and ask questions. As of Thursday, the department received 17 phone calls.
Smith repeatedly stressed that the YMCA has cooperated with the investigation and Oshkosh Community YMCA president/CEO Tom Blaze told WBAY that Adams was fired.
"We are dismayed and appalled upon learning of the allegations against an employee," Blaze said. "Our focus now is providing care and assistance to our YMCA families and staff."
Smith said that police have not found anything in Adams's background that would indicate there were past incidents of this type of behavior.