Ossoff Calls on Georgia Republicans Perdue and Loeffler to Require Masks at Events as COVID Surges
Senate candidate Jon Ossoff called on Georgia Republican Senators David Perdue and Kelly Loeffler to begin requiring masks at their campaign events as COVID-19 cases continue to surge across the nation.
"Let me make this very clear. This is a really important. We need to set the tone in Georgia, and I hope folks are paying attention. It is time for Senators Perdue and Loeffler to begin requiring masks at their campaign events," Ossoff told CNN on Monday morning.
"They need to lead by example. They need to comply with CDC public health guidelines. I am calling on them to make the commitment today that they will require masks at their political events and that they will cease crowding people into these indoor spaces where there's this high risk of COVID being spread," he added.
Ossoff, who is running against Perdue in the January runoff elections, noted that both he and Reverend Raphael Warnock, Loeffler's Democratic challenger, are making an effort to ensure Georgians are not risking their health when attending their campaign rallies.
"Reverend Warnock and I are holding outdoor events with urged social distancing and strong mask requirements," he said. "As a matter of public health, Senators Perdue and Loeffler need to follow suit."
As of November 22, Georgia has reported 404,411 confirmed coronavirus cases and 8,627 deaths, according to the state's department of health.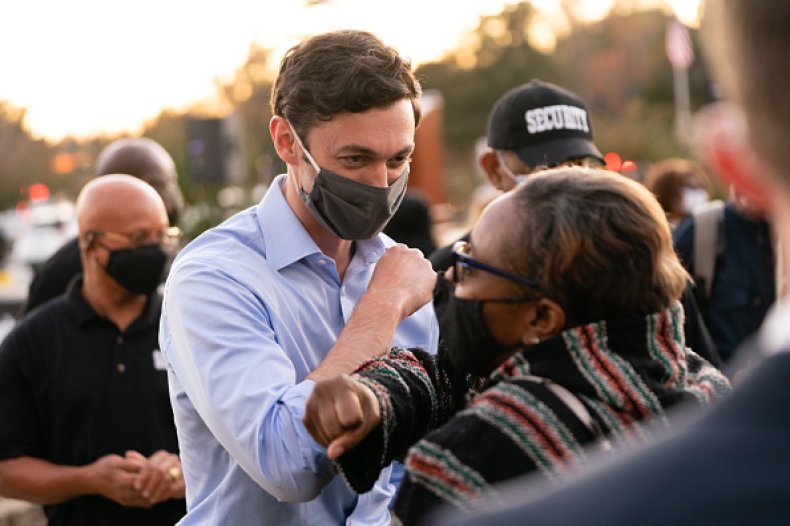 Both Perdue and Loeffler have been seen campaigning at various indoor events, ahead of the January runoffs, without a mask.
On Saturday, Loeffler's campaign confirmed to CNN that she had tested positive for the virus, but a second PCR test came back negative. Loeffler has said she will continue to self-isolate and get retested out of caution.
Both Republican senators were seen without a mask when campaigning with Vice President Mike Pence on Friday.
On November 20, Senator Rick Scott tested positive for COVID-19 a week after appearing at a campaign event with Loeffler and Perdue. Scott was seen wearing a mask at the event, except for when he was speaking at the podium. Neither Loeffler nor Perdue wore masks.
Ossoff also emphasized on Monday that people should be practicing COVID-19 safety measures over the Thanksgiving weekend.
"There are more than 1,000 Americans dying per day from this disease, and for everybody out there, look, on the road, about to celebrate Thanksgiving holidays, please take precautions y'all. We're really at a dangerous point in this time," he said.
"Wash your hands, keep your distance, wear a mask, pay particular attention to looking out for people in your family who are older, who are immune compromised. there are a lot of people dying, a lot of lives on the line. Let's all look out for each other this Thanksgiving season, this holiday season," Ossoff continued.
Many health experts fear that Thanksgiving gatherings and holiday travel plans will cause a massive uptick in coronavirus cases, which will put immense pressure on already overwhelmed hospital systems.
In a video shared to Facebook, Governor Brian Kemp pleaded for Georgians to avoid gathering in large groups over the holidays.
"Our fight with COVID-19 has uprooted so many of the norms we are used to and I know it has been hard on Georgia and their families," Kemp said. "But we cannot let up."
"If possible, consider options for gathering virtually or limiting your holiday gatherings to only a few people in the same household," he continued. "If weather permits, gather outside to reduce the risk of exposure indoors."
"Please, if you have people in your life who are more vulnerable to COVID-19, including the elderly and those with underlying medical conditions, consider the risk of including them in holiday gatherings," he added.
Newsweek reached out to both Perdue and Loeffler's office for comment but did not hear back before publication.