OSU Star E.J. Liddell Receives Racist, Threatening Messages After Big Upset Loss
Not long after the Ohio State University men's basketball team suffered one of the biggest upset losses in tournament history on Friday, its leading scorer began getting threatening, racist and vile messages.
OSU notified police of a long string of messages that E.J. Liddell received after his team's 75-72 upset loss to Oral Roberts University in the first round of the NCAA basketball tournament.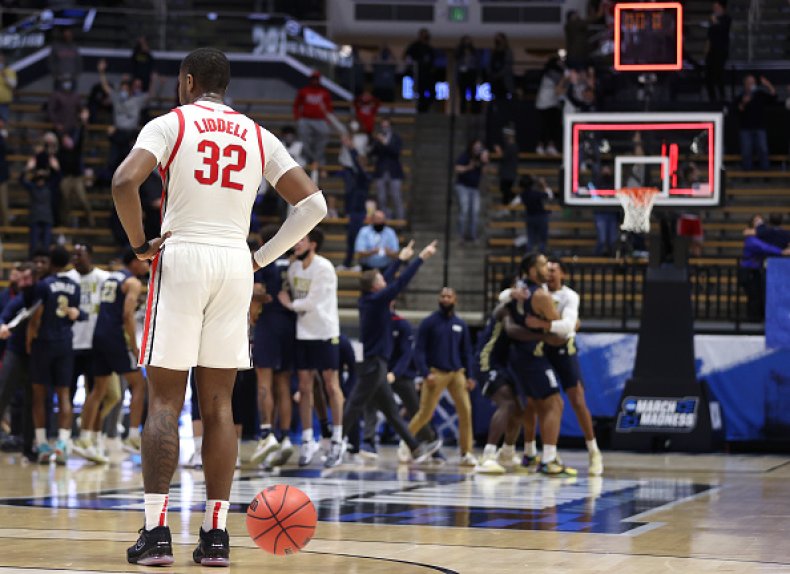 The messages reportedly came from two different people who have no connection to Ohio State, according to Buckeyes coach Chris Holtmann, who released a statement.
"These comments, while not from or representative of Ohio State fans, are vile, dangerous and reflect the worst of humanity," Holtmann said. "EJ is an outstanding young man who had a tremendous sophomore season and he was instrumental in our team's success. We will take the necessary actions here at the University to address this immediately."
Liddell led Ohio State with 23 points on Friday, including five of his team's eight points in overtime. Some of the messages he received after the game included, "Don't ever show your face at OSU. We hate you."
Another message read, "I hope you die I really do."
Liddell took a screenshot of the messages and posted them to his Twitter account. (Editor's note: verbiage in the tweet is vulgar and can be highly offensive).
"Honestly, what did I do to deserve this? I'm human," Liddell wrote in his tweet. He followed that up. "Comments don't get to me but I just wanna know why. I've never done anything to anyone in my life to be approached like this."
Ohio State athletic director Gene Smith said the social media attacks on Liddell were intolerable, and he said offending parties "will be hearing from the authorities."
"The threatening social media attack E.J. Liddell faced after the game yesterday is appalling and will not be tolerated," Smith tweeted. "To the few of you who have chosen to inappropriately rail against our players on social media, stop. Hate and derision have no place in Buckeye Nation or in civil society. If you cross the line and threaten our players, you will be hearing from the authorities. That I promise you."
The Buckeyes were the No. 2 seed in the South Region, and became just the ninth No. 2 seed to ever lose to a 15 seed. Ohio State, which finished runner-up in the Big Ten, was once ranked in the top five this season and a favorite to possibly cut down the nets as national champs.
In Friday's game, Liddell missed a free throw on the front end of a one-and-one with 37 seconds remaining in regulation and his team leading by two points. Oral Roberts sank a pair of free throws with 15 seconds to go, tying the game to send it to overtime.
The Golden Eagles took an early lead in overtime and never trailed again, winning their first tournament game since 1974 and carving out one of the top 10 upsets in tournament history. Liddell score five of Ohio State's points in the extra period.