The Other Religion at Ground Zero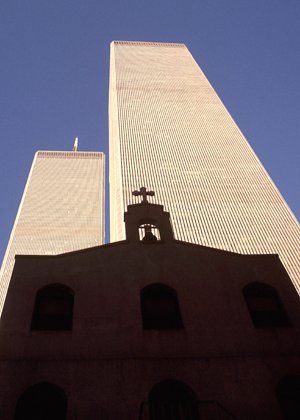 Father Mark Arey won't put it quite this way, but he doesn't see why Muslims are getting all the attention for their religious building near Ground Zero. Especially when the church he represents, St. Nicholas Church, was actually at Ground Zero; was obliterated when the South Tower fell on September 11, 2001; and has never gotten the green light to proceed rebuilding—despite nine years of promises by the Port Authority that were reiterated last week by New York City's Mayor Michael Bloomberg.
"I dare say this, if this were a Roman Catholic church or a Baptist church or even a synagogue, we would not have had this problem. I'm not sure we haven't been a little bit bullied because we're tiny," says Arey, the ecumenical officer of the Greek Orthodox Archdiocese of America.
There are about 2 million Eastern Orthodox in the United States, practicing in a branch of Christianity that split from the Roman Catholic church in 1054. St. Nicholas Church was built in 1916 on Cedar Street, across the street from where the World Trade Center eventually stood, by Greek immigrants who worked the shipyards at New York Harbor. St. Nicholas, as Arey points out, is the patron saint of sailors in the Eastern tradition, and "the Greeks have been sailing the wine-dark seas since the days of Homer." By 2001, just about 70 people were worshiping there on Sundays.
On September 11, St. Nicholas Church was literally crushed. Like the Ark of the Covenant, a safe containing the relics of saints was lost. Only a few objects were ever recovered from the wreckage: two icons, several bibles, a few mangled candles. They wait in safety uptown as the Archdiocese negotiates its new building with the Port Authority. In 2009, negotiations broke down completely over the size and location of the new church. According to Arey, the Port Authority offered the church a bigger site up the road, on Liberty Street, and then rescinded that offer. In a statement, the Port Authority said it had reached out to St. Nicholas last week, but that the Liberty Street location was no longer on the table. "St. Nicholas Orthodox Church has always had and will continue to have the right to rebuild on its original location," it said. Other plans have been made for Liberty Street, it said, and it would slow down construction of the entire World Trade Center site to make a church six times the size of the original building in a different location.
"We said the new church would have a mission to the memory of what happened," explains Arey. "It would have a multipurpose room, for people of different faiths to reflect, memorialize, to think. We had this vision of it open 24 hours a day. People could come together to talk about peace and reconciliation."
The question lingers in the air. The founders of Park51, the Islamic cultural center and mosque, say they want peace and reconciliation, too. They got approval for their project, and look what's happened. Why not allow the Orthodox—a tiny, noncontroversial minority—to take their shot? "We're getting a lot of interest and inquiry from the non-Christian world outside of New York," says Arey. "Some people who are opposed to Park51 are saying, 'As Americans we may have to accept this mosque. We may disagree with it, but at the same time, let's rebuild it, too.' "
A threat lingers here as well: the Port Authority does not want all of Christendom to descend upon Ground Zero in support of St. Nicholas, Arey implies. "The Port Authority may be Goliath, but we're David and you remember how that story ended." Last week, The Wall Street Journal reported that negotiations had resumed, but Arey says no one has reached out to him. "We are very concerned. We're not going to be pushed out. We are very determined to rebuild the church at Ground Zero."
Arey says he supports the Park51 project. "I certainly support their right to be there," he says. "We believe in freedom of religion. I got cut off on a radio program because I said not all Muslims are evil. You can't make that case."
At the same time, like so many others—politicians and religious leaders—he sees the controversy over the mosque and Islamic center as an opportunity to further his own interests. "As for people who are distressed about the mosque, I can sympathize or empathize. Having the church there will be a great comfort."
Lisa Miller is NEWSWEEK's religion editor and the author of Heaven: Our Enduring Fascination With the Afterlife. Become a fan of Lisa on Facebook.