The Other Train Accident Victims: Rail Workers Who Face PTSD and Depression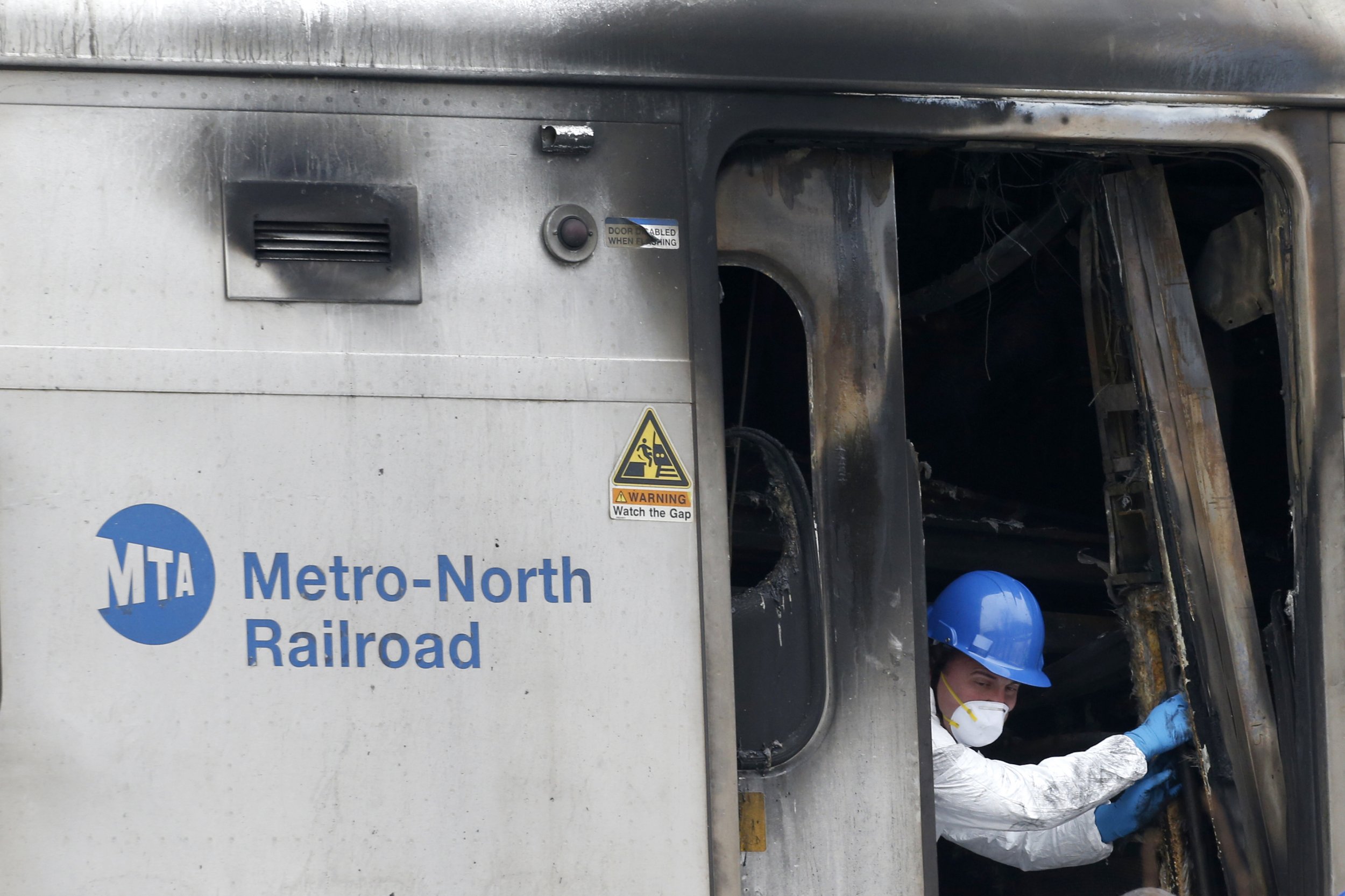 In December 2013, after a Metro-North train jumped the rails in the Bronx, killing four and injuring 75, a union leader described the train engineer as "totally traumatized." The New York accident made national headlines, but other than the union quote, little attention was given to that trauma he faced.
A similar description of an engineer's well-being came up at a National Transportation Safety Board (NTSB) briefing last week, two days after a Metro-North crash in Valhalla, New York, on February 4, which left six people dead. "I think it goes without saying that he's very traumatized," a board representative said.
While the conversation after deadly transit accidents tends to focus on the passengers, transit workers often deal with unique forms of trauma. John Tolman, vice president of the Brotherhood of Locomotive Engineers and Trainmen, says railroad operators will likely face three potentially traumatic incidents in their careers. And underground, many subway operators deal with as many as three "12-9" situations in a career, code for when a passenger is under the train.
"The hardest part," Tolman says, "is that you're usually the last person to see that particular individual alive."
For transit workers, accidents can lead to significant psychological difficulties and post-traumatic stress disorder (PTSD). The National Center for Intermodal Transportation surveyed 363 commuter railroad operating employees for a 2011 report and found that 43.6 percent of them had been involved in at least one critical incident—accidents, near misses, collisions, personal injuries or contact with people or equipment on the tracks. Of those employees, 12.1 percent reported symptoms consistent with PTSD after the incidents. Employees involved in those incidents also reported higher levels of intrusive thoughts, trouble sleeping and working, and depression.
Researchers around the world have studied the effects of accidents on operators and have produced findings similar to those in the 2011 report. One journal article from 1989 compared "the mental distress of the train drivers" to that of Vietnam War veterans.
Over the past three decades, thousands of transit workers have turned to a psychologist named Howard Rombom for help after traumatic incidents. The Metropolitan Transportation Authority in New York and workers' unions often send Rombom up to four referrals per week, and it was Rombom who met with individuals involved in the 2013 derailment.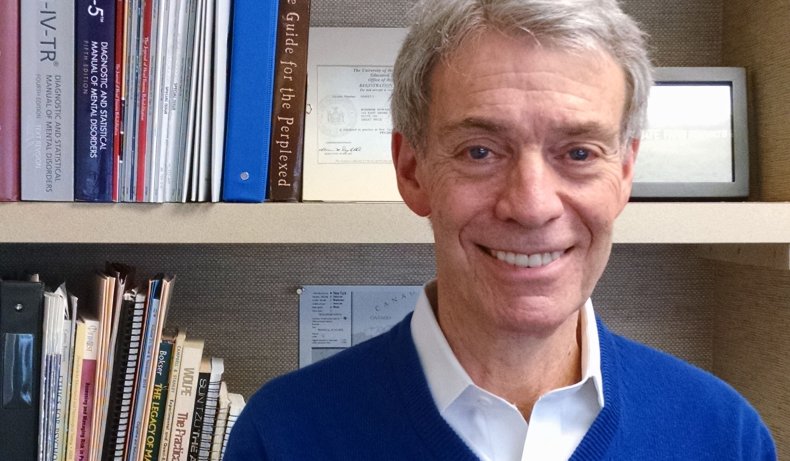 "The patients, I thought, were underserved," Rombom, 63, says of transit workers, from his Long Island, New York, office that overlooks Manhasset Bay. "Really a forgotten piece of the population." His patients also include 9/11 rescue workers—some of whom continue to see him, all these years later—and passengers who have experienced transit incidents.
Rombom's treatment of transit workers differs from his approach toward other patients. "Their injuries tend to be somewhat unique," Rombom says of the workers. For train operators who unintentionally help people die by suicide, for example, they must deal with a phenomenon "that pretty much doesn't happen anywhere else," he says. His leading diagnosis for transit workers is PTSD, and depression, anxiety and adjustment disorders are also common.
"Most of them can't go back to work. They develop avoidance behaviors. They find it difficult to go back on the subways and the buses," he says. The workers reexperience the trauma in their minds, spend less time around other people and have difficulty sleeping and concentrating. Some transit workers also develop high blood pressure, heart palpitations and excessive sweating, which Rombom says are "physical manifestations of their anxiety."
To help, Rombom and the other psychologists in his practice work to "desensitize" patients from the incidents and "reintegrate the trauma into their psychological framework," he says, adding that treatment varies from individual to individual. "We have no package, no recipe."
Though Rombom has been working with such patients for years, mandated mental health services for transit workers have been a long time coming. Tolman, the union vice president, recalls finding little support available after his first fatal accident as a railroad operator, in the 1980s. Now many major railroads provide psychological resources through employee assistance programs, such as Metro-North and Amtrak.
In March 2014, the Federal Railroad Administration (FRA) announced a rule that American railroads must each put in place a "critical incident stress plan" to address the mental health needs of employees after accidents. That mandate came out of the 2008 Rail Safety Improvement Act. A spokesman for the FRA tells Newsweek that the railroads have until June 2015 to submit their proposals for the stress plans, and that not all have done so yet.
"At the very least, there should be an offer of treatment, an offer of consultation and an offer of time off," says Patrick Sherry, executive director of the National Center for Intermodal Transportation and author of the 2011 report.
Sherry says transportation authorities still have a ways to go in providing adequate mental health care. While there are "lots of brochures and pamphlets and things like that out there," he says, more preemptive training should be done for dealing with trauma and recognizing the behavioral health warning signs. "I'm not aware of any standard training approach for operating personnel," he says.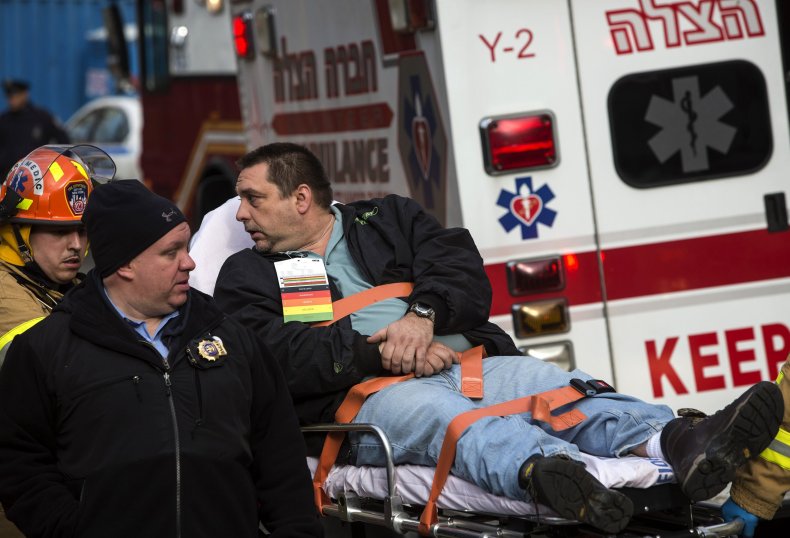 Union leaders have been in touch with William Rockefeller, the engineer from the 2013 derailment, in recent days. Last October, the NTSB announced it had determined that Rockefeller's undiagnosed sleep apnea, which led him to fall asleep at the controls, was the probable main cause of the derailment. Anthony Bottalico of the Association of Commuter Rail Employees tells Newsweek that Rockefeller has not yet returned to work at the railroad.
Rockefeller's union also represents the engineer, conductor and other workers involved in the February 4 crash. "The last 19 months have been the most difficult years in the history of this railroad and for our members," Bottalico wrote in an email to union members in the early hours of February 5. He urged members to use their employee assistance programs if needed and to support one another.
As Newsweek reported last week, there were 891 rail fatalities in 2013, according to the NTSB. The FRA counted 11,564 train accidents and incidents for that year. The New York City subway had 145 "collision with individual" incidents in 2014. Fifty-eight of those people died.
Rombom published a study in 2006 that described treating 70 subway and bus workers who had experienced "12-9" incidents. The workers typically returned to their jobs after two to three months; all returned within a year.
Despite treatment, transportation industry leaders say, it's hard to overcome the trauma. "You can revisit it in slow motion," Tolman says. "You just never forget."