Ottawa Businesses Create GoFundMe After Protesters' Fundraiser Halted
Businesses in Ottawa have created a GoFundMe page to help the restaurant owners hurt by the ongoing anti-COVID mandate protests in the city's downtown core, just as the fundraising platform announced it would pull millions of dollars raised for the protesters themselves.
"The entire downtown core and Byward Market areas are in lockdown once more, except this time it isn't health restrictions keeping doors closed," the fundraiser reads.
"Residents are afraid to leave their homes, delivery services face extreme difficulty picking up orders, and clients who are willing to make the trek into the Red Zone find that the protest outside is quite literally 'horning-in' on the intimacy of sharing a meal at a restaurant with a loved one," it continues.
Anti-government protesters have taken over Ottawa, prompting the mayor to declare a state of emergency and residents to file a multi-million-dollar class-action lawsuit in response to the demonstrations going into their 11th day.
While many have criticized the protests and urged people to leave the nation's capital, there has also been a significant amount of support for the demonstrators, including GoFundMe-driven donations of more than $10 million Canadian dollars (over $7 million).
On Friday, GoFundMe stated that it would withhold money raised for the Canadian truckers, citing police reports of violence. The company said that it would offer refunds of the withheld funds to donors who fill out a request form.
"We now have evidence from law enforcement that the previously peaceful demonstration has become an occupation, with police reports of violence and other unlawful activity," the platform said in a statement.
Over the weekend, Ottawa police arrested at least seven people and issued more than 450 tickets to unruly protesters.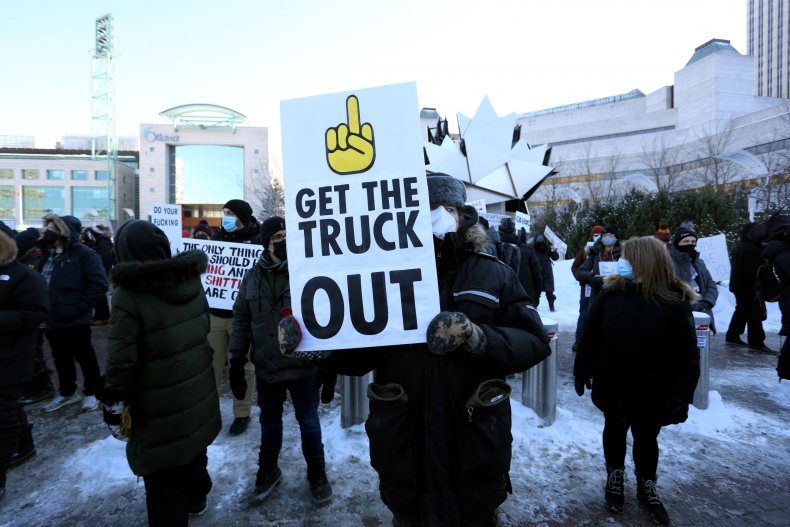 "No further funds will be directly distributed to the Freedom Convoy organizers - we will work with organisers to send all remaining funds to credible and established charities verified by GoFundMe," the statement read.
Approximately CAD$1 million have been released to organizers thus far.
Organizers moved their fundraising efforts to a different platform called GiveSendGo over the weekend.
On the same day that the GoFundMe for the protesters was frozen, prominent restauranteurs in Ottawa launched their own campaign with a CAD$250,000 goal to help businesses that are being "forced to decide between making ends meet, and keeping their staff safe as the occupation of the downtown core enters a second week with no signs of easing up."
Protesters in Ottawa have remained in the city more than a week after the initial Freedom Convoy rally, causing disruptions to everyday life for many residents, workers and businesses.
The gridlock of trucks and vehicles has prevented a number of restaurants from receiving their daily supplies and forced some of them to close altogether.
The GoFundMe page, which is being organized by Robin Duetta, will provide grants to restaurants through a vetting process. Recipients of the funds will be required to share a minimum of 50 percent of the monies with their restaurant's employees.
"If the fund becomes as substantial as we're hoping, we're envisioning distributing grants based on demonstrated need and geographic proximity to the Red Zone. Our goal is to get as much money into restaurateur hands as quickly as possible," Duetta wrote on the fundraiser.
As of Monday afternoon, the page has raised more than CAD$33,700.
Many of the donors commented on the ongoing situation in Ottawa.
"The downtown restaurants and their employees are the ones whose freedoms have actually been restricted by people who think the right to protest includes the right to take away others rights and freedom," one donor wrote.
"It's not right for a city to be occupied for this length of time all under the guise of freedom to protest," another said.
Duetta is asking people to do what they can to continue supporting the businesses that have been hit the hardest by the pandemic.
"Restaurants have shown up for our community year after year, and it's time to return the favour. It's time for action. Takeaway and meal kits can only go so far. Our restaurants need our support to weather this storm, and they need it now," the GoFundMe reads.