Ottawa Homeless Shelter Harassed by COVID Mandate Protesters Demanding Free Food
Volunteers at one of Ottawa's homeless shelters said they were harassed for free food over the weekend by demonstrators protesting COVID-19 mandates on Canada's Parliament Hill after local restaurants refused to serve unmasked patrons.
"The staff and volunteers at our soup kitchen experienced verbal harassment and pressure from protestors seeking meals," Shepherds of Good Hope said in a Sunday statement regarding the weekend rally. "While we are not certain of exact numbers, the demands for meals and verbal altercations continued for several hours over the dinner period."
"One member of our shelter community was assaulted by protestors. A security guard went to his aid and was threatened and called racial slurs," the organization added.
Over the weekend, demonstrators descended to Ottawa as the climax of a week-long, cross-country convoy protesting the federal vaccine mandate for cross-border truck drivers.
The final rally on Saturday resulted in local police launching a number of investigations of harassment, but also reports of anti-mask protesters trying to secure food in the city of Ottawa, where businesses are enforcing mask mandates.
In one attempt, protesters demanded food from Shepherds of Good Hope's soup kitchen in the downtown core.
"Earlier today, our staff and volunteers experienced harassment from convoy protestors seeking meals from our soup kitchen," the organization tweeted on Saturday after several social media users reported that protesters were trying to get free meals from its soup kitchen.
"The individuals were given meals to diffuse the conflict. Management was then informed of the issue and no further meals were given to protesters," the shelter's statement said. "Our soup kitchen is committed to providing meals to people experiencing and at risk of homelessness in Ottawa. This weekend's events have caused significant strain to our operations at an already difficult time."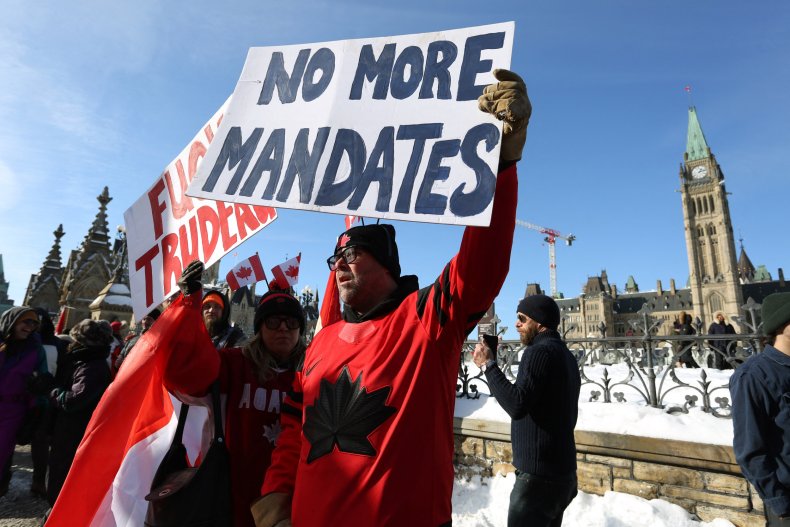 In one screen recording posted to Tik Tok, members of a group titled "convoy to ottawa 2.0" are heard asking one another what businesses or organizations in Ottawa were offering food to protesters.
"Anyone know if the homeless shelter is still giving out free food?" someone is heard asking. "Pretty hard to find a restaurant here in the area that will support the patriots. Most of them are forcing us to wear masks—it's pretty ridiculous."
One person in the group recommended Shepherds, saying, "They were giving out free food. They seemed pretty happy to be serving the patriots" while another suggested trying a local church for food.
"As far as I'm concerned, we're homeless in this city because there ain't no hospitality here in Ottawa, that's for sure," someone is heard saying in the group.
On Sunday, Shepherds said its staff is "beyond exhausted" from dealing with the events of the "incredibly difficult weekend" but thanked everyone who supported them after hearing of the recent incidents.
"Shepherds of Good Hope has been overwhelmed by the response we've received from our community and across the country," the group said. "Thank you - we are extremely grateful to have this opportunity to highlight the incredible work done by our teams."
Ottawa Police said they are aware of the incident at Shepherds and have actively reached out to the organization to further investigate.
Speaking to the press on Monday, Canadian Prime Minister Justin Trudeau condemned the "behaviour displayed by some people protesting in our Nation's capital."
"I want to thank the many Canadians who've made donations to the Shepherds of Good Hope and to the Terry Fox Foundation in response to what they saw this weekend. There is no place in our country for threats, violence, or hatred," he said.
"So, to those responsible for this behaviour, it needs to stop," Trudeau added. "To anyone who joined the convoy but is rightly uncomfortable with the symbols of hatred and division on display, join with your fellow Canadians. Be courageous and speak out. Do not stand for or with intolerance and hate."
Update 01/31/22 4:31p.m. ET - This story was updated with comments from Trudeau.