Ottawa Police Seize Fuel From Truckers Amid Ongoing Protests
In an effort to put an end to the anti-government demonstrations in Canada's capital, Ottawa police have seized thousands of liters of fuel from the protesting truckers who have occupied the city's downtown core for more than a week.
On Sunday evening, dozens of heavily armed police officers moved into a parking lot at the Ottawa Baseball Stadium—which has become a staging area for protesters—and removed 3,200 liters (845 gallons) of fuel being stored to supply truckers, according to local media outlets.
By choking off the fuel supply of the "Freedom Convoy" demonstrators demanding an end to all federal and provincial COVID-related mandates, authorities in Ottawa are hoping to break up the protests that have created a massive disturbance for many local residents and businesses.
On the 10th day of demonstrations, Ottawa Mayor Jim Watson declared a state of emergency.
"Declaring a state of emergency reflects the serious danger and threat to the safety and security of residents posed by the ongoing demonstrations and highlights the need for support from other jurisdictions and levels of government," the city said in a Sunday statement.
Earlier in the day, police began informing truck drivers they would not be allowed to refuel after midnight and warned that "anyone attempting to bring material supports (gas, etc.) to the demonstrators could be subject to arrest."
Effective Monday, police will begin confiscating any gas cans, propane tanks and fuel of any kind that is being brought to the protesters in the downtown area.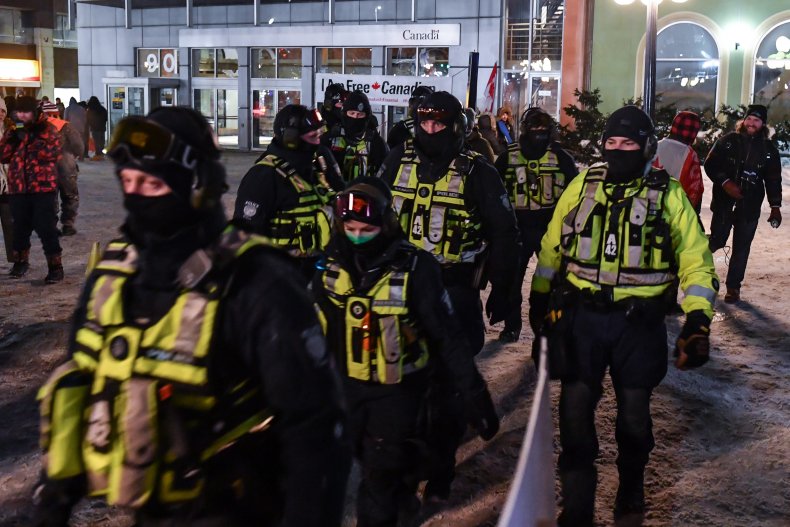 Over the weekend, at least seven people were arrested and more than 550 tickets were issued in relation to the ongoing demonstrations, including citations for excessive noise, use of fireworks and driving the wrong way, among other offenses.
Authorities have also seized and towed several vehicles, including a stolen truck and a vehicle that had been abandoned on a roadway.
Ottawa police, who are working with an additional 100 officers from the Ontario Provincial Police, have launched over 60 criminal investigations so far. Earlier in the week, the force said it has opened 11 probes related to hate crimes and that four people have been charged.
The city has yet to ask for military aid from the federal government, although last week, Prime Minister Justin Trudeau said he saw no reason to deploy armed forces to the protests in Ottawa.
"One has to be very, very cautious before deploying military forces in situations engaging Canadians. It is not something that anyone should enter in lightly," Trudeau said on Thursday. "But as of now, there have been no requests, and that is not in the cards right now."
Trudeau has refused to meet with any of the demonstrators and urged them to leave downtown Ottawa, where the mayor has said residents are being held "hostage in their own homes."
Organizers of the Freedom Convoy, however, have vowed to remain until their demands are met.
Newsweek reached out to the Ottawa police for comment but did not hear back before publication.