Otto Warmbier, American Student Held in North Korea, Confesses to Theft on TV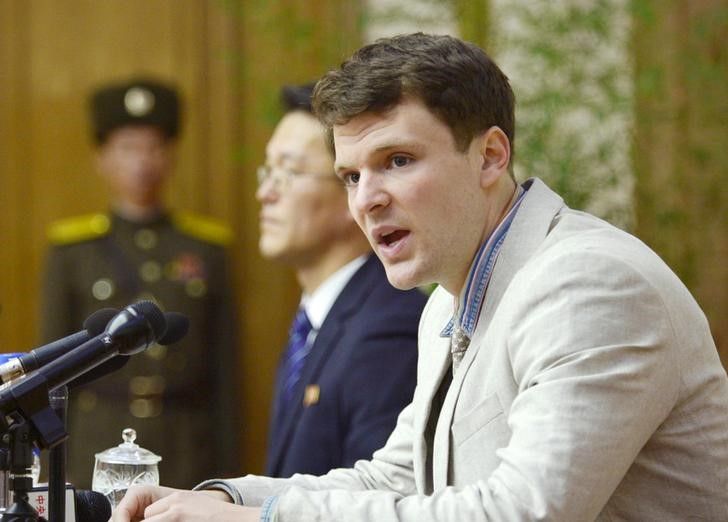 Otto Warmbier, an American student who was detained in North Korea last month, appeared at a news conference on Monday, confessing to his "severe" crime of stealing a sign from a hotel.
"On the early morning of January 1, 2016, I committed my crime of taking out the important political slogan from the staff-only area of the Yanggakdo International Hotel, aimed at harming the work ethic and the motivation of the Korean people," Warmbier said in a televised statement on Monday.
During the same appearance, Warmbier also cried and begged for his release, saying he "made the worst mistake of my life."
Wearing a beige suit and keeping his head down, Warmbier was marched into the Pyongyang press conference between two North Korean officials before reading his statement. According to CNN, this marks the first time North Korea has presented Warmbier to the public.
Warmbier said that he had been promised a $10,000 used car by a member of the Friendship United Methodist Church if he returned from North Korea with the propaganda sign he ultimately stole. Citing a North Korean official, CNN reports that Warmbier requested the press conference be held, although this has not been independently verified.
In his statement, Warmbier also blamed the U.S. government for "manipulating" people into committing crimes in North Korea.
A 21-year-old University of Virginia student, Warmbier was on a five-day tourist trip to North Korea when he was arrested on January 2, shortly before he was due to leave the country. He was charged with committing a " hostile act" by the North Korean government, which said Warmbier was "tolerated and manipulated by the U.S. government."
Last April, North Korea detained and later released South Korean New York University student Joo Won-moo, who entered the country illegally by crossing the Yalu River. Won-moo said he hoped his arrest would prompt a "great event" that would help strained relations between North and South Korea.
In 2014, North Korea released two detained Americans, Kenneth Bae and Matthew Todd Miller. Bae, a missionary, was charged with crimes against the state, while Miller was held on an espionage charge.