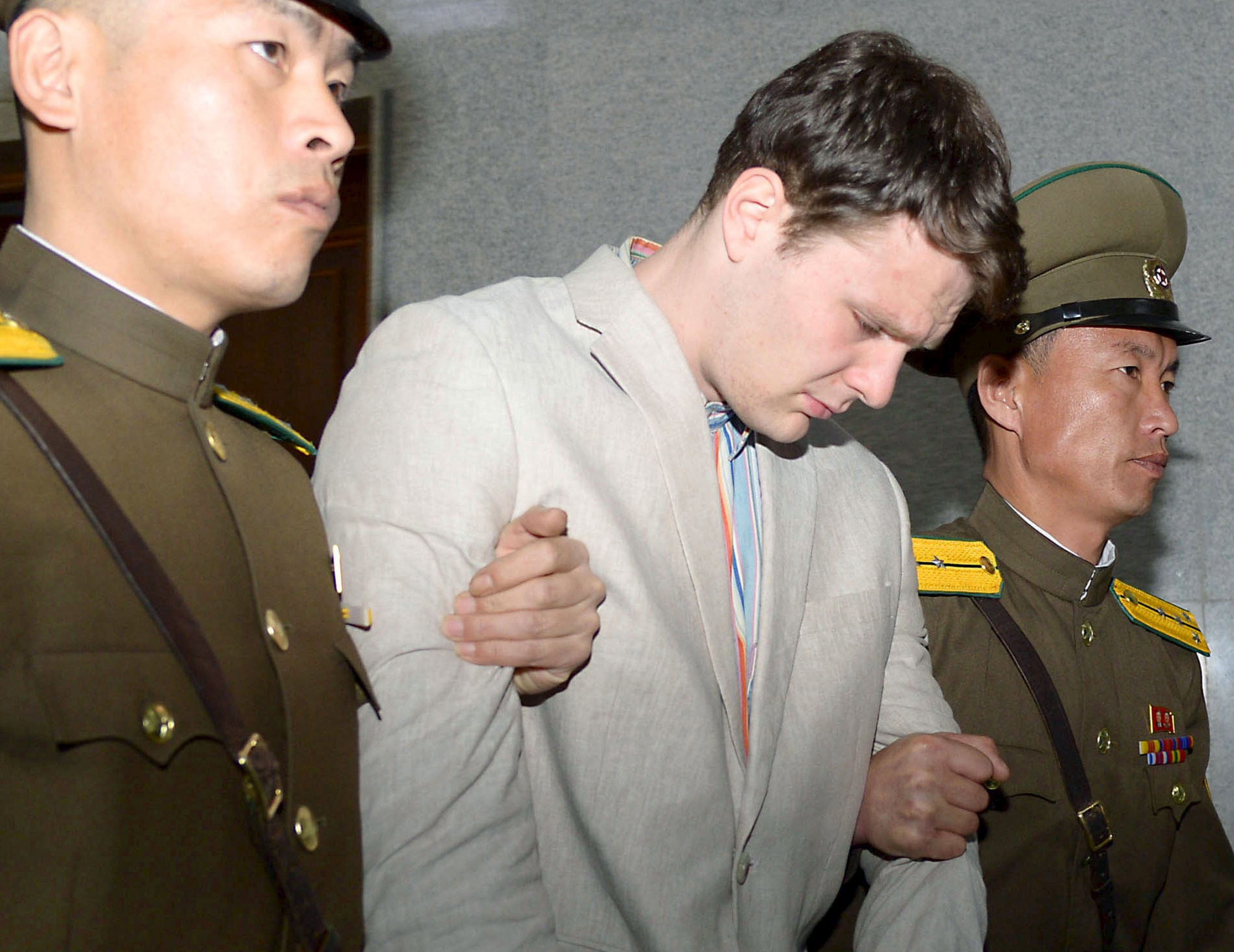 The Hamilton County Coroner reportedly will not perform an autopsy on Otto Warmbier, the American student who died on Monday after being detained in North Korea. The Cincinnati Enquirer as well as Fox 19 report that the coroner's office will honor the family's objection to an autopsy.
The office confirmed in a statement—which was posted on Twitter by ABC's global head of social media, Dan Linden—that it had received and examined Warmbier's body but had performed only an "external examination." The office also reviewed medical records from the University of Cincinnati Medical Center and AreoMed Management Group (air ambulance service) and had conversations with his doctor.
"No conclusions about the cause and manner of Mr. Warmbier's death have been drawn at this time as there are additional medical records and imaging to review and people to interview," the statement said. "Our deepest sympathies are with the family and friends of Mr. Warmbier at this time of their tragic loss."
The news comes after Don Jasper, chief investigator at the Hamilton County Coroner's office in Cincinnati, told Reuters that Warmbier's body was transferred there later that same day and that Dr. Lakshmi Kode Sammarco, the coroner, would share preliminary findings on Tuesday afternoon or Wednesday morning.
Warmbier, a student at the University of Virginia, was in North Korea on a trip organized by Young Pioneer Tours. He was detained in January 2016 while trying to leave the country from the Pyongyang airport. He was later convicted of trying to steal a propaganda poster from his hotel and was sentenced in March 2016 to 15 years of hard labor.
After nearly a year and a half of detention, North Korea abruptly announced last week that it had released Warmbier on what it called "humanitarian grounds." He was in a coma when he returned home.
"Otto is on a medevac on his flight home," his parents, Fred and Cindy Warmbier, said in a statement at the time. "Sadly, he is in a coma, and we have been told he has been in that condition since March 2016. We learned of this only one week ago. We want the world to know how we and our son have been brutalized and terrorized by the pariah regime in North Korea. We are so grateful he can finally be with people who love him."
Warmbier had suffered a severe brain injury, doctors said Thursday, and was in a state of "unresponsive wakefulness." He "shows no sign of understanding language, responding to verbal commands or awareness of his surroundings," Dr. Daniel Kanter, medical director of the neuroscience intensive care unit at the University of Cincinnati Medical Center, said at a news conference. Though Kanter said that Warmbier was stable at the time and breathing on his own, "he has not spoken. He has not engaged in any purposeful movements or behaviors."
An MRI (magnetic resonance imaging brain scan) "showed extensive loss of brain tissue in all regions of the brain," Kanter explained. "This pattern of brain injury, however, is usually seen as a result of cardiopulmonary arrest, where the blood supply to the brain is inadequate for a period of time, resulting in the death of brain tissue." Dr. Jordan Bonomo, a specialist in neurosurgery and neurocritical care at the University of Cincinnati Medical Center, added that cardiac arrest in someone young and otherwise healthy is uncommon and is usually a result of intoxication or traumatic injury.
American special envoys reportedly told Warmbier's family that North Korean officials said he had contracted botulism soon after his trial, and had taken a sleeping pill and slipped into a coma. But Dr. Brandon Foreman, also of University of Cincinnati Health, said Thursday that nerve toxin tests did not return any sign of botulism.
Warmbier died at the University of Cincinnati Medical Center on Monday, less than a week after his return to the U.S. "It is our sad duty to report that our son, Otto Warmbier, has completed his journey home. Surrounded by his loving family, Otto died today at 2:20 p.m," his family said in a statement. "When Otto returned to Cincinnati late on June 13th, he was unable to speak, unable to see and unable to react to verbal commands. He looked very uncomfortable—almost anguished," it continued. "Although we would never hear his voice again, within a day the countenance of his face changed—he was at peace. He was home, and we believe he could sense that."
The statement did not explicitly mention a cause of death but did say that "the awful torturous mistreatment our son received at the hands of the North Koreans ensured that no other outcome was possible."
A public funeral service for Warmbier is scheduled for Thursday morning at his alma mater Wyoming High School. An announcement from Spring Grove Cemetery reportedly said, "All those that wish to join his family in celebrating his life are cordially invited."