North Korea Prisoner Otto Warmbier Dies After Returning to U.S. With Brain Damage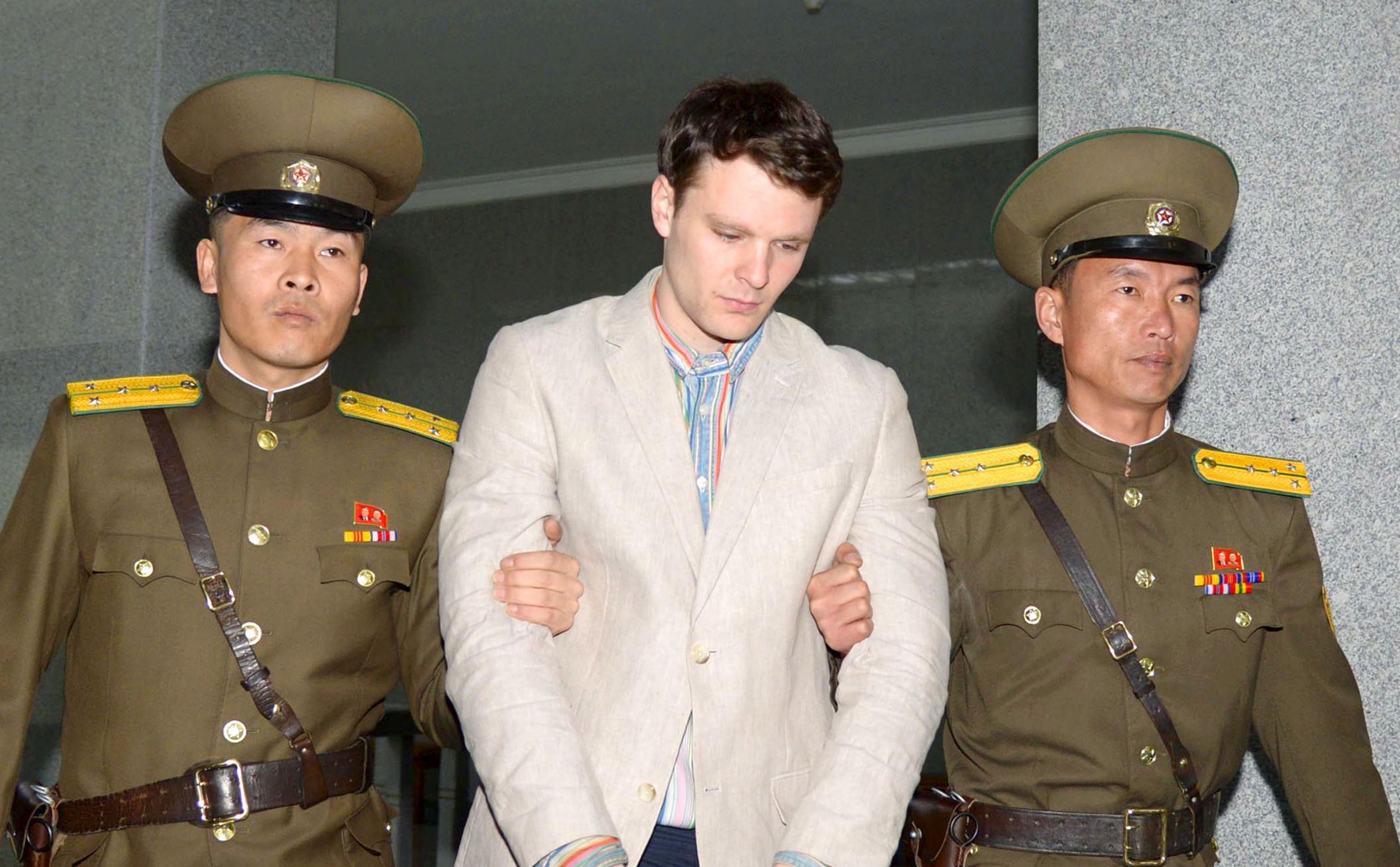 Updated | Otto Warmbier, an American college student who was detained in North Korea for more than a year before returning home earlier this month, died Monday. The University of Cincinnati Medical Center, which was treating the 22-year-old for brain damage, confirmed his death to WCPO.
His family gave a statement to ABC News. "It is our sad duty to report that our son, Otto Warmbier, has completed his journey home," they said. "Surrounded by his loving family, Otto died today at 2:20 p.m."
Warmbier was arrested at the end of a trip in Pyongyang in January 2016 after trying to take a propaganda sign, The New York Times reported. A University of Virginia student, Warmbier was sentenced to 15 years of hard labor as punishment for his "hostile act." He was forced to confess, publicly apologize and spend months in custody in the notoriously secretive country.
Then, last week, news broke that the man was being evacuated from North Korea for humanitarian reasons. The announcement was bittersweet: Warmbier's family soon announced that their son was in a coma, and had been since last spring. His parents were told he fell into his coma after getting botulism and being given a pill.
"We want the world to know how we and our son have been brutalized and terrorized by the pariah regime in North Korea," his parents, Fred and Cindy Warmbier, said in a statement to CNN. "We are so grateful that he will finally be with people who love him."
Brandon Foreman, with the University of Cincinnati's Gardner Neuroscience Institute, said last week upon Warmbier's arrival that he'd lost brain tissue and didn't have "any conscious awareness," The Washington Post reported. Another doctor, Daniel Kanter, said Warmbier's brain injuries were consistent with cardiopulmonary arrest, in which "the blood supply to the brain is inadequate for a period of time."
As Warmbier underwent emergency medical care, his parents railed against officials under former President Barack Obama, who asked the family to law low while they tried to negotiate for the student's freedom. But, as Fred Warmbier said in a news conference, buzz around a media interview may have actually contributed to the release.
"The question is, do I think the past administration could have done more?" he said, according to Politico. "I think the results speak for themselves."
There are still three Americans being held in North Korea: professor Tony Kim, professor Kim Hak-song and businessman Kim Dong-chul.