'Our Body, Our Choice': Thousands Join Anti-Mask Rallies in Canada as Hefty Fines Start in Quebec
In Canada, several thousand anti-mask protesters gathered in Montreal and Vancouver, criticizing the country's response to the novel coronavirus pandemic.
Ryan Kulbaba, the organizer of the "March for Freedom" protest in Vancouver, claimed that the rally was to go against "government tyranny" and "government corruption," according to the Global News in Canada.
"We want our body, our choice," Kulbaba told a crowd gathered outside the Vancouver Art Gallery, according to the outlet. "This is all due to a virus that has spread [around] the world. It's not called COVID, it's called socialism and communism."
The Global News reported that protesters at the event on Sunday held up signs protesting mandatory mask and vaccine policies, as well as ones supporting the QAnon conspiracy theory, which claims that a number of prominent members of the U.S. Democratic party are part of a satanic cult involved in child sex trafficking.
There is currently no mask or vaccine mandate in British Columbia, but masks are recommended for people while in public and in places where residents cannot social distance.
Members of the Soldiers of Odin, a far-right group in Canada, were also present at the protest, according to the Global News.
There are currently over 6,900 cases of COVID-19 and at least 213 deaths in the province, according to British Columbia's health ministry.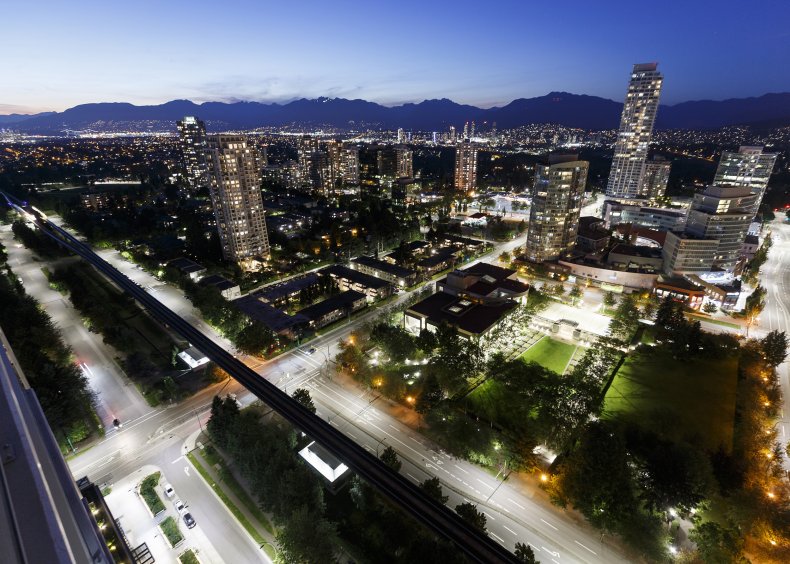 In addition to the protest in Vancouver, several thousand people also gathered in downtown Montreal, with many opposing the Quebec government's response to the pandemic.
According to CBC News in Canada, the march began outside of Montreal Premier François Legault's office and at one point spanned across six city blocks.
Protesters in Montreal held up signs about United Nations corruption, the QAnon conspiracy theory, and the supposed evils of 5G networks.
CBC News reported that the most popular symbol at the protest belonged to the QAnon theory, with protesters putting it on shirts, signs and flags.
In one photo posted to Twitter by user Fab de Pierrebourg, protesters can be seen holidng up flags in support of U.S. President Donald Trump.
"I accuse public health [officials] of manipulating the numbers since the beginning of the pandemic to justify bringing our economy to a halt," Jean-Jacques Crèvecœur, an anti-vaccine activist well known in Europe, told the crowd, according to CBC News.
The protest in Montreal comes shortly after Premier Legault announced that Quebec police will begin handing out fines to those who violate the province's mask mandate, which requires residents to wear masks when inside public spaces. According to CBC News, fines for violating the mask mandate are expected to range between C$400 and C$6,000.
According to Quebec's health ministry, there are currently over 64,000 confirmed cases of the disease and at least 5,780 deaths.
Newsweek reached out to Health Canada and Prime Minister Justin Trudeau's office for comment on the recent protests but did not receive a response in time for publication.