Our Democracy Requires Year-round Work | Opinion
In 2020, more Americans showed up to the polls than ever before. While that is an exciting milestone for many of us, unfortunately, there are state legislators across the nation who are saying "never again," and working hard to suppress the vote. For our democracy to prevail, it will take all of us working together to stop voter suppression, and ensure all Americans can vote in free and fair elections.
State lawmakers in Georgia were the first to ram through a racist voter suppression bill, SB202. The Brennan Center is tracking 389 similar voter suppression bills in 48 states that are all based on the Big Lie that the 2020 election was stolen from former President Donald Trump through voter fraud. The politicians behind these proposals are hoping our collective attention and investment in politics will wane, as it does after many elections. Without the spotlight on politics, they believe they can enact new voter ID restrictions, limits on vote by mail and politicize elections without repercussions.
As advocates dedicated to year-round organizing for our communities, we are not going down without a fight. These voter suppression bills are a partisan effort to disenfranchise voters of color, specifically Black voters who were decisive in the 2020 and the 2021 elections. The arrest of state Representative Park Cannon for trying to watch the bill signing of SB202 adds to the evidence that this is just the latest attempt to resurrect the Jim Crow era. But like civil rights activist Fannie Lou Hamer, we are sick and tired of being sick and tired. We will not allow the resurgence of Jim Crow laws stop us from mobilizing our communities and showing up to the polls every election season.
Don't take our word for it: some lawmakers are saying it out loud. In an interview with CNN, Georgia's Lieutenant Governor Geoff Duncan admitted that SB202 was a response to political pressure from Trump and his legal team and not about voter fraud in the elections.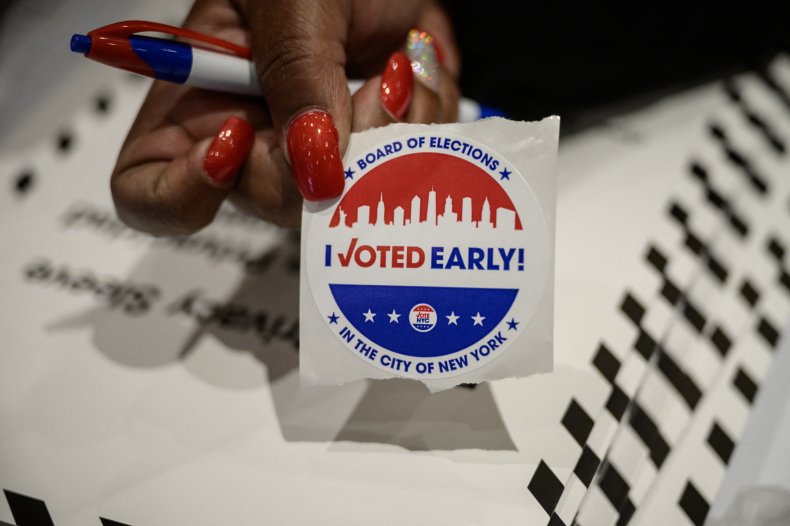 After the November election, Trump pressured Georgia's Secretary of State Brad Raffensperger to throw out legally cast ballots seeking to overturn election results. If SB202 had been enacted before November 2020, Trump might have succeeded in his attempt to steal the election since the bill transfers much of the authority over elections from the secretary of state to the hyper-partisan legislature.
So what can be done to stop this resurgence of Jim Crow? Our three organizations have joined together and filed a lawsuit challenging SB202 in court. We are vigilantly watching similar proposals, and we are thrilled to see a number of other leading civil rights organizations launch campaigns and lawsuits similar to ours. This kind of voting rights litigation is an essential tool in the fight for our democracy, but it is not our only one.
We also must continue leading year-round civic engagement and organizing work. While most campaigns and organizations pack up after an election, our work continues. Yes, that includes voter registration and voting rights activism, but it also means showing up for our communities. That means helping our communities address basic food, health and other needs, connecting folks to local resources and building community all year. But you do not need to be a part of a civic engagement organization to speak up.
We need ordinary citizens, people who do not consider themselves activists, to speak up for voting rights. We are asking you to call your state representatives to demand that they oppose voter suppression laws. Call on your senators in Congress to take action on HR1 and the John Lewis Voting Rights Act to set a new, national standard for our voting rights.
Business and philanthropic leaders who are invested in our democracy cannot settle for statements. This moment is calling on you to dedicate your resources to actively oppose voter suppression bills, support federal voting rights work and donate to the groups that are doing the work instead of politicians who are working to suppress the vote. We appreciate your contributions around election time, but the truth is that the infrastructure that we are building to ensure robust participation in free and fair elections is a multiyear, multi-modal effort; and you would get a much better return on your investment by investing now, well before the next national election.
Just like customers or constituents, voters know how and when you show up. You cannot count yourself as a champion of democracy if you only appear in the fall every two or four years. When we treat our democracy as a seasonal activity, we risk letting the rules be controlled by partisans who care more about winning than constitutional rights. We can work together to protect and strengthen our democracy, but only if we treat it as what it is: foundational, year-round work.
LaTosha Brown is the co-founder of Black Voters Matter.
Mary-Pat Hector is the Georgia state director of Rise.
Nsé Ufot is the chief executive officer of the New Georgia Project.
The views expressed in this article are the writers' own.