Our Favorite TV Shows of 2016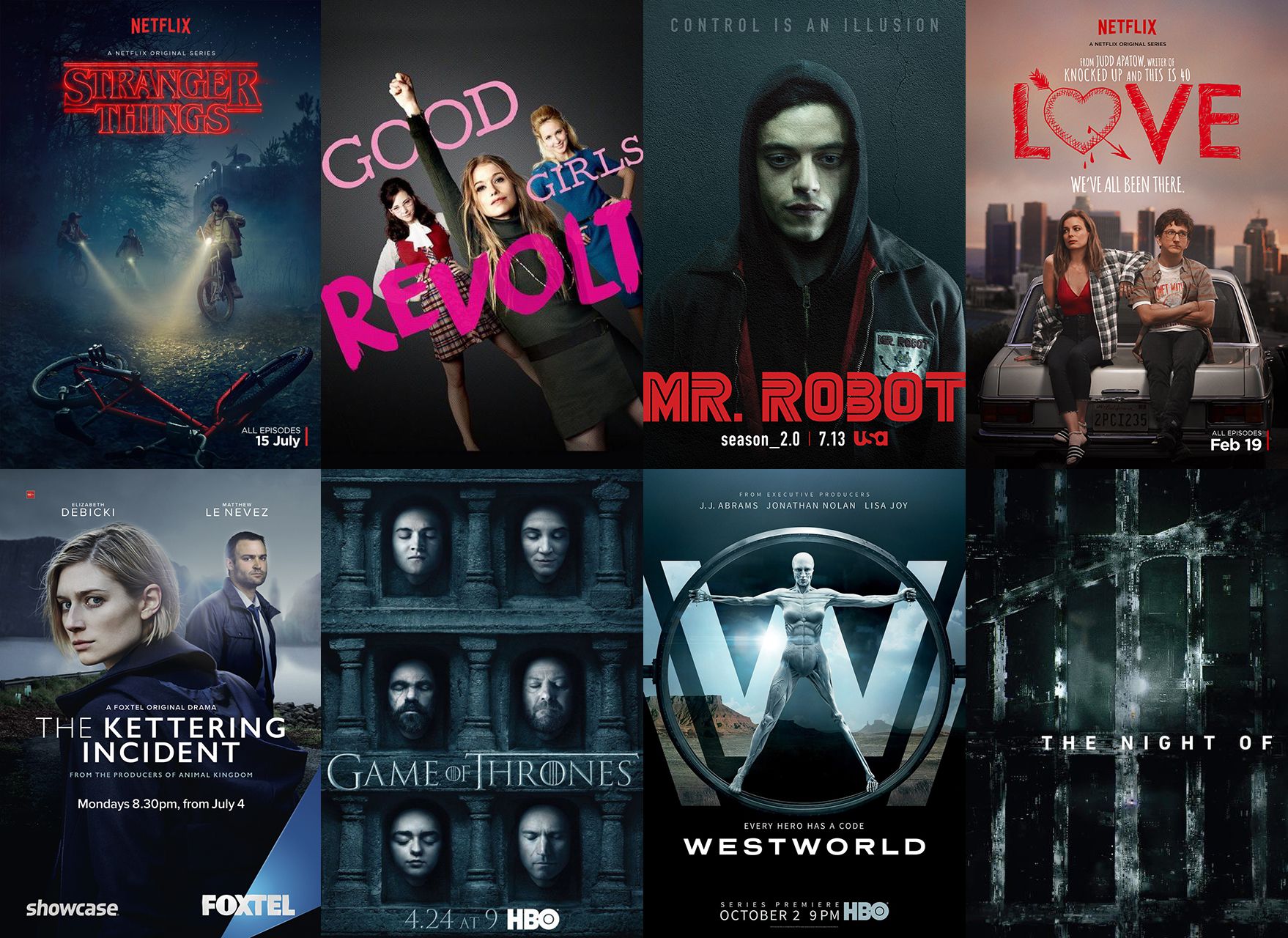 Many of us have spent large portions of the year binge-watching television shows instead of doing more productive tasks like "going to work" or "showering." Our staff is no exception. Here, we're sharing the best we've found this year, whether these are shows on traditional cable networks or their more novel counterparts on streaming platforms like Netflix and Amazon.
The shows we loved in 2016 include a musical comedy-slash-drama about a successful lawyer who drops her New York City life to follow an old love interest; a science fiction mystery about a boy who goes missing from a small town in 1980s Indiana; a new late-night talk show hosted by Chelsea Handler; and a feminist drama inspired by a chapter in Newsweek's own history.
Related: Nine films and shows to watch before the election
In a year so forcefully shaped by a presidential election, such titles have offered insight as well as escape from deafening political noise, hateful rhetoric and loaded arguments on social media and at family dinner tables.
Stranger Things
They could have called it Familiar Things: The spot-the-homage TV debut from the Duffer Brothers, the writer-director twins born in 1984, positively writhed with references to all the pop-horror movies and novels they wouldn't have been allowed to watch while growing up. ET-era Spielberg might have sued for copyright infringement. So, too, Stephen King: The central group of schoolboys—bickering but loyal, the electric storm of adolescence flickering on the horizon—could have ridden their bikes off the set of Stand by Me. But unpicking the net of references—which drew its threads from material other than just the 1980s, knitting the empty front yards of Halloween with the off-kilter folksiness of Twin Peaks and the mirroring underworld of Pan's Labyrinth—was the least of it. What actually hooked you was the tenderness between the characters. Winona Ryder (emoting as only an actor who's landed her first lead in 15 years can) tangling herself in fairy lights to prove her son isn't dead; Dustin, mediating for his warring gang with a lisp and a rucksack fill of sweeties; poor, bereft Barb, sitting by the swimming pool, waiting for her best friend to finish losing her virginity. Then there was what was waiting for Barb. No matter how many times you've watched Poltergeist or re-read The Tommyknockers, you wouldn't have seen it coming: the strangest thing of all. —Isabel Lloyd
The Kettering Incident
If you thought Stranger Things was the best supernatural freakout-fest you've ever seen, The Kettering Incident proves that the Upside Down isn't just a nightmare lurking behind secret passageways; it's real life, at least in a remote town in Tasmania. The show, which made its debut in Australia in July, follows Anna Macy (Elizabeth Debicki), a doctor in London who sees lights, gets nose bleeds and wakes up in strange places, including her hometown, Kettering. She hasn't been there for 15 years, since her best friend disappeared in the woods. Suddenly, another girl goes missing, and Macy sets out to prove her innocence and find the truth. Yet nothing makes sense. Blood cells mutate. Moss creeps inside homes and strange red dots surface on people's skin. Beloved pets turn vicious. Yellow goo appears in the water and mud bubbles up in the forest. And Macy herself seems to stumble further into her own bizarre illness. Come for the otherworldly scenery—it's in a class with True Detective, Top of the Lake and Fortitude—but stay for the forbidding, sinister truths that have been dormant for decades. The final twist is so surprising, it's in a class with Primal Fear and The Usual Suspects. —Abigail Jones
Game of Thrones: Season 6
In its sixth season, Game of Thrones reached a new height of brilliance that evidenced that we truly are in a golden age of television. The final two episodes of Thrones's sixth run, including the Emmy-winning "Battle of the Bastards," were of a breathtaking scale previously unseen on the small screen. The plot also advanced at rapid speed to create the HBO fantasy drama's most satisfying, but bittersweet, season yet. Satisfying because the good guys are finally having their day, and the bad guys are getting their comeuppance. But bittersweet because that also means our adventures in Westeros are soon coming to an end. —Tufayel Ahmed
Good Girls Revolt
It's an odd moment to be writing about why Good Girls Revolt is one of the best shows released in 2016. The fictionalized series was inspired by Lynn Povich's 2012 book of the same name, which recounted how the author and dozens of female colleagues sued Newsweek for gender discrimination in 1970. As I've written before, the first season is a nuanced depiction of men and women working in refreshingly authentic journalism jobs and the strong female characters who take a brave collective step to demand equitable treatment.
Despite what seemed like favorable reactions and sustained interest from the press and viewers alike since the October 28 release, Amazon recently announced that it will not be renewing the series for a second season. Sony plans to pitch the series elsewhere, while fans and those involved in making the show are not going down without their own revolt, as demonstrated by the virility of #SaveGoodGirlsRevolt on Twitter, this petition and several essays to that end. So there is still hope that the series isn't gone for good.
After an election in which a man who has boasted about groping women beat the first major female candidate in history with fewer votes, dashing feminist hopes—and in the face of an incoming administration that has many women fearing for their reproductive and other rights—Amazon's decision hits hard. GGR feels more inspiring and indispensable than ever. We need to talk about what happens next. —Stav Ziv
Related: 'Good Girls Revolt': The feminist legacy of a Newsweek lawsuit
The Night Of
Not a whodunnit, but a didhedoit, The Night Of started with doe-eyed Naz (Riz Ahmed), the apparently well-behaved son of working-class New York Muslims, nicking his dad's taxi to go to a party, and on the way picking up a girl who might as well have had Plot Device tattooed on her forehead. Sure enough, by the end of the first episode, Naz has found the girl dead in a blood-soaked bed, and made the not-too-bright decision to flee the scene. Oh, and to take what's probably the murder weapon with him. Ahmed's performance from then on was a subtle, blank-faced shifting between naivety and culpability. Naz, banged up on remand in Rikers Island, continues to make morally poor choices, any innocence he might have claimed slowly eaten away by the acid need to survive. He was matched, scene for scene, by John Turturro as John Stone, the eczema-riddled, sexually dubious low-life attorney who represents him. The part would have been James Gandolfini's if he'd lived; he would have been great, weighty and sour in just the right measure—but Turturro dove into the role with a great big grin on his face. Dirty around around the fingernails, hustling, sandal-shod and borderline contemptible, his Stone was also strangely pure in spirit. And his final scene in the courtroom, sweating, stuttering and pleading a case he's sure he's lost, is worth the download on its own. —Isabel Lloyd
Related: Riz Ahmed talks HBO's 'The Night Of' and the meaning of 'Englistan'
Mr. Robot: Season 2
Season one of Mr. Robot managed to achieve something I thought was near-impossible: It maintained the element of surprise. Although its major twists were not completely unpredictable, it always managed to impress and engross in equal measure. The second season continues in the same fashion, following Rami Malek's Elliot Anderson as both he and the audience try to piece together the aftermath of the first season's climax. With such an unreliable narrator, I'm not entirely sure what to believe is real, but that doesn't make it any less enthralling.
It's Elliot's show. but the supporting characters were always what grounded it. New additions, from Grace Gummer's FBI agent to Craig Robinson's shady Ray, keep the show moving. Gummer's Dominique DiPierro is a tough but lonely cop who is too committed to the job, an old trope, but showrunner Sam Esmail and his team inject her with the right amount of depth and empathy so that it feels original. This show was the standout for me last year, and in another year of great television Mr. Robot has done it again. —Jordan Saville
Love
Yes, this is another show about young adults who would rather attend house parties and quit jobs on a whim than grow up. And, as seems to be the trend now, it's set in or around the Silver Lake section of Los Angeles (along with Transparent, You're the Worst and Togetherness, as New York magazine has noted). But Love, a Netflix original series starring Gillian Jacobs (Community) and Paul Rust (who created it with his wife Lesley Arfin and with Judd Apatow) captures the life cycle of a firecracker-like romance in a way that's funnier, sadder and truer than any of those similar shows. Jacobs's Mickey and Rust's Gus meet by chance and hit it off despite their deep flaws. Then those flaws start to appear. The first season clocks in at around seven hours, perfect to binge in a weekend before season two has its premiere in early 2017. —Max Kutner
Westworld
Michael Crichton's 1973 film Westworld was a somewhat campy romp about a theme park where tourists could play shoot-'em-up with lifelike robotic cowboys. The tiny hitch? The robots went berserk. Like his Jurassic Park or Andromeda Strain, the film was a Mary Shelleyesque warning about man's hubris as he tries to create new life. The HBO remake is much more. For showrunner Jonathan Nolan the theme park is a crucible for man's inhumanity, the nature of consciousness, the haunting of memory. It's heavy stuff, occasionally prone to long-winded monologues, but since it's HBO there's plenty of sex and violence, too, which may account for it being renewed for a second season. Acting giants Anthony Hopkins and Ed Harris loom large but it's the backstories of two female robots (or 'hosts") played by Evan Rachel Wood and Thandie Newton that dominate the screen. Even though their memories are meant to be regularly erased, each is haunted by the ravages guests have visited on them over the decades. Wood, who earned plaudits as a kinetic rebel in Thirteen and as a bad daughter in Mildred Pierce, is mesmerizing, caught between human and machine, past and present. —Matthew Cooper
Related: Doomed robots of 'Westworld' make new HBO show come alive
Chelsea
Chelsea Handler's business savvy tends to attract the most ink from critics, and Netflix's foray into producing a show rivaling traditional late night is indeed worth the fear and awe of executives from Manhattan to Burbank. But Chelsea has accomplished something else: It has shifted the mission statement of what interviews should offer the viewer. Handler's guests are gorgeous and rich, but don't let that fool you into thinking the show is yet another promotional effort for Hollywood's latest groupthink. To understand why Chelsea is revolutionary, all you need to do is watch Handler weave charitable work and the hypocrisy of our modern political establishment into most segments. Guests are delighted to play along with Handler's long con, focusing the discussion on the biggest challenges they'd like to solve in the world. Long after Chelsea leaves our living rooms, the deviously brilliant host's shouted calls to action remain. The glitz is the hook, and we are the fish. —Margarita Noriega
The Crown
Despite being British, I've never had that much interest in the Royal Family. Yes, recent marriages and babies have been exciting, and I'm partial to some corgis, but the inner workings of the Queen, Prince Philip and the rest? Not so much. That all changed when I started watching The Crown on Netflix last month, devouring all 10 episodes in a matter of days. The first season traces the early years of Queen Elizabeth's reign and there are expected to be another five seasons as the years—and scandals—go on. The forbidden love between Princess Margaret (an excellent Vanessa Kirby) and Peter Townsend (Ben Miles), and the deranged bureaucracy and traditions that ultimately kept them apart, was the standout story from this season. A hunched John Lithgow playing a sickly, sputtering Winston Churchill was another unexpected joy. —Lucy Westcott
Related: Secrets of 'The Crown': Claire Foy, Matt Smith and more on cantankerous Prince Philip, royal rivalry and Brexit
Crazy Ex-Girlfriend
OK, look: On paper, I should hate the CW's Crazy Ex-Girlfriend. I mean, come on, a hot-shot New York lawyer leaves her insanely well-paid job to chase after a guy she had a fling with at summer camp? And each episode is basically a musical? No thanks.
But, to dismiss Crazy Ex-Girlfriend as a saccharine-sweet rom-com is seriously, seriously stupid. Rebecca Bunch, played by the incomparable Rachel Bloom, is an instantly relatable heroine, whether she's squeezing herself into Spanx; stalking her ex, Josh Chan, on social media; or having a disappointing one-night stand with a guacamole vendor. She's also whip-smart, damn good at her job and a loud champion of feminism.
Bunch is the modern, lent-in, enlightened character we have been screaming out for. And that's true of Crazy Ex-Girlfriend as a whole. The show is light years ahead of so much of the backward television we're offered—whether that's the whites-only world of Girls or the borderline racism of The Big Bang Theory. Much like Aziz Ansari's brilliant Master of None, Crazy Ex-Girlfriend has a cast of different races and sexualities—with not a single token among them.
And then there are the songs. Honestly, you haven't lived until you've heard The Sexy Getting Ready song—spoiler: nothing sexy about it; the frantic, socially awkward I Have Friends; or the sardonic-with-just-a-hint-of-desperate Settle for Me.
Crazy Ex-Girlfriend might just be the best show on the CW. Smart, side-splittingly funny and socially conscious. —Mirren Gidda
The Fall
The third and what seems to be the final season of this police procedural was even more grim that the first two. The show, set in Belfast, Northern Ireland, revolves around a serial killer of women (Jamie Dornan of 50 Shades of Grey) and the detective (Gillian Anderson of The X Files) out to track him down. The twist is that she's wrestling with her own demons: an abusive childhood, emotional isolation and a tendency to prey on younger men in her workplace. The pacing is deliberate and the dialogue spare, which lends gravity to Anderson's heroic, yet pained, pursuit of the killer. Dornan, who was a handsome dolt in other roles, offers gravity to a man who is a killer by night but, of all things, a professional grief counselor by day. Like Belfast itself, a city where the memories of war and occupation are fresh, the show is a raw wound—painful and impossible to ignore. —Matthew Cooper
Man in the High Castle: Season 2
I know, I know, the second season of this alternate-history drama, based on Philip K. Dick's famous novel, isn't out yet. I won't pretend I can judge it in its entirety, but since I'm covering the series, I did have a chance to see the first half of season two. The new episodes bring viewers back to a world where the Axis powers have defeated the Allies in World War II—in which there is now a power struggle between them, an aging Hitler is becoming increasingly ill and Americans in the early 1960s live under the Nazi regime in the east and Japanese control in the west coast. Some collaborate, some keep their heads down in fear and others actively resist. With the chilling title sequence set to an eerie rendition of "Edelweiss," the impeccable design of every set and costume and the characters, who are complex and morally convoluted, this show continues to stun with its devotion to detail. Season two reverberates with an even more awesome power in the wake of November 8, 2016. —Stav Ziv
Correction: This article originally listed Crazy Ex-Girlfriend as a Netflix show. It is on The CW Network.
Read more from Newsweek.com:
- Our favorite books of 2016: Newsweek staff picks
- Newsweek's 10 albums of 2016 (plus a few awards)