Our Health Care System Is Facing Massive Staffing Shortages. A Crisis Is Looming | Opinion
My home state of Florida, like many other states across the country, is facing a monumental workplace issue in one of our most important industries: health care.
As a registered nurse working in a Miami hospital for 10 years, including the last three on the front lines of the COVID-19 pandemic, I know that my field is much more than an economic sector; it's a core system to protect the well-being of our society.
Yet caregivers in hospitals, nursing homes and other facilities here and across the nation face an unprecedented staffing and retention crisis that is placing us—as well as our patients and the entire care system—in danger.
Experienced caregivers who have risked their lives to save others during Covid-19 are leaving their jobs and communities because of low pay, disrespect and disregard for their well-being. Sometimes, they quit the job altogether, but often they are hired elsewhere in more worker-friendly places for better treatment and higher compensation.
The pandemic exposed and exacerbated the issue, but this crisis in hospitals, nursing homes and other facilities has been growing for years. In Florida, for example, it has been ignored by lawmakers in Tallahassee who are supposed to serve the public for two decades. Instead of doing their jobs representing the people, these politicians bow to the giant health care corporations with billions in profits and massive lobbying budgets.
These corporate behemoths claim to put care first for their patients and staff. But if these political and business "leaders" truly cared for the public health, their patients and caregivers like me wouldn't have such a crisis in staffing and retention.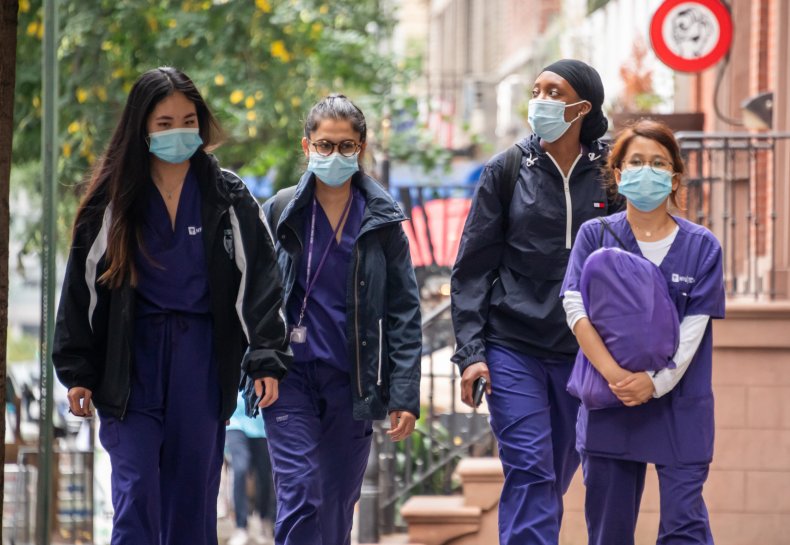 My employer, HCA, is one of the largest health care companies in the nation, with annual profits in the billions, including massive quantities of revenue from public tax dollars. Yet HCA's staffing ratios are a shocking 33 percent below the national average. These figures come from Medicare Cost Report data analyzed by my union, 1199SEIU United Healthcare Workers East, which represents more than 400,000 nurses and caregivers across the nation. More than 1,500 of my fellow caregivers were surveyed across six states, and 47 percent said they were considering leaving due to lack of pay, not feeling valued, and unsafe staffin or working conditions.
These statistics are dramatic. But what they can signify is much worse. As caregivers and employees, we're dedicated to the very best care possible, but we're only human. We can't handle an unsafe number of patients all at once.
Staffing shortages result in caregivers being overtaxed and overstressed. Even while we scramble, skipping bathroom or meal breaks for entire shifts, patients wait longer for attention, medications and meals are delayed, bed-bound patients may not be lifted or turned as often, all of which can lead to serious complications. Mistakes might be made and even grave conditions can remain undetected. Tragic consequences can occur when staffing shortages are this severe.
Just in the hospitals where 1199SEIU caregivers work, my union has compiled thousands of unsafe "assignment despite objection" reports, with some truly disturbing medical outcomes too gruesome to describe here.
Of course, when experienced caregivers like me burn out or leave our facilities because of these issues, the situation degrades even more, leading to subsequent departures, which exacerbates the situation even further.
We are in that critical spiral today.
Staffing and retention issues plague much of our economy now in the time of the Great Resignation, but the stakes are perhaps the highest in healthcare.
Throughout the pandemic, we were called heroes by politicians. People posted banners in the hallways full of words of gratitude. But is these words are not backed up with commitment and investment, they ring hollow.
In this election year, we need to support leaders who will stand up for people, rather than protecting the profits of billion-dollar companies.
And as another Labor Day passes, we need employers to step up for their workers before this staffing crisis turns to greater calamity.
Rublas Ruiz is a Miami registered nurse, and a member of 1199SEIU United Healthcare Workers East, the largest and fastest-growing union of caregivers in the country.
The views expressed in this article are the writer's own.