We stand with the people of El Paso, Texas, Dayton, Ohio, and Gilroy, California, and all Americans crestfallen by the latest mass shootings and determined to prevent the next one.
We are some of the founding members of Stand With Parkland - The National Association of Families for Safe Schools and parents of three of the 17 wonderful souls who were murdered last year in the mass school shooting in Parkland, Florida. Tony lost his 14-year-old daughter, Gina, a straight-A student who loved helping others and had a smile that lit up any room she entered. April lost her 16-year-old daughter, Carmen, a witty and brilliant young woman who wanted to find a cure for ALS. And Ryan lost his 14-year-old daughter, Alaina, who was full of confidence, love and an inspiration to all who knew her.
We feel the pain of those families affected by the recent tragedies and understand the urgent need for change in our country.
After the tragedy that took our loved ones, our diverse group of victims' families realized that change needed to happen to help prevent another mass shooting in America's schools. Stand With Parkland was formed to be a voice for all our nation's families seeking positive change. We look at this complex issue in an inclusive and all-encompassing way, recognizing the need to secure our nation's schools, improve mental health screening and support programs, and promote responsible firearms ownership.
It is through this lens of comprehensive change that we have focused our efforts to push elected leaders at all levels of government and from both political parties, to find the common ground and compromise. We believe that pragmatic solutions and a step-by-step approach will not only improve the safety of our nation's schools but also make all Americans safer.
Since Stand With Parkland was founded, we have been working directly with policymakers and lawmakers from both parties on ways to make our nation's schools and, by extension, communities safer. Keeping Americans safe should not be a partisan issue.
We must find ways to keep firearms out of the hands of those who wish to harm others. In the wake of the mass shootings this month, President Donald Trump has signaled support for responsible firearms proposals. Prior to this, there was some movement on this issue, but Congress has yet to complete the task of getting bills to the president's desk to be made into law. Proposals in both the House and the Senate offer practical changes that we believe a majority of Americans can agree on.
In February, the House of Representatives passed a strengthened background check system: H.R. 8, the Bipartisan Background Checks Act of 2019. In the Senate, S. 7, the Extreme Risk Protection Order and Violence Prevention Act of 2019, was introduced with bipartisan support. This type of legislation is an important tool in the efforts of states to ensure that firearms are kept out of the hands of individuals whom a court has determined to be a significant danger to themselves or others.
After the recent mass shootings, more bills are likely to follow. We urge Congress to work with the president to pass bipartisan legislation that will help reduce gun violence and the terrible toll it takes on American families, schools and communities.
However, changing firearms laws will not be enough.
Studies have shown that most mass shooters share the same warning signs exhibited by school shooters. In the Parkland tragedy and others, these warning signs were reported, but existing laws were not effective in preventing violence. In many instances, these shooters had a long history of violent behavior and anger toward others that were ineffectively treated or ignored. This is why we advocate for improved mental health screening and support programs like the Columbia Protocol.
Another bipartisan measure before Congress, right now, is the Eagles Act. It is named after the school mascot in Parkland. This bill increases funding for the U.S. Secret Service National Threat Assessment Center, which studies and develops ways to prevent all targeted violence attacks (schools, places of worship, large events, etc.). Passage of this bill to help stop future attacks would be an excellent tribute to those who lost their lives in mass shootings.
Members of Stand With Parkland have spent many hours in the nation's capital meeting with Democratic and Republican lawmakers from both chambers of Congress. We have attended hearings, testified and supported bills that will improve school safety, mental health support and responsible firearms ownership.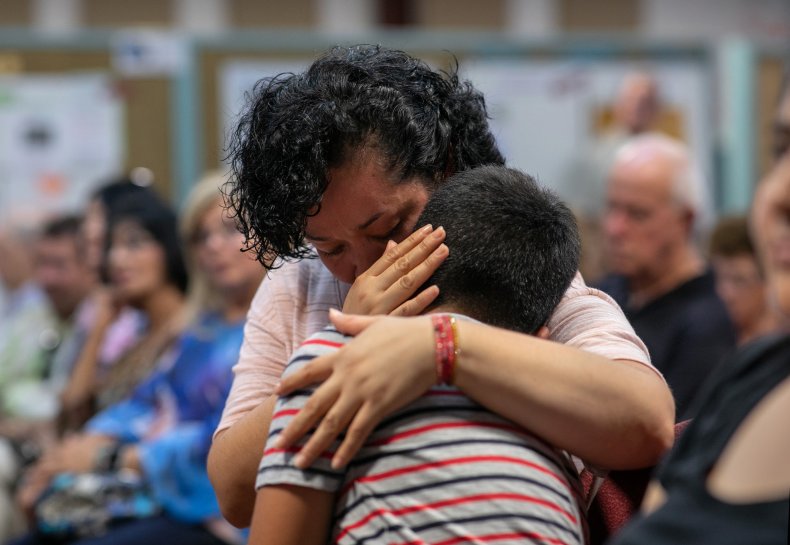 What America needs now is action! Mass shootings are too commonplace. Something must be done. If small change is all that can be agreed on, let's capture that, move forward, and get it done. However, all Americans need to keep applying pressure to their lawmakers to take action—not sides. Discussions must continue on ways to prevent all mass shootings. This nation can rise above our most significant challenges. Please join us at StandWithParkland.org to add your voice to the tens of thousands of families across America that want safer schools.
As for the families and communities that have suffered gun violence this month, we hold you close to our hearts during your time of loss. We encourage you to take the time you need to grieve and heal. Stand With Parkland and others will continue to keep pressure on our nation's elected leaders, who must do more to keep our schools and communities safe. Families and communities ripped apart by mass shootings should not be an everyday tragedy in this nation. This epidemic must stop, and all Americans must come together and work toward solving this complex problem.
Tony Montalto, April Schentrup and Ryan Petty are some of the co-founders of Stand With Parkland - The National Association of Families for Safe Schools and parents of three of the 17 people who were killed in the shooting on February 14, 2018, at Marjory Stoneman Douglas High School in Parkland, Florida.
The views expressed in this article are the writers' own.