Our Next Ed Secretary Must Focus on Quality, Choice for Minority Students | Opinion
Black and Brown families pushed Joe Biden over the finish line in one of the most consequential elections of our lifetimes. It was families like us—struggling financially and with kids trapped in failing schools—that stood up for him.
Now, he needs to stand up for us.
President-elect Biden's secretary of education pick is critical to the future of Black and Brown families. The next education secretary will inherit a once-in-a-lifetime challenge to reset the education system for more than 50 million children after the COVID-19 pandemic. The secretary's decisions will determine whether 2020 amounts to anything more than a lost year for students.
Now more than ever, we can't accept the status quo and can't allow special-interest politicking to undermine the needs of Black and Brown parents—the very constituency that got Biden elected. Miguel Cardona emerging as the nominee for the nation's top education job is a boost for many families like my own because we need a secretary who believes in great schools for all children and will immediately address the critical gaps that have, for too long, hurt minority students.
I am no stranger to how the education system can fail minorities in this country.
My mother did not have any choice but to send me to a failing school in the only neighborhood she could afford to live in; I had no choice but to send my daughters to failing schools in the only neighborhood I could afford to live in. It wasn't until we could fight our way out of the school system that my granddaughters could get the education they deserved.
Because we finally had high-quality school options, my grandchildren became the first college graduates in our family, breaking a generational cycle from which very few in our community can escape. This is why countless parents like me are working tirelessly to provide other families with quality education and a choice between schools.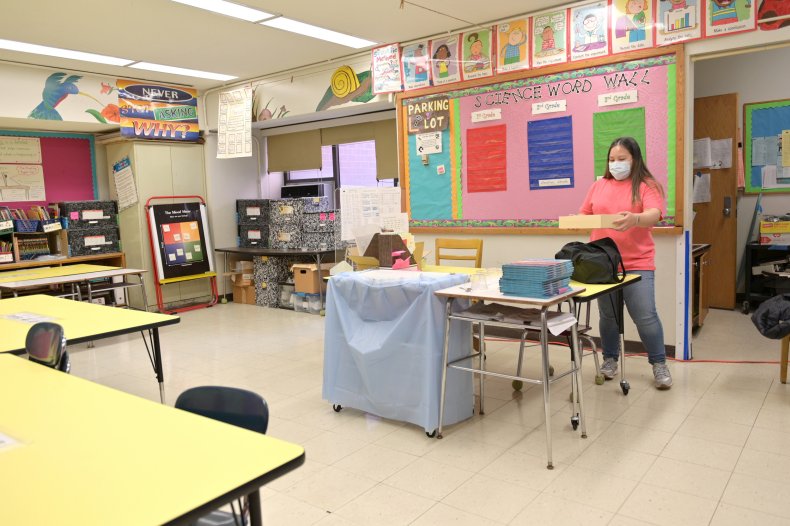 We have long compared our nation's education system to modern-day slavery. It traps our children in failing schools that act as pipelines to prisons. Not only are our children perpetually lagging behind their white counterparts in reading and writing, but they are also subjected to more punitive measures—including high suspension and expulsion rates—that offload them into the justice system when educators feel they can no longer "control" them. Education should be a path to progress, not the last stop before incarceration.
Unfortunately, no one is preparing us for college or for highly skilled professions. Instead, we are being prepared to clean houses or take care of other people's children.
Education can change lives and liberate. Sadly, Black and Brown families are stuck in an education system designed to perpetuate poverty for generations. COVID-19 has only worsened this dynamic, exposing decades of inequity that created the worst educational crisis of our lifetime.
Our families and communities deserve immediate action. That is why we turned out in record numbers to propel president-elect Joe Biden to victory. We did it because we desperately need to hit the reset button. We need to put an end to decades of inequities that have left us marginalized and kept our communities in a never-ending cycle of poverty.
That is why, if confirmed as the next education secretary, Dr. Cardona must work to ensure that every child has access to early literacy so that our kids can read at or above grade level by the third grade. We also demand accountability. Adults funded by taxpayer dollars to educate our children, from teachers to superintendents, must be held accountable for student achievement results. Last but not least, we need a real plan for academic recovery. COVID-19 has had its worst impact on Black and Brown children, who continue to suffer from learning loss thanks to a significant digital divide.
We have done our part, and now we need this new administration to correct decades of systemic racism to fix our school system and help secure a brighter future for our children. We are watching to see if president-elect Biden and Dr. Cardona really have the back of our Black and Brown families.
We need an education secretary who will appoint parents to presidential task forces that identify and select leaders and policies that impact our children. We need a leader who believes that parents from struggling communities deserve access to excellent schools and the ability to choose. I hope Dr. Cardona agrees.
Sarah Carpenter is the mother of four and the grandmother of thirteen. Sarah has long been an advocate for children growing up in struggling communities in Memphis. Her activism led her to found The Memphis Lift, a movement of parents and grandparents demanding a better public education for their children.
The views expressed in this article are the writer's own.