Our Report Card on the 1,000 That Make the Grade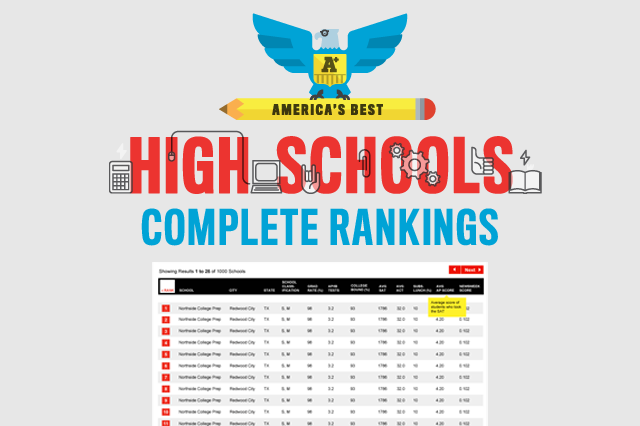 Good news: despite shrunken state coffers, the quality of public schools is by many measures improving. In the decade-plus since Newsweek began ranking the top public high schools, the national graduation rate has increased 4 percent, federal expenditure per student has risen an adjusted $1,400, and the number of Advanced Placement (AP) tests given per school has more than doubled. The gold standard, of course, is college readiness, and the numbers are bright there too: between 1999 and 2009, the proportion of 18-to-24-year-olds enrolled in college rose by 14 percent.
Who is leading the charge? This year, our ranking highlights the best 1,000 public high schools in the nation—the ones that have proven to be the most effective in turning out college-ready grads. At these schools, 91 percent were accepted to college, with an average AP score of 3.4 (out of 5 )—21 percent above the 2.8 average for public-school students.
The schools that made our top 1,000 tend to be relatively small and concentrated in metropolitan areas. Seventy-four percent have fewer than 2,000 students, and more than one quarter are located in or near New York, Chicago, or Los Angeles. The collective student body at these schools is better off financially than the national average: only 17.5 percent receive free-or reduced-price lunch, compared with about 40 percent nationally.
Nearly 77 percent of the 1,000 admit students through open enrollment, with no admissions restrictions. But many of the highest spots were claimed by selective schools—where students are let in by academic achievement, admissions testing, or lottery—which makes sense given the growth of magnet, charter, and other specialty schools around the country: seven out of the top 10 schools on our list are either charter or magnet.
Those highest-ranking schools share a heavy emphasis on challenging students with college-level academics. At the Gatton Academy of Mathematics and Science, in Bowling Green, Ky.—which came in first place—nearly all courses are university-level: in 2011, the school averaged almost five AP exams per student. Overall, the 6,514 students at the top 10 schools averaged 2.5 AP and similar International Baccalaureate exams per student.
To reach these rankings, we factored in six criteria. Three of those—the four-year graduation rate, college-acceptance rate, and number of AP and other high-level exams given per student—make up 75 percent of the overall score. Average SAT/ACT and AP/college-level test scores count for another 10 percent each, and the number of AP courses offered per student is weighted as the final 5 percent. Because most of this data isn't centrally available, we collected it from high-school administrators directly—about 15,000 of them—and received 2,300 responses.