Our Universities Can Save Afghanistan's Best and Brightest | Opinion
As fascism swept 1930s Europe, some universities paid little attention. Others rejected domestic panic, set aside prejudices, ignored balance sheets and rose in defense of knowledge and freedom. Now as the Taliban sweeps Afghanistan, higher education must once again answer that call.
Over the last 20 years, hundreds of Afghans came to the United States to study, train and develop professional skills necessary to building a more peaceful, prosperous, just state. Many sold all they owned for the chance to make a difference. Many were women who returned to a society that for centuries did not acknowledge their existence. They built businesses and schools, became human rights defenders, organized women's rights and minority rights networks, ran for office, prosecuted the Taliban, advised think tanks and managed government agencies. They helped steer multinational organizations, developed expertise in finance, climate change, health and gender-based violence. They taught girls to build robots and play soccer and basketball.
They took the knowledge and skills they learned in American universities and carved out a space for themselves and the generation after them in a culture that only slowly welcomed them—often risking their lives to do so.
Now their knowledge and skills make them a target in their own land.
Many are in hiding, sheltering in place or moving from safe house to safe house. Some have separated from their families. Others are preparing to risk arduous overland routes, despite harsh conditions and numerous checkpoints.
All are hiding their degrees and professional trappings for fear they be used as evidence against them. Principals are burning the records documenting their girl students' academic triumphs—erasing their identities to keep them safe.
Afghanistan's best and brightest are on the run.
This is not the first time.
In the 1930s, many of Europe's best and brightest were on the run. Universities around the world, from Australia to Turkey to Argentina, especially the United Kingdom and the United States, opened their gates to Europe's brain trust targeted for their faith, sexuality, or politics.
In the United States alone, more than 500 ultimately found safety and professional recovery on U.S. campuses. History has shown how welcoming them was a "win-win," as many of the refugee intellectuals went on to transform American higher education, medicine and literature, including Nobel Laureates Albert Einstein, Rita Levi-Montalcini and Thomas Mann.
Their rescue is remembered as a point of honor for American higher education, as it should be. But it was not a perfect effort: racism and antisemitism impeded access for many.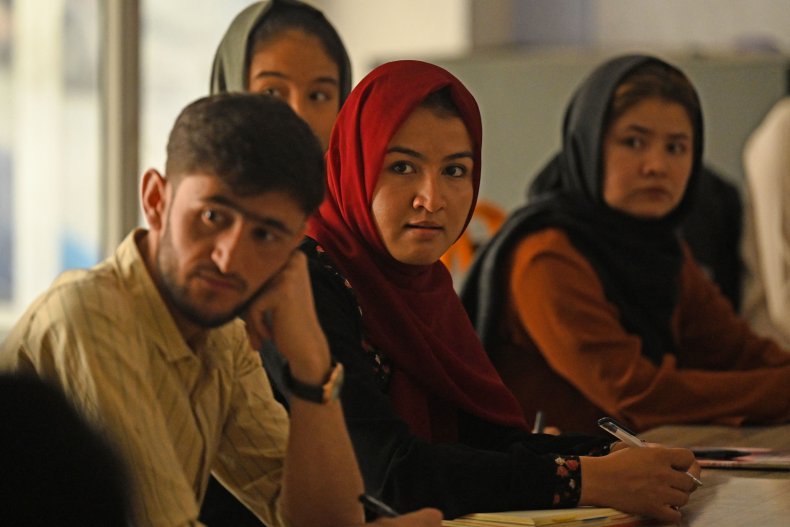 But sterling examples offer guidance for today. Historically Black Colleges and Universities actively recruited and supported Jewish refugee scholars. Chicago academics objected to racial, religious and ethnic restrictions and created Roosevelt University. The New School emigres developed new economic theories and wrote literary masterpieces.
Today, universities once again are called to defend knowledge and freedom. How our institutions respond will determine these Afghans' fate and possibly the future of Afghanistan.
Public and private institutions have already answered the call, by reaching out to us to host scholars, students, civil society leaders, judges and lawyers, women's rights defenders and journalists on their campuses. They committed without seeing transcripts or resumes, knowing the Afghans evacuated without their laptops and that cellphone batteries do not last for days. They trusted that this information would come and that with creative thinking, huge academic bureaucracies could be flexible and effective.
Many have pledged to find the necessary funds themselves. But the opportunity, and scale of need, is too much for any one institution. Foundation and government resources will be vital.
This immediate positive response from U.S. higher education institutions underscores the opportunity to forge a nationwide campaign to place Afghans, especially Afghan women, in fellowships on U.S. campuses, where their insights could augment faculty research, stimulate student engagement and promote thoughtful, insightful civic dialogue. Imagine what the academy could learn from a woman attorney who successfully prosecuted the Taliban, a deputy finance minister in charge of fighting corruption and rebuilding a failed state, a woman who risked her all to stand up for women's rights and organize across Afghanistan and educators who built school systems from scratch.
Working with the Georgetown Institute for Women, Peace and Security and the Scholars at Risk Network, respectively, we are creating a nationwide roster of institutions willing to offer opportunities for Afghanistan's best and brightest. We are working to secure temporary housing for fellows and their families, to develop a consortium of participating institutions to foster rigorous scholarship on issues related to Afghanistan, and to build personal networks to address the fellows' pressing psychosocial needs. We need more colleges and universities to step up and approach this with creativity and conviction.
As America confronted fascism abroad and Jim Crow at home, Eleanor Roosevelt challenged us "to remember that we are all on trial to show what democracy means." Today, Afghans who risked their lives for a more just Afghanistan fled for their lives. Now we must stand with them.
Allida Black, Ph.D., is an affiliated scholar at the Georgetown Institute of Women, Peace and Security and a distinguished visiting scholar at the Miller Center for Public Affairs at the University of Virginia.
Robert Quinn, J.D., is executive director of Scholars at Risk Network, New York University.
The views expressed in this article are the writers' own.