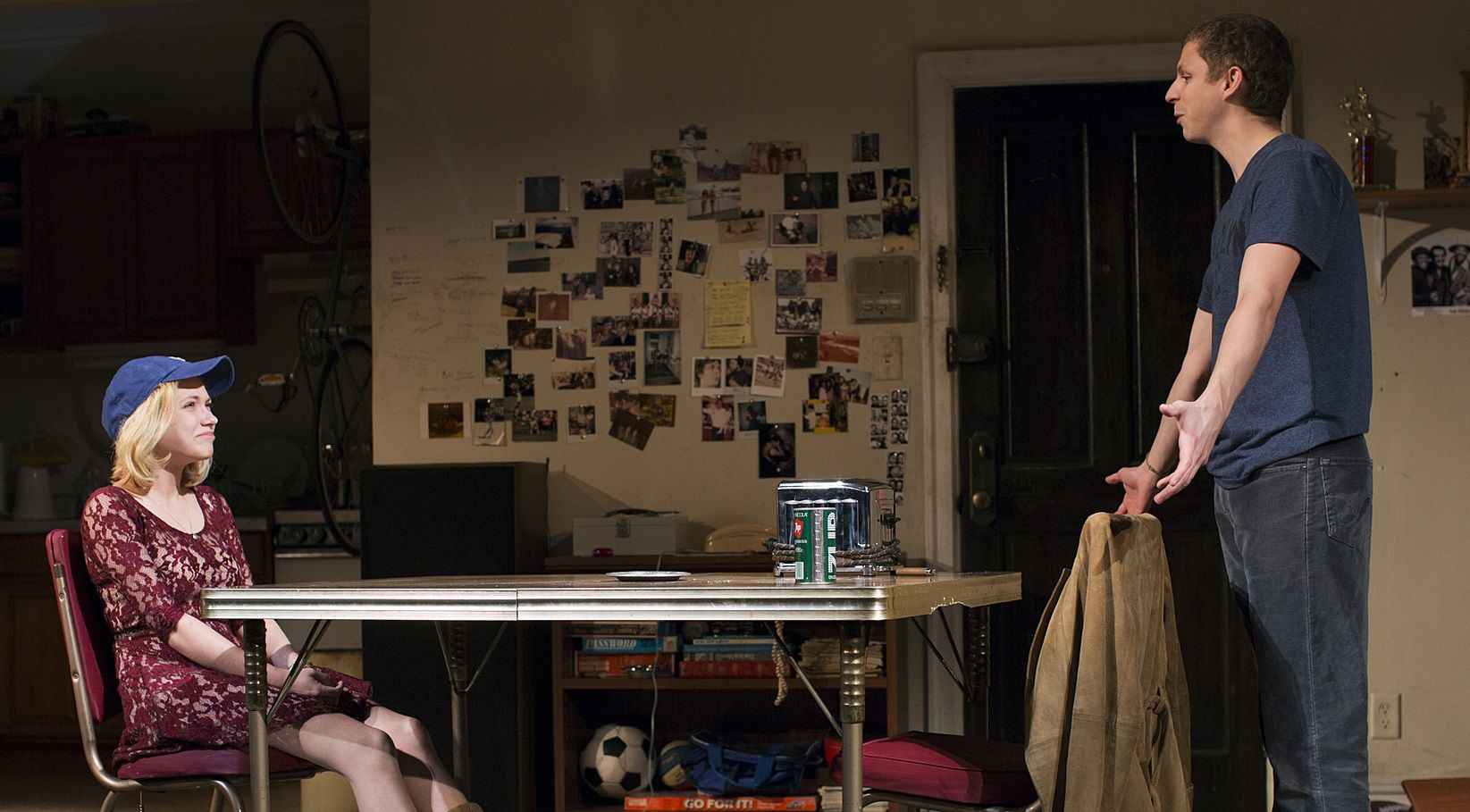 To announce that Tavi Gevinson is ready for the adult table would hardly count as a spoiler. The blogging prodigy who beguiled the fashion world six years ago at the age of 12 is making her Broadway debut this week in Kenneth Lonergan's coming-of-age comedy This Is Our Youth. If you were secretly hoping to see the young fashionista trip over the floorboards and fall on her face (because, really, why should anyone accomplish so much before she's old enough to join Facebook?), you will be sadly disappointed.
In fact, Gevinson's charming precociousness anchors the trio of first-rate young actors on display in Lonergan's tale of privileged but disillusioned Reagan-era teenagers. The by-the-numbers plot, such as it is, centers on Warren Straub (Michael Cera), a bumbling mess of an adolescent who manages to steal $15,000 from his abusive father after the old man kicks him out of the house. Warren shows up at the cluttered Upper West Side apartment belonging to his friend Dennis Ziegler (Kieran Culkin), a pot-dealing narcissist who routinely demoralizes Warren in the way that cool kids often demoralize their uncool counterparts—poking fun at his clumsiness and lack of success with girls.
The two boys devise a plan to put Warren's father's money to good use, and if all goes smoothly, they may even turn a profit. (This being the eighties, their plan naturally involves a stockpile of cocaine.) The only problem is, Warren can't seem to stop spending the ill-gotten dough on other endeavors, including using it to woo the girl of his dreams, an opinionated F.I.T. student named Jessica Goldman, played by Gevinson.
Teen angst is well-trodden territory, and This Is Our Youth, though functionally written and occasionally poignant, doesn't add anything new to the canon. You will probably find a bit of irony in the title—that is, unless your own youth took place in Manhattan apartments paid for by your rich friends' parents. Warren, to his credit, is at least hazily aware of his privileged lot in life, though he is also grounded in a tragic subplot: a dead sister. When the specifics of the tragedy are revealed, they serve as a reminder that even the rich can't avoid proletariat-style misfortune.
Set in 1982, the play functions less as a time capsule for its era than Lonergan may have intended, in part because references to the decline of 1960s idealism are less of a revelation today than they were in 1996, when This Is Our Youth was first produced off-Broadway. (The original cast featured a then-unknown Mark Ruffalo as Warren. Lonergan later helped solidify Ruffalo's career by casting him in his acclaimed 2000 film You Can Count On Me, which nabbed a best original screenplay Oscar nomination for Lonergan and a best actress Oscar nomination for Laura Linney.) Aside from their liking for vinyl records, these characters could be from any time period, and the Millennial actors sometimes have trouble shaking their modern mannerisms.
That would be more of a problem if they weren't all such a joy to watch. Cera, who made a name for himself embodying teen awkwardness as George Michael Bluth in TV's Arrested Development—and later in film comedies like Juno and Superbad—nails the self-conscious Warren to a hilarious tee, lurching about the stage and tugging on his T-shirt for lack of better things to do with his hands. It's not all played for laughs: There is a palpable self-loathing to Warren, and Cera captures that with deep frowns and sudden bursts of defensiveness. "Why do you have to call me an asshole like every five seconds?" he asks Dennis in a rare moment of protest.
Tavi Gevinson is simply delightful as the stylish but emotionally adrift Jessica, the only character in the play who shows a shred of maturity. (With a large delivery of coke on the way, she earnestly announces, "I don't want to do very much.) The 18-year-old actress, already an Internet phenomenon, has a natural quirkiness, tailor-made for the hipster stardom she is destined for. It would be a miracle if Wes Anderson were not already courting Gevinson for his next movie.
As the self-absorbed Dennis, Kieran Culkin gives a funny, multi-layered performance. Although he comes off as a harmless, clueless jerk in the play's first act, he completely steals the show in act two, as Dennis's safe world begins to crumble. His final rant, in which the character desperately clings to his sense of self-importance, is as dazzling as it is exhausting.
Directed by Anna D. Shapiro, This Is Our Youth could have stood with some fleshing out. There are numerous references to characters we never meet—like Dennis's supposedly tempestuous girlfriend—whose presence would have been welcomed. The story's abrupt ending leaves us empty, wishing there were a bit more to it. But then I guess the same could be said about youth itself.
This Is Our Youth, by Kenneth Lonergan; directed by Anna D. Shapiro; scenic design by Todd Rosenthal; costume design by Ann Roth; lighting design by Brian MacDevitt; sound design by Rob Milburn and Michael Bodeen; Cort Theatre, 138 West 48th Street, New York City; steppenwolf.org