Ousted Cybersecurity Director Says Trump 'Deserves Credit' for Making 2020 Election Most Secure in Modern History
Former Cybersecurity and Infrastructure Security Agency (CISA) Director Chris Krebs said President Donald Trump's administration "deserves credit" for making the 2020 election the most secure in modern history as the president continued to allege widespread voter fraud and a "rigged" election.
Krebs, who was abruptly fired by Trump two weeks ago after he rejected allegations of voter fraud, told CBS' 60 Minutes correspondent Scott Pelley in an interview that "the 2020 election was, as I've called it, the most secure election certainly in modern history."
"I have no question about the security of the systems, of the process, of the vote, of the count, [or] of the certification," he continued.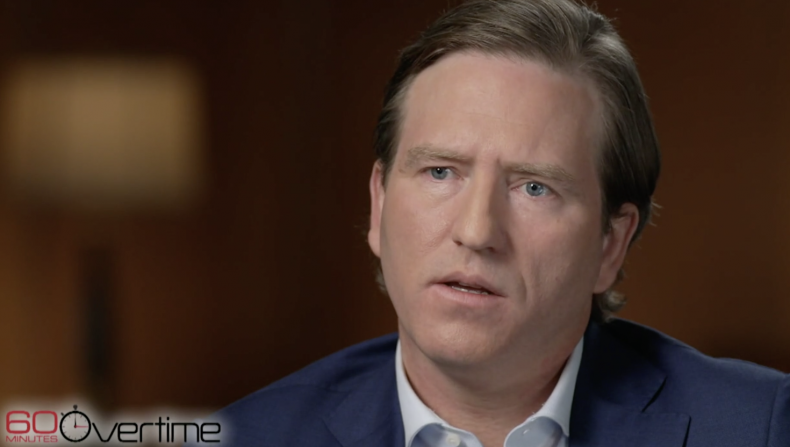 In the aftermath of Election Day, Trump has repeatedly pushed unverified claims of voter and election fraud in an attempt to overturn his loss to President-elect Joe Biden.
Most media outlets and major television networks called the election for Biden, who has secured 306 Electoral College votes, but Trump has refused to concede. In an attempt to flip the election, his campaign has filed nearly three dozen lawsuits in key states, including Georgia, Pennsylvania and Nevada, that have been largely unsuccessful and routinely tossed out of court.
When Trump fired Krebs on November 17, he directly linked the decision to the former officials' statement that insisted there was "no evidence that any voting system deleted or lost votes, changed votes, or was in any way compromised."
"The recent statement by Chris Krebs on the security of the 2020 Election was highly inaccurate, in that there were massive improprieties and fraud," Trump tweeted at the time. "Therefore, effective immediately, Chris Krebs has been terminated as Director of the Cybersecurity and Infrastructure Security Agency."
Krebs stood by his statement, telling Pelley that the Trump administration should be praised for securing the election. "I think that we should be celebrating the successes of making the 2020 election the most secure election in modern history," he said. "I think that the administration deserves credit. I think that President Trump's administration deserves credit for securing the 2020 election."
The ousted official also called claims of widespread voter fraud issued by Trump's legal team at a press conference on November 19 "false." Rudy Giuliani and lawyer Sidney Powell spoke at the briefing, where they both promised "massive bombshells" that have not materialized yet. The Trump campaign distanced themselves from Powell last week after she made numerous inaccurate statements about the voting process.
"They're nonsense. It's disinformation. It's undermining confidence in our election. It's undermining confidence in our democracy," Krebs said. "And I pledged an oath to defend and uphold the Constitution, and I see this as an attack on democracy, an attack on the Constitution. This upsets me greatly."
Newsweek reached out to the Trump campaign for comment.