Ousted Thai PM Answers General's Summons a Day After Coup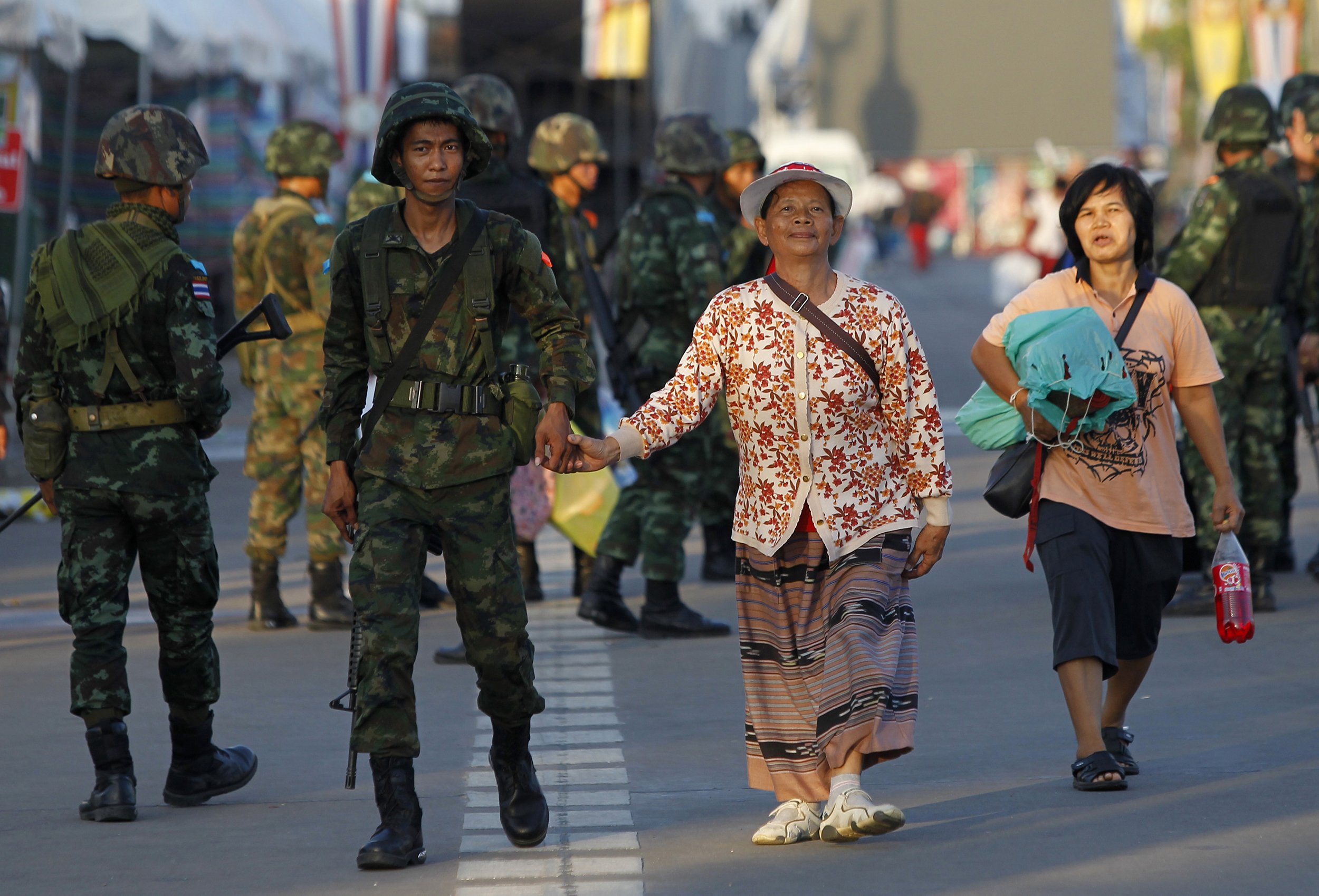 BANGKOK (Reuters) - Thai army chief Prayuth Chan-ocha summoned ousted Prime Minister Yingluck Shinawatra to a meeting on Friday, a day after he seized power in a bloodless coup and said he wanted to restore order following months of turmoil.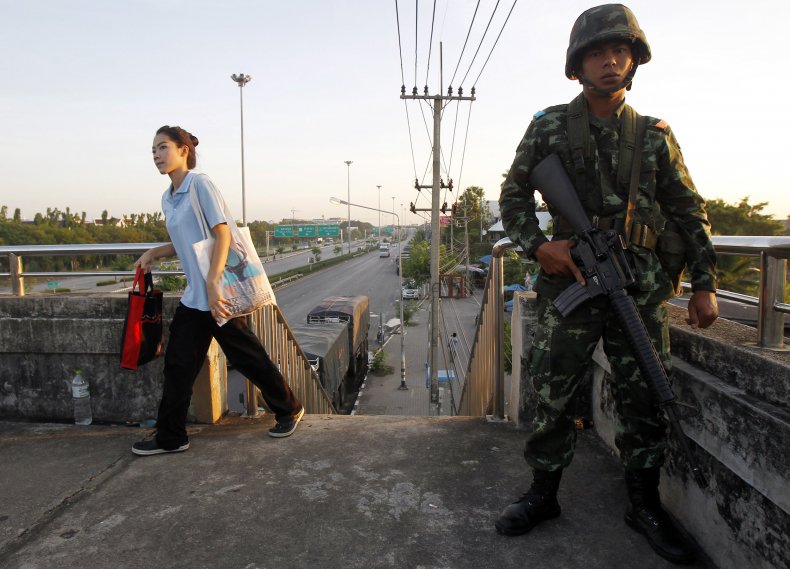 In Focus
"As we cannot find a way to bring the country to peace and no one will back down, I would like to announce that I will take power," General Prayuth Chan-ocha said
Launch Slideshow

21 PHOTOS
General Prayuth launched his coup after the rival factions refused to give ground in a struggle for power between the royalist establishment and a populist government that had raised fears of serious violence and damaged the economy.
Soldiers detained politicians from both sides when Prayuth announced the military takeover, which drew swift international condemnation, after talks he was presiding over broke down.
Leaders of pro- and anti-government protest groups were still believed to be in detention, said an opposition lawmaker who declined to be identified. The military banned 155 people, including politicians and activists, from leaving the country.
The military also censored the media, dispersed rival protesters in Bangkok and imposed a nationwide 10 p.m. to 5 a.m. curfew.
It then called Yingluck and 22 associates, including powerful relatives and ministers in her government, to a meeting at an army center in the capital.
Yingluck is the sister of Thaksin Shinawatra, a billionaire telecommunications tycoon turned politician who won huge support among the poor but the loathing of the royalist establishment, largely over accusations of corruption and nepotism. He was ousted as premier in a military coup in 2006.
Yingluck arrived at the army facility at noon, a Reuters witness said. Prayuth was there at the same time but there was no confirmation of whether they had met and if they had, what was discussed. Prayuth later went to another army compound to which other officials in the ousted government had been summoned.
Yingluck was forced to step down as prime minister by a court on May 7 but her caretaker government, buffeted by more than six months of protests, had remained nominally in power, even after the army declared martial law on Tuesday.
The meeting with Yingluck could set the tone for army rule as Prayuth tries to steer the country out of crisis and fend off international criticism of the latest lurch into military rule.
Later on Friday, Prayuth was expected to meet King Bhumibol Adulyadej at the royal palace in Hua Hin, south of Bangkok, to explain the army's move.
The armed forces have a long history of intervening in politics - there have been 18 previous successful or attempted coups since Thailand became a constitutional monarchy in 1932, most recently in 2006.
STREETS CALM
Bangkok was calm and life appeared normal, although the military ordered all schools and universities to stay closed.
Regular television schedules were suspended with all stations running military announcements interspersed with footage from the army's channel. It showed sites, now cleared, that had been taken over in and around Bangkok by political groups since anti-government protests flared in November.
Other footage showed people going about their business in different places with some saying they welcomed the coup.
International news channels were off the air and the military threatened to block websites that carried false or provocative material.
U.S. Secretary of State John Kerry said there had been no justification for the coup, which would have "negative implications" for ties with its ally, especially military ones.
"The path forward for Thailand must include early elections that reflect the will of the people," Kerry said in a statement.
He also called for the release of detained politicians.
There was condemnation from France, the European Union and the United Nations human rights office. Japan said the coup was regrettable and Australia said it was "gravely concerned". Countries including Singapore and South Korea advised citizens against travel to Thailand.
Prayuth is a member of the royalist establishment generally seen as hostile to the Shinawatras, although he tried for months to keep the army out of the strife and to appear even-handed.
He enjoyed cordial relations with Yingluck after she took office following a landslide election victory in mid-2011 but is regarded warily by some Thaksin supporters.
The army chief, who is 60 and due to retire later this year, has taken over the powers of prime minister but it was not clear if he intended to stay in the position.
An undercurrent of a crisis that is dividing rich and poor is deep anxiety over the issue of royal succession. King Bhumibol, the world's longest-reigning monarch, is 86 and spent the years from 2009 to 2013 in hospital.
Crown Prince Vajiralongkorn does not command the same devotion as his father, but some Thaksin supporters have recently been making a point of their loyalty to the prince.
MARKET REACTION MUTED
The anti-Thaksin protesters had demanded electoral changes that would end the Shinawatras' success at the ballot box. Thaksin or his parties have won every election since 2001.
Thaksin's "red shirt" supporters were dismayed and angry but said they had no immediate plans for protests that they had threatened in response to any army takeover. Those who had been protesting in Bangkok dispersed peacefully after the coup.
Protests would be a major test for Prayuth, who commands an army known to contain some Thaksin sympathizers.
In 2010, more than 90 people were killed in clashes, most when the army broke up protests against a pro-establishment government that had taken office after a pro-Thaksin administration was removed by the courts in 2008.
Small groups of students in Bangkok and Chiang Mai held up signs denouncing the coup and supporting democracy, according to pictures posted on social media.
The usually pro-establishment Bangkok Post said the coup would solve nothing: "Adding another putsch to our lengthy history of coups will only deepen the entanglement, making it even harder to solve and inflaming anger among people on opposite poles."
Weary investors have generally taken Thailand's upheavals in their stride and the baht was slightly firmer at around 32.55 per dollar. It had weakened to 32.70 in offshore trade after the coup.
The stock market was down 1.5 percent at the mid-session break after ending 0.2 percent higher on Thursday before the coup news. Domestic investors had taken the view that the martial law imposed on Tuesday might bring some stability.
Thailand's economy contracted 2.1 percent in the first quarter of 2014 from the previous three months, largely because of the prolonged unrest, which has frightened off tourists and dented confidence, bringing fears of recession.