Out of Africa: When Did Prehistoric Humans Actually Leave—and Where Did They Go?
Scientists have discovered the oldest human fossil ever found outside of Africa in Misliya Cave, Israel. The find means our current timing for human migration—and evolution—could be off by at least 50,000 years.
So when did humans really start exploring the rest of the world?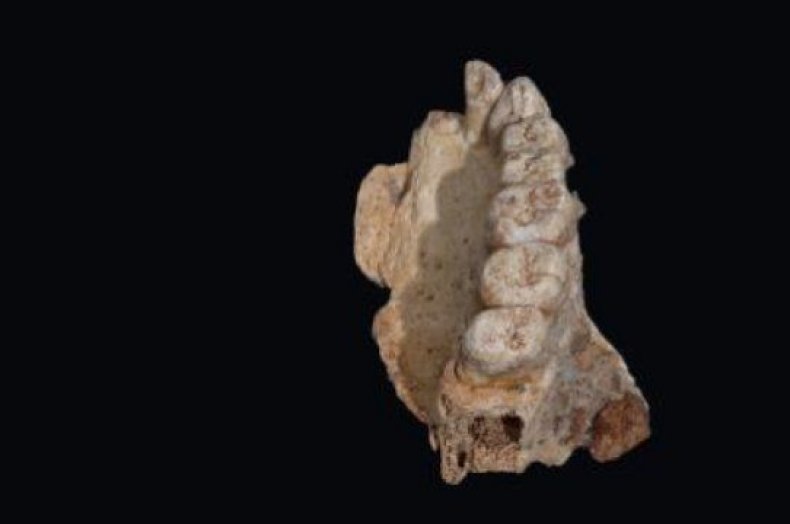 Scientists think our modern human species (Homo sapiens) emerged approximately 200,000 years ago in Africa. In the 1980s, fossil and DNA evidence pointed to the continent as the cradle of humanity.
Where humans went next, however, is still a big mystery.
Out of Africa
The traditional "Out of Africa" model holds that humans first traveled from the continent between 130,000 and 115,000 years ago, toward the Middle East.
The newly discovered fossil is estimated to be between 170,000 and 190,000 years old. Before now, the earliest remains found in Israel were dated between 90,000 and 120,000 years old. This means humans reached the region at least 50,000 years earlier than expected.
Chris Stringer of London's Natural History Museum, who was not involved in the latest discovery, told the BBC: "The find breaks the long-established 130,000-year-old limit on modern humans outside of Africa.... The new dating hints that there could be even older Homo sapien finds to come from the region of western Asia."
Moving back the date of that first migration has big consequences for our understanding of human evolution. "The entire narrative of the evolution of Homo sapiens must be pushed back by at least 100,000 to 200,000 years," study author Israel Hershkovitz from Tel Aviv University explained in a statement. "In other words, if modern humans started traveling out of Africa some 200,000 years ago, it follows that they must have originated in Africa at least 300,000 to 500,000 years ago."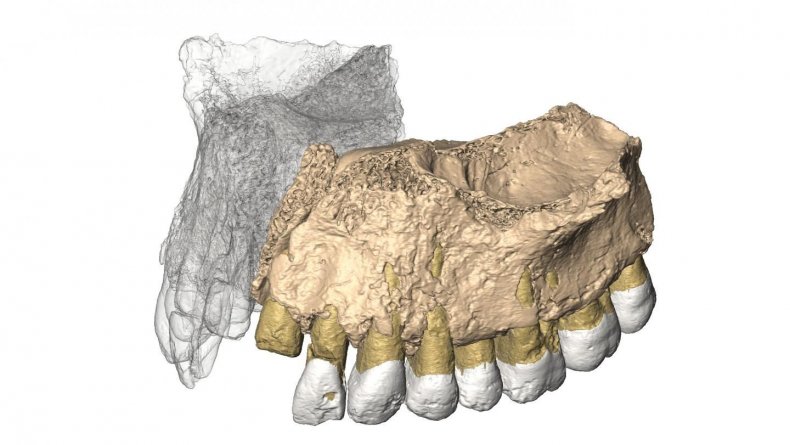 What path did early humans take?
The early excursions into Eurasia responsible for the Misliya fossil likely ended in extinction. Scientists had believed a second exodus occurred about 60,000 years ago.
This idea was brought under scrutiny last year, when a team of scientists reviewed human bones from China. The bones were estimated to be up to 120,000 years old. The team argued that multiple dispersals might explain a growing body of evidence finding humans in the wrong place, at the wrong time.
They produced a map (below) describing the human journey from Africa as a series of smaller migrations around the globe.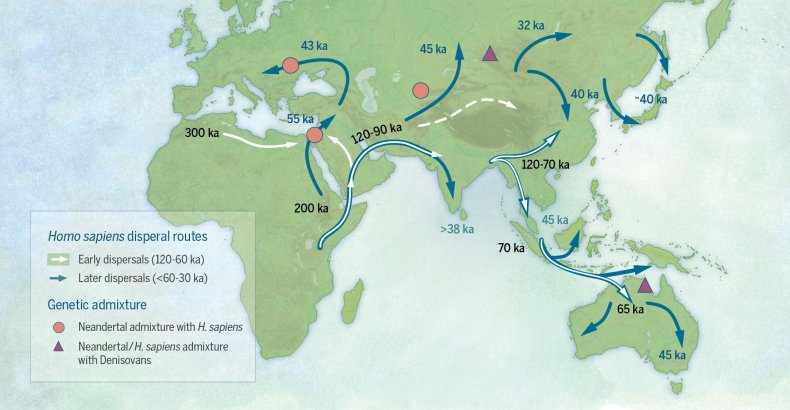 The question of when humans left Africa is far from solved. The Misliya jawbone has once again thrown the question of human origins wide open.
Hershkovitz explains: "This finding—that early modern humans were present outside of Africa earlier than commonly believed—completely changes our view on modern human dispersal and the history of modern human evolution."