'Out of My Pocket': Dad Dragged For Not Replacing Sitter's Broken Glasses
Internet commenters were stunned by one father who explained why he refused to replace a babysitter's broken glasses, despite the fact that it was his daughter who broke them.
Sharing his reasoning in a viral Reddit post, Redditor u/EricThrow3976 asked r/AmITheA**hole's 3.6 million members if he was wrong not to buy the babysitter a new pair of glasses. Titled, "AITA for refusing to pay the babysitter for new glasses after my daughter broke her old ones," the viral post has received more than 11,000 votes and 5,000 comments in just 11 hours.
Beginning with the explanation that he is a 35-year-old widower with two daughters, the Redditor said he recently returned to working night shifts, and was able to find a babysitter with the help of a coworker.
He also said things were going well with the new babysitter until his 9-year-old daughter broke her glasses.
"The babysitter called me while I was at work to tell me that my 9 year old daughter broke her glasses. I got home, heard both sides of the story and came to a conclusion that it was in fact an accident," u/EricThrow3976 wrote. "But the babysitter said my daughter broke them intentionally after she refused to let her outside late in the evening."
"I apologized to the babysitter for the misunderstanding but she insisted there was no misunderstanding and then asked me to pay her for a pair of new glasses," he added. "I was taken aback by her request...I apologized but refused and said it was unfair to expect me to pay, especially since she didn't pay attention to keep her glasses safe."
Following his refusal to replace the broken glasses, the Redditor said the coworker who helped connect him with the babysitter urged him to pay for a new pair, but maintained that the babysitter was lying in an attempt to gain extra wages.
"[The babysitter] got my co worker involved and she said I should take responsibility and pay the babysitter for new glasses since she can not afford them being a broke college student," he wrote.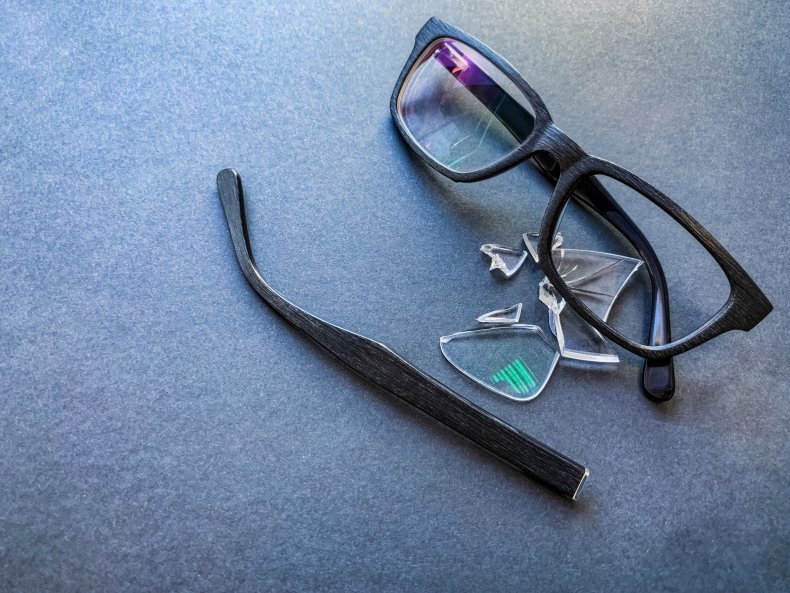 "It's been days and the babysitter is still wanting me to pay for new glasses but I feel like she's trying to use the fact that I'm in dire need of help and is hoping to get extra money out of my pocket," he added.
Since the onset of COVID-19 parents across the United States have struggled to find quality child care at affordable rates. In 2021, 72 percent of families reported more expensive child care costs, and 46 percent reported having difficulty finding proper child care due to the pandemic, according to Care.com's Cost of Care Survey.
While the Department of Health and Human Services defines affordable child care as costing no more than 7 percent of a household's income, 85 percent of families reported paying more than 10 percent — a 13 percent increase from 2020.
For families relying on babysitters for child care, the mean per-hour cost for one child is $18.36. For two children, the average hourly rate jumps to $21.23, according to Urban Sitter's 2021 National Child Care Rate Survey.
However, average hourly rates and other data from Care, a leading online child care marketplace, do not account for damaged equipment, like a pair of broken eyeglasses. Because some babysitters are paid under the table, laws involving independent contractors and broken equipment are less likely to be invoked, leaving morality responsible for potential replacements.
In a blog post published on Today's Parent, the parenting magazine recommended that when children between the ages of 4 and 12 damage a babysitter's property, parents should be responsible for paying for damaged goods.
Echoing that sentiment, Redditors commenting on the viral post told u/EricThrow3976 that he should replace the babysitter's broken glasses, and assured that he was wrong for refusing to do so.
"[You're the a**hole]. It doesn't actually matter if was in accident or not," Redditor u/Beautiful-Concern144 wrote in the post's top comment, which has received more than 44,000 votes.
"Your child broke her glasses so you need to pay to replace them," they added.
Redditor u/CatteHerder, whose comment has received 8,100 votes, wrote that the babysitter needs eyeglasses to function, and speculated that she is not attempting to "get extra money" from the original poster.
"We get it. You have a favourite child who can do no wrong, and you literally let her get away with destroying accessibility aides which are necessary for, you know, SEEING," they commented. "The babysitter isn't trying to squeeze money out of you, your child broke her glasses."