Outcry Widens for Police to Face Charges in Shooting Death of 8-Year-Old at Football Game
Outcry widened for police to face charges in the shooting death of 8-year-old Fanta Bility at a football game in Sharon Hill, Pennsylvania, last August.
Elected officials and activists have voiced concerns about and opposition to the treatment of two teenagers involved in the incident, Angelo Ford, 16, and Hasein Strand, compared to the police officers, according to The Associated Press.
Elected officials, activists, and community members met for a rally outside the Delaware County Courthouse in Media, Pa., on Thursday, WPVI-TV reported. They argued for justice for Fanta.
"Moving forward, we need to be sure this never happens to another family," Ashley Dolceamore, Co-founder of Delco Resists, said, according to WPVI-TV.
Ford had an argument and exchanged gunfire with Strand outside of a high school football game in August last year, AP reported. Police returned fired, injuring several bystanders and killing Fanta.
While both Ford and Strand have been charged for the shooting, the police officers involved have not, according to WPVI-TV. Ford was charged with first-degree murder, in addition to other charges. Strand has also been charged with first-degree murder, as well additional counts, according to AP. Prosecutors argue the pair is criminally liable for Fanta's death.
Whether the officers will be charged is up to a grand jury, WHYY-FM reported.
A hearing for Ford was postponed Thursday, AP reported. Strand waived his preliminary hearing that was set for Wednesday.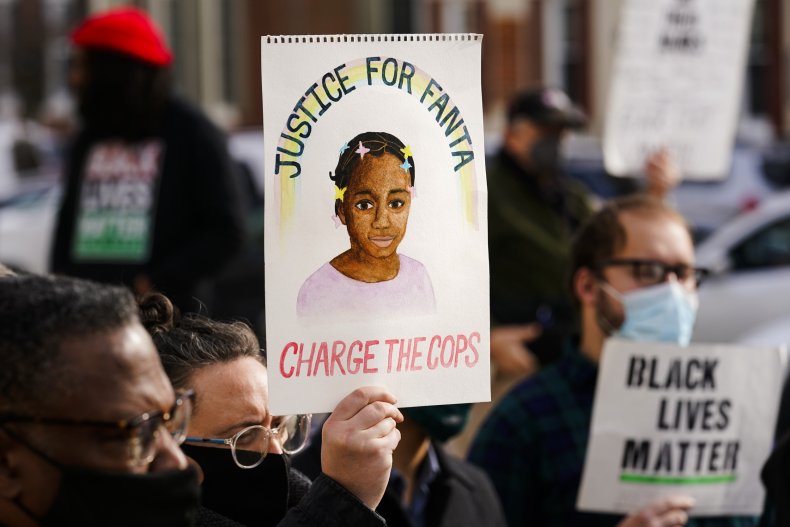 Many focused on Delaware County District Attorney Jack Stollsteimer on Thursday, saying his treatment of the two teens is disparate compared to the officers involved who shot in the crowded area, according to AP.
"The police acted recklessly and tragically took the life of a young girl who was beloved by many. Delaware County District Attorney Jack Stollsteimer has only compounded this tragedy by shielding the police from accountability and shamefully charging two Black youth with first-degree murder based on a ridiculous legal theory in an attempt to deflect attention from the undisputed fact that the Sharon Hill police killed Fanta Bility," said Kris Henderson, executive director of the Amistad Law Project, in an email to Newsweek. "Both he and the Sharon Hill Police must be held accountable for the ways they've harmed the community and fostered injustice."
At least two Democratic committees in Delaware County have also asked for the recusal of Stollsteimer, advising him to hand the case to the state attorney general's office.
Stollsteimer did not immediately respond to an email seeking comment.
Philadelphia City Councilmembers Jamie Gauthier, Kendra Brooks, Katherine Gilmore-Richardson, Helen Gym, and Isaiah Thomas released a statement Wednesday prior to the rally saying they "stand together in solidarity with the Bility family and concerned community members."
"We want to be clear that these two young men deserve to face appropriate consequences for their actions—but the way in which this case has unfolded defies logic. They are not responsible for Fanta's death," the statement said, calling the first-degree murder charges "inappropriate."
The council members called for police officers' terminations and a separate investigation into the incident "to ensure nothing like it ever happens again."