Hair salons, offices and outdoor dining at restaurants are among those businesses that will be allowed to reopen in New York City on Monday under its second phase plan.
During a June 18 press conference, New York City Mayor Bill de Blasio announced that phase two would bring between 150,000 and 300,000 people back to work.
"This piece of our economy in phase two is the single biggest of all the phases," de Blasio said during the press conference.
Despite the new openings permitted under phase two, some businesses such as malls, large event venues and gyms will remain closed, and indoor restaurant dining is still not allowed.
Reopening in the city refers to all non-essential businesses and business activities, according to the city's official website.
Phase one, which began in New York City June 8, applied only to certain industries such as construction, agriculture and manufacturing, and allowed limited retail stores to offer curbside pickup or drop off.
But under the phase two guidelines, which will start exactly two weeks later, offices will reopen and retail establishments can have customers shop in-store, in addition to opening hair salons and restaurants for outdoor dining.
The city's "open restaurants" plan described for phase two states that establishments may offer outdoor dining on sidewalks, curb lanes, backyards, patios, plazas and open streets, even if the restaurant has never been able to provide outdoor seating before.
Restaurants may request additional seating in plazas from the city's department of transportation, according to a press release from the mayor's office.
"This is the greatest restaurant city in the world," de Blasio told reporters Thursday.
City officials have outlined strict social distancing guidelines that all establishments must abide by if they wish to remain open.
No more than 50 percent of the maximum occupancy for a particular business is allowed, and a distance of a least 6 feet must be kept between occupants at all times. When social distancing is not possible, face coverings are required to be worn.
Representatives from de Blasio's office could not be immediately reached for comment.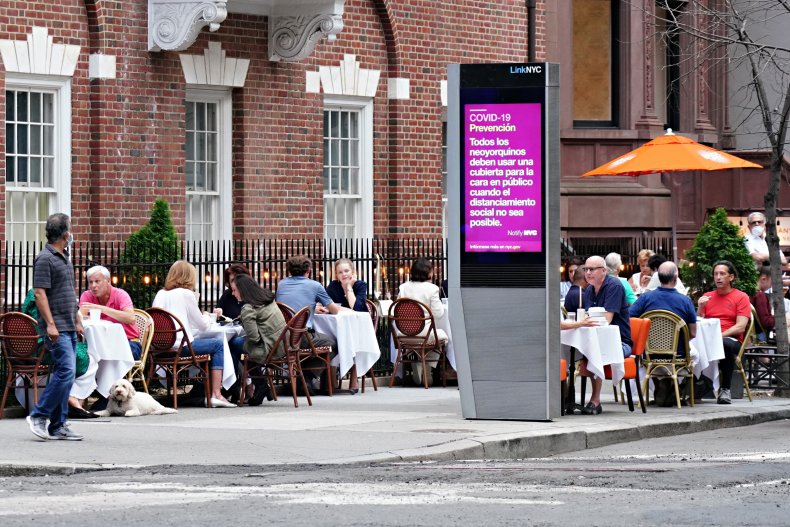 New York City's second phase of reopening comes just two days after the official start of the summer season. It will be a welcome change of pace for the city, where all businesses had been forced to close March 22 due to the rapid spread of coronavirus.
New York Governor Andrew Cuomo had announced the state's phased reopening plan would begin by region after May 15, as long as it could continue meeting a strict set of guidelines — including having contact tracers in place as well as 30 percent of ICU beds available.
New York, the pandemic's hardest-hit city in the U.S., is considered its own region under Cuomo's reopening plan.
As of June 18 — the most recently available reported data — New York City had just 60 confirmed new coronavirus cases, according to the city's official website. This is a far cry from the former epicenter, which has lost more than 21,000 lives due to the virus.
An evaluation in two weeks will determine the city's eligibility to enter into the next phase.
Under phases three and four of reopening, New Yorkers will be able to dine indoors, and hotels, arts and entertainment venues will be allowed to open.