Outgoing Arkansas Governor Endorses Ex-Trump Press Secretary Sarah Sanders to Replace Him
The governor of Arkansas has given an official endorsement for his potential successor.
Gov. Asa Hutchinson has officially supported Sarah Sanders' campaign for Arkansas governor. Although several Democrats are running for the spot, Sanders is now the only Republican campaigning after Arkansas Attorney General Leslie Rutledge dropped out of the race earlier this week.
"Sarah has earned the Republican nomination and I'm delighted today to endorse her for governor," Hutchinson said in a statement. "The state of Arkansas will be in good hands with Sarah as governor, and she has my full support."
Rutledge also backed Sanders after she left the race, saying that the former White House press secretary "will stand strong against the onslaught of the liberal left's attack on our home state."
Other endorsements that Sanders will run with include Lieutenant Governor Tim Griffin, Senators Tom Cotton and John Boozman, and former President Donald Trump. The politician, who is also the daughter of former Arkansas Governor Mike Huckabee, served as the Trump administration's press secretary from 2017 to 2019, being succeeded by Stephanie Grisham. She was also cited as admitting to lying to the press regarding the firing of former FBI Director James Comey in the Mueller Report.
Sanders has currently raised over $2 million in her gubernatorial campaign.
"I am grateful for the overwhelming support I have received from every county in our state and every state in our nation," Sanders said in a statement in October regarding her campaign donations.
For more reporting from the Associated Press, see below.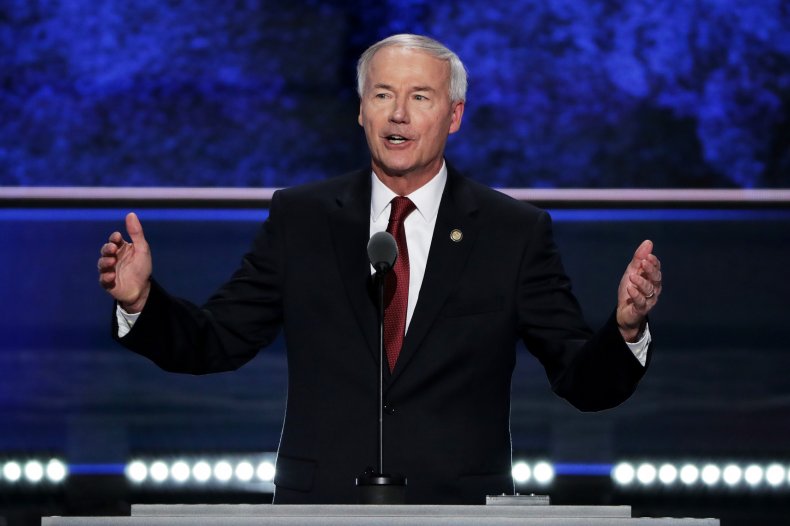 Hutchinson, who is barred by term limits from running for re-election, praised Sanders and said he's known her most of her life.
Sanders, running with Trump's endorsement, is campaigning primarily on national issues. Hutchinson has been in the national spotlight by distancing himself from the former president.
Sanders later endorsed Griffin's candidacy for attorney general.
Newsweek previously reported that Sanders has criticized current President Joe Biden on his attitudes towards the COVID-19 vaccine, saying that he "undercut public confidence" during his presidential campaign.
"Biden doubted that the vaccine would be 'real,' while Harris said in a nationally- televised debate that she would not take any vaccine the Trump administration had a hand in creating," wrote Sanders in an op-ed. "We all know what happened after the first vaccines were announced on Nov. 9, right after the presidential election. Scientists quickly began to praise the results of Operation Warp Speed, but by then the damage was already done. Because of what they heard from politicians and TV 'experts,' many Americans were scared the vaccines were not safe."