OutKast Probably Won't Release Any New Music But There May Be A Biopic Coming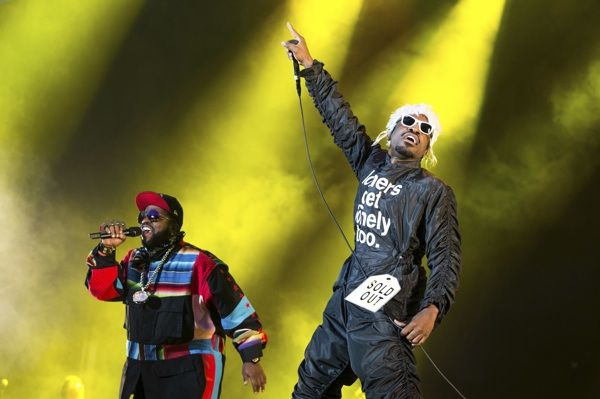 It's time to face the music: OutKast probably won't be releasing any new albums anytime in the near future. Sure, André 3000 has dropped a few bars on features for Kid Cudi, Travis Scott and Frank Ocean. And fans are getting an entire album, Boomiverse, from Big Boi sometime this year, but hearing the rap duo on a track together is a thought we all should probably just kiss goodbye.
But alas, some kind of Band-Aid to heal our broken hearts may soon be on the way—an OutKast biopic.
Right off the heels of the 23rd anniversary of OutKast's platinum-selling debut album, Southernplayalisticadillacmuzik, Big Boi, real name Antwan Patton, told Hip Hop DX that he and André, aka André Benjamin, were currently in talks to produce a biopic telling the story of the rappers' rise to fame.
"Me and [André 3000] just spoke about it last week when I was in New York. I think he might have been taking a couple meetings, talking to people," Big Boi said.
Big Boi added he already had a few people in mind that he'd want to work with on the biopic, including Empire creator and director Lee Daniels. Big Boi and Daniels previously worked together on Daniel's Fox series Star, in which Big Boi guest appeared as a music producer.
Although he and André were only in talks regarding a biopic, the 42-year-old said he'd consider following in rapper Ice Cube's footsteps and letting one of his sons play him in the movie. Cube's son, O'Shea Jackson Jr., played his father in the 2015 blockbuster biopic Straight Outta Compton, which followed Cube, Dr. Dre and Eazy-E's journey from the streets of Compton to becoming one of the biggest rap groups of all time.
"Maybe one of my sons could [play me] 'cause they look exactly like me and they know all the words to all the raps. So they probably could pull it off. And they know me, so I may have to do the Cube move and pick one of my sons to play me," Big Boi said.
Regardless of the cast, Big Boi insisted fans can count on a biopic.
"So yeah all that's coming and we just know it's time to do it. It's coming!" he said.
Although both André, 41, and Big Boi have released their own music and maintained their superstar rap status and hip-hop influence, they haven't released any music under their OutKast moniker since 2006's Idlewild.
The rappers did appear together on stage for the first time in 10 years when they performed a compilation of their biggest hits like "Ms. Jackson," "Rosa Parks," "So Fresh, So Clean," and "Hey Ya" at Coachella back in 2014.
Although a biopic isn't the same as a new album, fans can cling on the hope that Big Boi and André will hit the studio to release some new tracks for the potential movie's soundtrack. If not that, then at least we'll be able to see first-hand how the rappers came up with their innovative sound and re-live some of their biggest musical moments.